Contact Us

EtherWAN's Managed Switches in Field Automation
| | |
| --- | --- |
|   | Solutions for Water Treatment |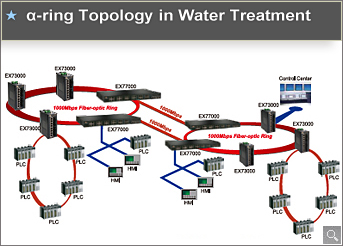 Water treatment plants were actively built around urban environments to manage and reduce the extra pollution. Regards to fine operating of the water automation system, the smooth data transition is critical from one to the other.
| | |
| --- | --- |
|   | Solutions for Building Automation |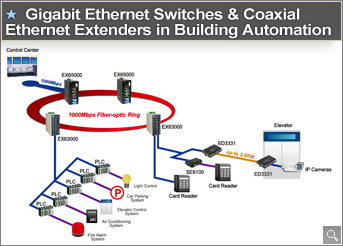 It is based on TCP/IP technology to form a variety of functions to ensure comfortable and secure living or working environment. Building automation is the way of the future and may involve in access control from one to many doors to a fully integrated system. All include door access, security alarm system, VoIP and full automation for any electrical device such as air conditioning, lighting, signs, lift control, irrigation, temperature control, for the home or commercial applications.
| | |
| --- | --- |
|   | Solutions for Intersection Surveillances |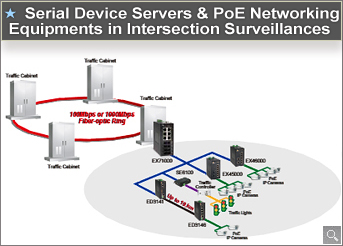 In the event of crimes, police agencies can examine the recorded videos in the surveillance monitoring system and identify the source of criminal activity, and proceed with safety measures and services. This will improve safety and security, increasing criminal deterrence and anti-terrorism.
Hardened Managed 8 to16-port 10/100BASE with 2-port Gigabit combo Ethernet Switch
Hardened Managed 8 to 24-port 10/100BASE and 4-port Gigabit Ethernet Switch with SFP options

Field-proven Reliability
Hardened Ethernet equipment with superior reliability, long MBTF, redundant power support, wide operating temperature range, EDI, EMI, RFI and surge protection.

Full Product Testing
Our hardened products are required to pass stringent real-time data transfer testing at the temperature from -40° to +85°C for up to 72 hours without compromise.

Customer-centered Services
EtherWAN has a professional support crew, with domain know-how and hands-on experience working with system integrators and solution providers.
If you do not want to receive this e-bulletin in the future, please reply
here
© EtherWAN Systems, Inc. All rights Reserved.