Back to top
EtherWAN Supports Network Infrastructure for Monitoring Systems in Resort Construction

Contact Us

EtherWAN Supports Network Infrastructure for Monitoring Systems in Resort Construction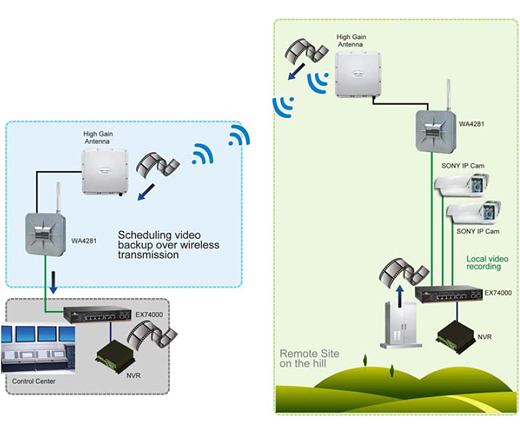 EtherWAN works with solution partners in Asia, with a hardened managed PoE switch and ruggedized wireless AP, to form a complete real-time monitoring system in a hillside resort construction project. When construction begins, progress can be automatically reported through a real-time monitoring system backed by Ethernet technology and the process can also be effectively managed.

In this parcel of undeveloped land, there is no infrastructure and power sources are either not available or are limited. Therefore, wireless data transmission and PoE networking (Power over Ethernet) are the key technologies used to create this solution. There are two to three cameras installed in each zone, and each camera is connected to the EtherWAN's EX74000 hardened PoE managed switch. Some zones use speed dome cameras, which consume more power, while other zones use regular cameras. The EX74000 is compliant with IEEE802.3af with high-power support in order to satisfy all scenarios. All of the different zones are connected via the EX74000 to form a ring topology to guarantee network redundancy. All captured images are stored in a NVR, which is directly connected to the EX74000.

All of the network equipment is installed outdoors; therefore, a rugged design in terms of the IP rating and a wider operating temperature range is required. Due to space concerns, the EX74000 and the NVR are installed in a compact cabinet. Therefore, the size of all related networking units has to be minimized. As seamless data transmission and smooth image delivery are required from EtherWAN's W4281 Hardened IP68 Multi-function Dual Radio Multi, their proper installation, including the appropriate antenna selection and installation angle, is crucial in delivering reliable communication.

The solution allows resort investors to view the construction progress at anytime and obtain real-time updates. This solution is a service available to all resort investors.
| | |
| --- | --- |
| | WA4281 Series Hardened IP68 Dual Radio Multi-function PoE Wireless Device |
IP68 weatherproof specification meets various wireless applications
WLAN interface supports IEEE 802.11 a/b/g for backhaul and local access with dual radio operations
Operating temperature from -30°C to 80°C
VLAN tunneling Support
Supports STP/RSTP to prevent from Ethernet loop
Supports QoS over Wi-Fi (WMM) for better performance of differentiated wireless traffic
| | |
| --- | --- |
| | EX74000 Series Managed Hardened 6-port 10/100BASE (4 x PoE) with 2-port SFP (DDM) Gigabit combo Ethernet Switch |
Supports PoE Power Sourcing Equipment (PSE)
Supports α-ring and RSTP/MSTP/STP for Ethernet redundancy
Supports port-based VLAN and IEEE802.1Q VLAN Tagging and GVRP
IEEE802.1p QoS with four priority queues
Supports IEEE802.1x Security
-40°C to 75°C operating temperature range, tested for functional operation @ -40°C to 85°C
Hardened Managed 6-port 10/100BASE (4 x PoE) with 2-port SFP (DDM) Gigabit combo Ethernet Switch

Field-proven Reliability
Hardened Ethernet equipment with superior reliability, long MBTF, redundant power support, wide operating temperature range, EDI, EMI, RFI and surge protection.

Full Product Testing
Our hardened products are required to pass stringent real-time data transfer testing at the temperature from -40° to +85°C for up to 72 hours without compromise.

Customer-centered Services
EtherWAN has a professional support crew, with domain know-how and hands-on experience working with system integrators and solution providers.
If you do not want to receive this e-bulletin in the future, please reply
here
© EtherWAN Systems, Inc. All rights Reserved.