If you can't see the content, please view the online version here.
Jan. 7, 2017

Contact Us

EL2242 Hardened PoE GbE Dual Rate SFP Media Converter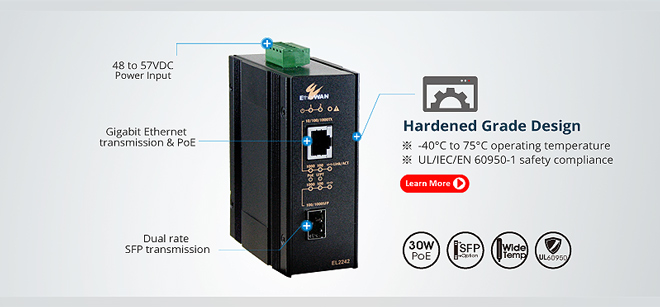 EtherWAN's EL2242 delivers 10/100/1000BASE-TX to 100/1000BASE SFP dual rate media conversion with the added advantage of IEEE802.3at PoE/PSE. The dual-rate fiber optic design, combined with the ability to power remote devices through a standard Ethernet cable, allows for greater installation flexibility and cost-effectiveness.
1 RJ45 port supporting Gigabit Ethernet and PoE/PSE
1 SFP fiber optic port supporting dual rate 100BASE-FX or 1000BASE-X, configured by
DIP switch
Hardened-grade specifications with an operating temperature range of -40°C to 75°C
Compliant with IEEE802.3at PoE/PSE
Provides PoE to remote devices, such as wireless access points, IP cameras & digital signage
Compliant with UL/IEC/EN 60950-1 safety standards
Supports relay alarm, allowing Ethernet link failures to be reported immediately
Hardened PoE 10/100/1000BASE-T to 100/1000BASE Dual Rate Media Converter

Field-proven Reliability
Hardened Ethernet equipment with superior reliability, long MBTF, redundant power support, wide operating temperature range, EDI, EMI, RFI and surge protection.

Full Product Testing
Our hardened products are required to pass stringent real-time data transfer testing at the temperature from -40° to +85°C for up to 72 hours without compromise.

Customer-centered Services
EtherWAN has a professional support crew, with domain know-how and hands-on experience working with system integrators and solution providers.
If you do not want to receive this e-bulletin in the future, please reply
here
© EtherWAN Systems, Inc. All rights Reserved.