Back to top
Bridge Your Uninterrupted Serial Signals to Ethernet Communications in Power Distribution Systems

Contact Us

Bridge Your Uninterrupted Serial Signals to Ethernet Communications in Power Distribution Systems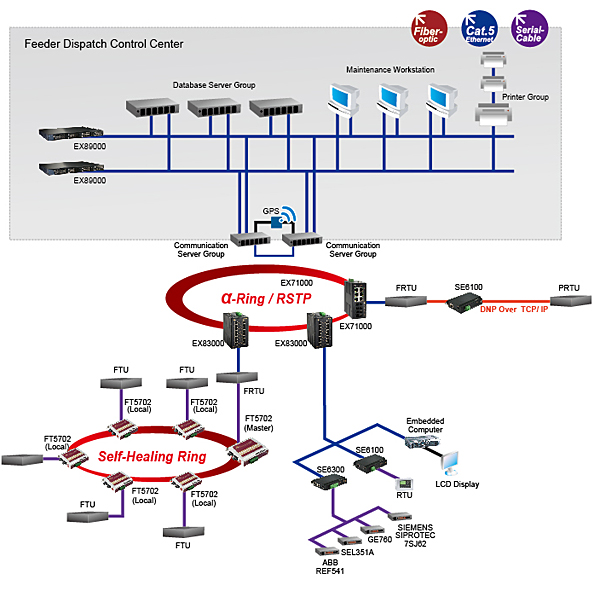 Accurate and timely information is essential for power distribution system control. EtherWAN provides a product line of serial converters and Ethernet switches that provide reliable communications systems for this application, as shown in the following example: FDCC (Feeder Dispatch Control Center) is connected through communication devices to FRTU (Feeder Remote Terminal Unit) in each substation and then connected to FTU (Feeder Terminal Unit) on different distribution lines. FTUs deliver the communication status and electricity distribution data back to the FRTU and all of the collected information will be returned to the FDCC.

When an outage occurs in the distribution system, dispatchers need to know precise locations in order to fix the problem in a timely manner. However, if a connection fails important information will not be transmitted to the FDCC. EtherWAN's FT5702 2-port RS232/422/485 Fiber Modem provides the reliability of uninterrupted serial to Ethernet communications, because of its Self-Healing Ring feature. The FT5702 offers single-mode or multi-mode with SC, ST, plus WDM fiber optic options for both LAN ports and an alarm relay that indicates the occurrence of any disconnect.

EtherWAN's FT5702 is tested and compatible with IED equipment manufactures such as SIEMENS, ABB, SEL, GE…etc. The FT5702 also supports DNP 3.0 protocol transparency.
| | |
| --- | --- |
| | FT5702 Series Industrial 2-port RS232/422/485 Self-Healing Ring Fiber Modem |
Supports DNP3.0 protocol transparency
Provides Self-Healing Ring to prevent network interruption
Offers single-mode and multi-mode and SC, ST, WDM fiber optic options for both LAN ports
Equipped with two terminal block power inputs to ensure continuous electrical stability
Provides a relay output in case of any disconnection

Field-proven Reliability
Hardened Ethernet equipment with superior reliability, long MBTF, redundant power support, wide operating temperature range, EDI, EMI, RFI and surge protection.

Full Product Testing
Our hardened products are required to pass stringent real-time data transfer testing at the temperature from -40° to +85°C for up to 72 hours without compromise.

Customer-centered Services
EtherWAN has a professional support crew, with domain know-how and hands-on experience working with system integrators and solution providers.
If you do not want to receive this e-bulletin in the future, please reply
here
© EtherWAN Systems, Inc. All rights Reserved.