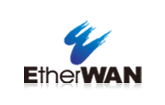 A common problem experienced by installers when setting up an IP surveillance solution is cable length limitations. The standard PoE cabling distance is 100 meters (328 feet). However, PoE devices are often located at longer distances from the nearest network switch or power outlet, requiring an extra repeater or switch in the field site. With EtherWAN's PoE solution, a single PoE port can support a transmission distance of 250 meters. No further hardware or configuration is necessary. <read more>
PoE Transmission over 250m
A common problem experienced by installers when setting up an IP surveillance solution is cable length limitations. The standard PoE cabling distance is 100 meters (328 feet). However, PoE devices are often located at longer distances from the nearest network switch or power outlet, requiring an extra repeater or switch in the field site. read more


Benefit of EtherWAN PoE scheduling
24/7 operation time of a PoE Powered Device can be problematic for several reasons. Supplying power to a device that does not need to be in certain periods wastes energy. Additionally, there may be security risks associated with some devices being "always on" (for example, wireless access points). read more


Support PoE Force mode
Some Powered Devices are not strictly compliant with IEEE 802.3 af/at, the Power over Ethernet standard. These include some IP cameras, IP phones and Wi-Fi APs, which may require higher power or non-standard resistance and capacitance. read more


How PoE Watchdog works
Surveillance systems commonly require full-time operation, and there is no easy way for an administrator to know if a device goes down. read more


6KV Surge Immunity
Power surges caused by indirect lightning strikes can damage or destroy network systems and can cause costly downtime. In addition to the protection of the power supply system, data ports need to be safeguarded against electrical surges. read more

Field-proven Reliability
Hardened Ethernet equipment with superior reliability, long MBTF, redundant power support, wide operating temperature range, EDI, EMI, RFI and surge protection.

Full Product Testing
Our hardened products are required to pass stringent real-time data transfer testing at temperatures from -40 to 85°C for up to 72 hours.



Customer-centered Services
EtherWAN has a professional support crew, with domain know-how and hands-on experience working with system integrators and solution providers.
If you do not want to receive this e-bulletin in the future, please click the unsubscribe link.
© EtherWAN Systems, Inc. All rights Reserved.
EtherWAN is committed to compliance with all applicable data protection laws