Hardened 10/100BASE-TX PoL/PoE Ethernet Extender over Copper Wires
Power over Link up to 1.2 km (3936 ft) by copper pair cable
Maximum of 30 Watts power with 100Mbps bandwidth
LEDs display transmission rate and PoE wattage
The ED3538 Hardened Ethernet Extender utilizes EtherWAN's exclusive Power over Link (PoL) technology to deliver both PoE power and Ethernet communications over a single legacy twisted pair cable, such as a telephone line. The ED3538 PoL solution is comprised of one transmitter and one receiver working together to provide reliable communications and power to remote PoE Powered Devices such as IP cameras, wireless access points, emergency intercoms, or VoIP phones.

With just the transmitter connected to power, the ED3538 provides a maximum of 30 watts of power and a bandwidth of 100Mbps to the ED3538 receiver, at distances up to 300 meters. Under this setup, transmission over longer distances can be achieved with lower data and power throughput — up to 1200 meters at a data rate of 20Mbps and 5 watts of power. However, for applications that require even longer distances, the ED3538 can be connected to power at both the transmitter and the receiver unit, increasing the transmission distance to a remarkable 2200 meters, with a data rate of 1Mbps and a full 30 watts. The current data transmission rate and power sourcing equipment output is displayed by LED indicators.

The ED3538 is highly resistant to electromagnetic interference, shock, and vibration, ensuring connection reliability even in harsh environments.

EtherWAN — "When Connectivity is Crucial."
Power over Link™ up to 1.2 km (3936 ft.)
Over an 1200 meters long RJ11 cable, a guaranteed 5 watts power with 20Mbps bandwidth is delivered to the receiving side
Ethernet extension solution with high transmission data rate up to 100Mbps
Up to 300 meters transmission distance with 100Mbps data rate
Transmission rate and PSE output power indicator LEDs
Six transmission rate LEDs and three PoE/PSE output power LEDs on the front panel
Technology
Standards

IEEE 802.3 10BASE-T
IEEE 802.3u 100BASE-TX
IEEE 802.3x full duplex and flow control
IEEE 802.3af/at PoE/PSE

Protocols

Transparent to higher layer protocols

Processing Type

 IEEE 802.3x Full-duplex flow control
Auto-Negotiation
Auto MDI/MDIX
Power
Input

Terminal Block: 46-57VDC
DC JACK: 48VDC
2.5A@48VDC (Peak current 3.26A)

Power Consumption

Max. 65W with Power over Link™ (PoL) function enabled
ED3538T: Max. 5W (without PoL/PoE)
ED3538R: Max. 5W (without PoL/PoE), Max. 35W (with PoE only)

Protection

Overload Current Protection
Reverse Polarity Protection
Mechanical
Casing
Dimensions

50 x 110 x 135mm (W x D x H)
   (1.97" x 4.33" x 5.31")

Weight
Installation

DIN-Rail (Top hat type 35mm), Panel or Rack mounting
Environment
Operating Temperature

-40 to 75°C (-40 to 167°F)

Storage Temperature

-40 to 85°C (-40 to 185°F)

Ambient Relative Humidity

5% to 95% (non-condensing)
Interface
Ethernet Ports

ED3538T/R: 1 x 10/100BASE-TX Full-duplex RJ-45 port
ED3538R: 1 x PoE/PSE port
Speed: 10/100Mbps
Cable: 100BASE-TX, UTP CAT. 5 (4-pair wire)
Distance: 100 meters (328ft.)

Ethernet Extender Port

1 x RJ11 port
1 x 2-pin Terminal Block (Wire range: 12-30AWG)

DIP Switch

ED3538T: PoL: On/Off, Type: Perf/Std
ED3538R: Mode: Loc/Rmt, Type: Perf/Std

LED Indicators

Per Unit: Power
Per 10/100TX Port: Link/Activity, Full-duplex
Line Speed: Six indicators for 100/80/60/40/20Mbps and Link below 20Mbps
PoE: Power over Ethernet function availability
► Speed/Distance/PoE Output Reference
* PoL™ Enabled
| | | |
| --- | --- | --- |
| Distance | Data Rate | ED3538R PoE Output |
| 300m | 100Mbps | 30.0W |
| 400m | 90Mbps | 15.4W |
| 600m | 60Mbps | 14.0W |
| 800m | 45Mbps | 9.5W |
| 1000m | 35Mbps | 7.0W |
| 1200m | 20Mbps | 5.0W |

* PoL™ Disabled (Power Supply Applies on 3538R)
| | | |
| --- | --- | --- |
| Distance | Data Rate | ED3538R PoE Output |
| 1400m | 15Mbps | 30.0W |
| 1600m | 10Mbps | 30.0W |
| 1800m | 3Mbps | 30.0W |
| Up to 2200m | 1Mbps | 30.0W |
Note: Reference performance on 24AWG copper wire (0.5mm diameter, 1-pair wire, Cable impendence: 100ohm)
Regulatory Approvals
ISO

Manufactured in an ISO 9001 facility

Safety
Industrial Compliance
EMI

FCC Part 15B Class A
EN 61000-6-4
EN 55022
EN 61000-3-2
EN 61000-3-3

EMS

EN 61000-6-2

• EN 61000-4-2 (ESD Standards)
• EN 61000-4-3 (Radiated RFI Standards)
• EN 61000-4-4 (Burst Standards)
• EN 61000-4-5 (Surge Standards)
• EN 61000-4-6 (Induced RFI Standards)
• EN 61000-4-8 (Magnetic Field Standards)

Environmental Test Compliances

IEC 60068-2-6 Fc (Vibration)
IEC 60068-2-27 Ea (Shock)
IEC 60068-2-32 Ed (Free fall w/package)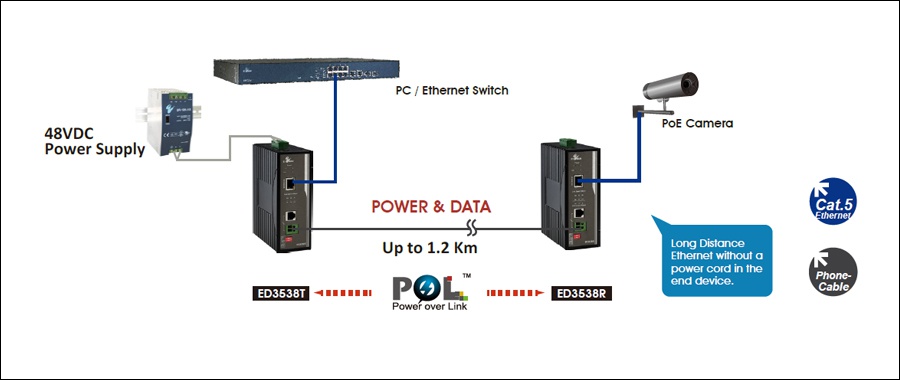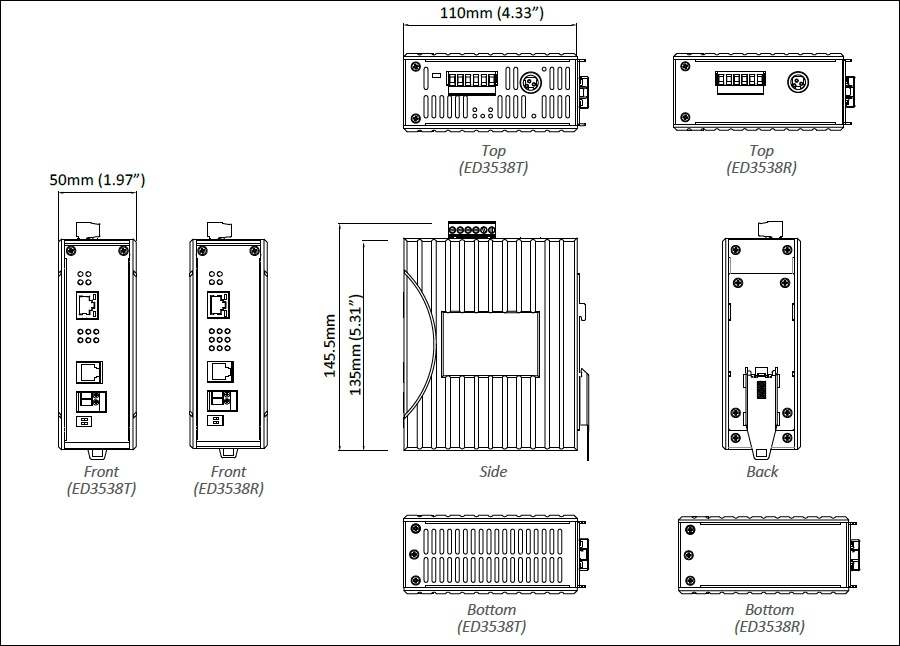 Model
| | |
| --- | --- |
| ED3538 | Hardened PoL/PoE Ethernet Extender over Copper Wires (Including one ED3538T and one ED3538R) |
* ED3538T is the power transmitter of PoL and ED3538R is the power receiver of PoL.
* DIN-Rail mounting kit included.
---
Optional Power Supplies
| | |
| --- | --- |
| EDR-120-48 | 120W/2.5A DIN-Rail 48VDC Industrial Power Supply |
| NDR-120-48 | 120W/2.5A DIN-Rail 48VDC Industrial Power Supply |
| SDR-480-48 | 480W/10A DIN-Rail 48VDC Industrial Power Supply |
---