OttoE – The new era for industrial unmanaged switches
The most essential networks require the most reliable quality. EtherWAN's OttoE series industrial unmanaged switch offers options of up to eight 10/100/1000Mbps copper ports and two dual-rate 100/1000Mbps SFP ports, providing maximum versatility in a range of applications. Built-in Quality of Service (QoS) for Ethernet/IP & Profinet efficiently prioritizes packets when buffers are filled.
With a height of only 100mm and a slim, palm-sized, IP40 compliant metal housing, the OttoE fits easily in a variety of cabinets and enclosures. The wide working temperature range of -10~60°C and 12-48 VDC working voltage enhance suitability for installation in critical environments. A special front face design for the terminal block eliminates much of the hassle of cable management and simplifies installation. An inclusive relay output triggers an immediate alarm when power fails.
OttoE – The WISER and EASIER choice in creating a network.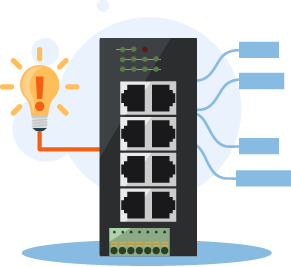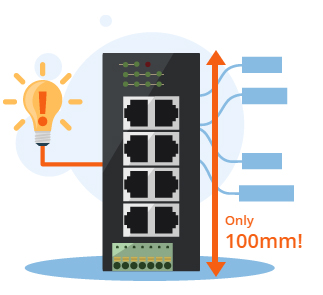 Data prioritization


Real-time alert

Space saving

Rugged quality

Tool free installation