Data prioritization
QoS Ethernet/IP & Profinet support allows for traffic prioritization and effective management of resources.

Real-time alert
An inclusive relay output triggers an immediate alarm when redundant power fails.

PoE Watchdog (WDG)
Data streaming monitoring for connected Powered Device.

High-Power PoE
Compliance to IEEE 802.3bt 90W per port

Tool free installation
DIN rail mountable metal housing provides security and easy installation.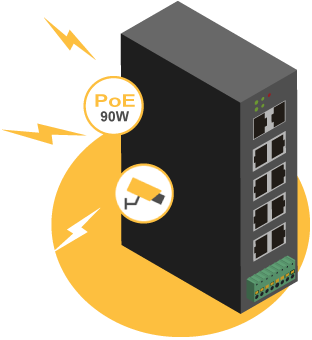 The Benefit of 90W PoE Unmanaged Switches
The growth of IoT in smart infrustructure has led to increased use of PoE devices across various sites. Power Sourcing Equipment (PSE) is commonly employed to provide power to devices like wireless access points, video cameras, VoIP phones, and PoS terminals. While PDs meeting IEEE 802.3at with 30W PoE suffice for low-power devices, smart city infrastructure like buses, digital signage, PTZ cameras, and LED lighting in buildings require higher power. Fortunately, OttoE PoE supports the latest IEEE 802.3bt standard that allows you to connect power-intensive devices, offering cost savings, energy efficiency, and performance improvement.
8 -10 Port Industrial Gigabit PoE Switches
The 8-10 ports Gigabit PoE switch stands out among PoE switches and finds extensive use in IP camera systems, VoIP phones, and other applications. The OttoE PoE unmanaged switch series offers plug-and-play simplicity while delivering impressive managed switch capabilities, QoS (Quality of Service) for prioritizing data in Ethernet/IP and Profinet is one of them, enhancing data management. Additionally, the switch features a built-in PoE Watchdog, enabling remote monitoring and one-click device reboots. This technology aims to redefine troubleshooting speed by minimizing time and maximizing efficiency.

Peak Performance and Power Redundancy
Offers QoS (Quality of Service), enabling data prioritization in both Ethernet/IP and Profinet for effective data management .


Supports full/half-duplex auto-negotiation and auto MDI/MDIX operation, allowing convenient connection of a variety of network devices.


Offers 46 to 57VDC redundant power input with an alarm relay for power failure redundancy.
Robust power with an added managed feature
Includes a built-in watchdog feature, preventing packet loss from powered devices in the network.


Supports IEEE 802.3bt Type 4 protocol that allows 90W per port with a total power budget of 270 Watts, which can facilitate a wide range of powered devices in the market.
Interested to Know More
---
PoE WDG (Watchdog) for Streamlined Network Management
The patented WDG feature periodically communicates with the device it controls if any device fails to respond within a specific time, the WDG assumes that the device has become unresponsive and initiates a reset. This capability resolves connected device software crashes, network congestion, or power fluctuations issues that affect remote monitoring efficiency.
---
EtherWAN OEM Services
Since 1996, we've stood strong as a dependable manufacturer of industrial Ethernet connectivity equipment in Taiwan. With over 27 years of networking mastery and 24 years of OEM excellence, our name swarms with trustworthiness and credibility as a manufacturing partner. Aligned with the German Phoenix Contact Group's manufacturing and R&D network, we offer a diverse array of premier products. The OttoE Series, free from software demands, facilitates effortless installation and offers brand customization, establishing itself as a prized inclusion in your product lineup.
Over 200 active switch SKUs
Hardened/industrial grade Ethernet switches are IEEE 802.3af/at/bt compliant.
Switches have a compact form factor for space efficiency and better user experience.
Our standard operating procedure is designed to accommodate your design customization requirements with flexibility. We offer a total network transmission solution where maintenance is effortless.
Risk commitment
ISO-9001 / ISO-14001/ ISO-27001/ ISO-27034 certified.
Reduced tech support time and effort due to low RMA (AFR .099%)
Unique differentiation value in the market
Why EtherWAN?
More than 27-year experience in the networking industry
Focuses on OEM partnerships.
With experienced HW/SW team to handle customization services
One of the manufacturing partners of Phoenix Contact
Customize your OEM Needs