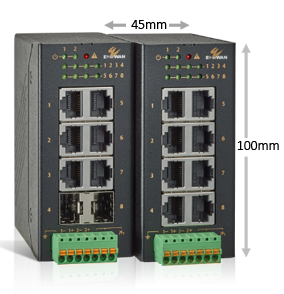 QoS support
QoS tags packets, prioritizes applications, and reserves bandwidth for critical tasks.

100mm in height
Compact metal housing, ideal for tight spaces. IP30/IP40 compliant.

Real-time alert
An inclusive relay output triggers an immediate alarm when power fails.

Green Commitment
Adherence to RoHS, REACH, WEEE and the EU Directive 94/62/EC. Plus Digital installation guide.
The benefits of QoS on unmanaged switches
QoS (Quality of Service) is a network management feature that is often associated with managed switches, which allow for detailed configuration and control of network traffic. With QoS in managed switches, network administrators can fine-tune how network resources like bandwidth are allocated to different types of data traffic.
Unmanaged switches are simpler and don't offer the same level of configuration options as managed switches. The benefit of having QoS functionality on an unmanaged switch is that it allows you to prioritize specific types of network traffic without needing to deal with the complexity of managing a fully configurable switch. This means that even in an environment with unmanaged switches, you can ensure that critical applications or services get the bandwidth and performance they require.