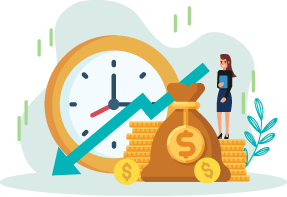 Best Layer 2 managed Ethernet solution for small size edge applications
The SmartE series offers ample Layer 2 management functionality at the network boundary, to achieve operational efficiencies that fit in a wide range of applications, such as process automation, building automation, renewable energy, automated fare collection systems, and more.
IP management
RSTP
SNMP
VLAN
IGMP snooping
QoS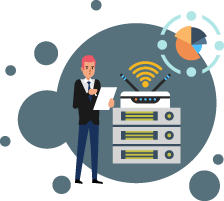 Choosing the right models for small scale but diverse industrial applications
Bandwidth
What is the transmission speed you need – 10/100Mbps or 1000Mbps?
Pick number of ports
How many devices require Ethernet connectivity – Under 5, 8, or 16?
Connection Interface
What is the interface of connected cables - RJ-45 interface (for copper cable), SFP interface (for fiber optic cable), or both?
Industrial & Rugged design
-40 to 75°C (-40 to 167°F) operating temperature

2 housing sizes with 3 installation options for greater flexibility

One 'Mode Button' eases the burden of deployment

Desirable L2 management feature set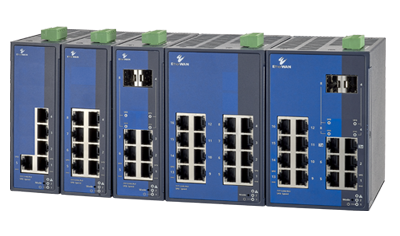 Fast Ethernet – SF300 models
Basic 10/100 Mbps bandwidth offers just enough speed and throughput for each port.
SF300-05
5-port 10/100BASE-T(X)
SF300-08
8-port 10/100BASE-T(X)
SF300-0602
6-port 10/100BASE-T(X)
+ 2-port 100BASE SFP
SF300-16
16-port 10/100BASE-T(X)
SF300-1402
14-port 10/100BASE-T(X)
+ 2-port 100BASE SFP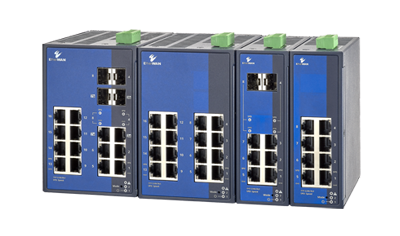 Gigabit Ethernet – SG300 models
Consider higher 10/100/1000 Mbps bandwidth connections when large data transmission is needed.
SG300-08
8-port 10/100/1000BASE-T(X)
SG300-0602
6-port 10/100/1000BASE-T(X)
+ 2-port 100/1000BASE SFP
SG300-16
16-port 10/100/1000BASE-T(X)
SG300-120202c
12-port 10/100/1000BASE-T(X)
+ 2-port 100/1000BASE SFP Combo
+ 2-port 100/1000BASE SFP