Joseph Cheng
Manager of Wireless IoT Innovation Dept.
It is a global success for LTE that it is already connecting over 7 billion subscriptions and has become the fastest developing mobile system technology ever. Released in 2009, the single global standard of LTE technology that is specified by 3GPP, through several 3GPP technology releases, offers LTE Advanced and LTE Advanced Pro that have significantly improved the capabilities of LTE networks. 3GPP Release 15 is related to 5G networks. We now have more connectivity technologies and choices such as LPWA Technologies ( NB-IoT / Cat.M1) that have been commercially launched over 30 countries. Nowadays, there are more than 300 carriers in more than 100 countries that have either launched, or are deploying. Various connectivity technologies can fulfill each different application and demand. We see the results, value, and innovation in IIoT with various 3GPP technologies. The connectivity that is the foundation of IIoT is truly impressive.
The evolution from 1G to 5G:
1G
Released: 1979
Standards: NMT, AMPS&TACS
Capabilities:
2G
Released: 1991
Standards: GSM, CDMA
Capabilities:
Digital voice
Encrypted communication
Limited roaming
SMS & MMS
Extensions:
GPRS (2.5G)
CDMA2000 (2.5G)
EDGE (2.75G)
3G
Released: 2002
Standards: UMTS, EVDO
Capabilities:
Mobile broadband
Locating services
Multimedia streaming
Seamless global roaming
Extensions:
4G
Released: 2009
Standards: LTE
Capabilities:
High speed mobile internet
IP-based packet switching
HD multimedia streaming
Seamless global roaming
Extensions:
Feature extension through new category/releases
5G
Released: 2019
Standards: 5G
Capabilities:
Private networks (local use frequency)
(I)IoT ready
Massive Machine Type Communication
Ultra-low-latency
Ultra-high-reliability
Millimeter wave support
Extensions:
Feature extension through new category/releases
1G: Mobile voice calls
2G: Mobile voice calls and SMS
3G: Mobile web browsing
4G: Mobile video consumption and higher data speed
5G: Technology to serve consumers and digitalization of industries.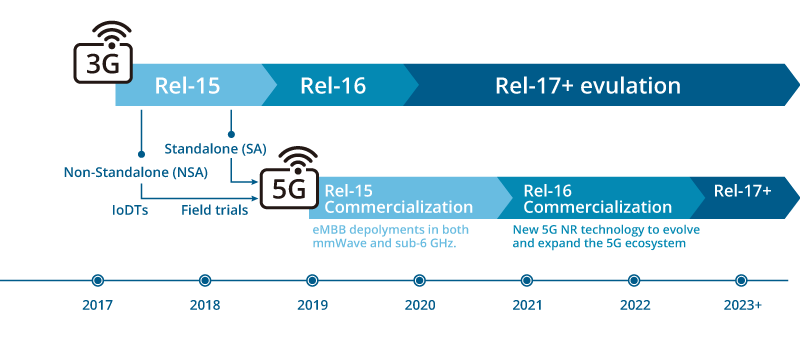 5G Roadmap By Qualcomm
5G Trend & its applications:
5G is considered one of the largest market opportunities in the coming years, with large scale roll-out of infrastructures and rapid adoption of 5G devices and services. 5G will not only accelerate the growth and expansion of telecoms; it will also redefine and accelerate industries such as automotive, transportation, computing, and manufacturing.
5G is not a killer application, but it is a killer platform. A powerful technology that delivers fiber speed and wireless flexibility. Various valuable applications can be deployed with 5G NR to offer brilliant solutions.
No matter if it is the 5G NR trend or the applications, we should take a look at this chart first!
3 major points- eMBB, URLLC and MMTC will be the key to move industrial IoT, there are iconic applications that leverage 5G major characteristics.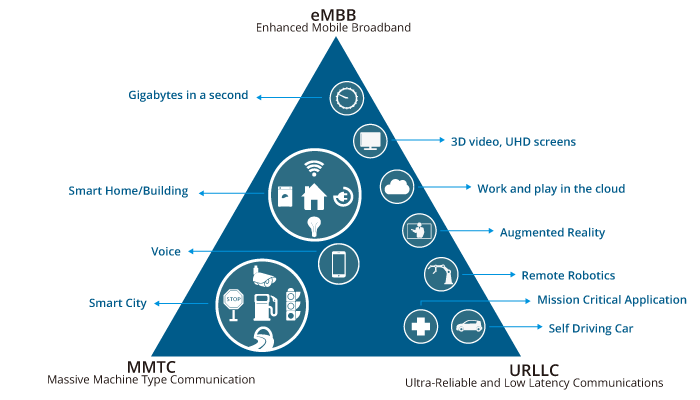 Make 5G to meet industrial IoT requirement
Designing 5G to meet in dustrial loT requirements

Private 5G Network:
Deployment options:
Public Network intergrated Non-Public Network (1/2)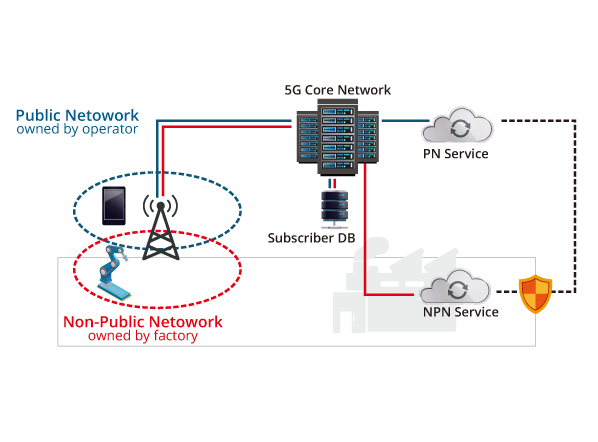 Deployment options:
Public Network intergrated Non-Public Network (2/2)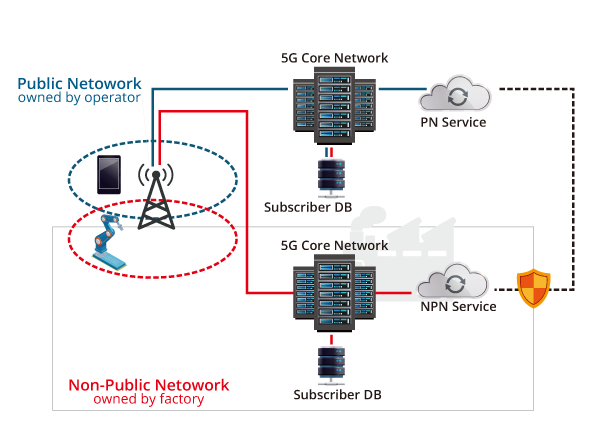 Deployment options:
Stand-alone Non-Public Network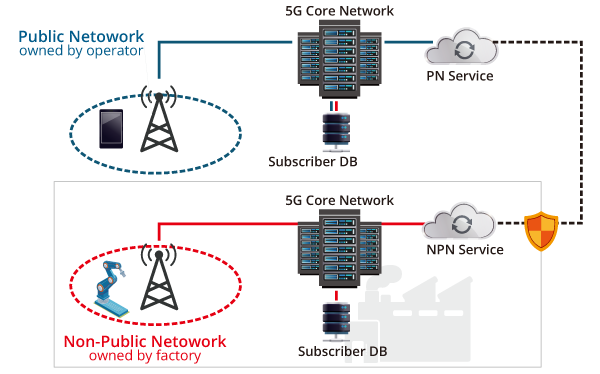 Private 5G networks for Industrial IoT use cases
1.Time Sensitive Networks (TSN)
2. Mobile Broadband (MBB)
3. Extended Reality (XR)—for Augmented Reality (AR), Virtual Reality (VR), mixed reality (MR), etc.

Industrial Ethernet using Time Sensitive Networking

Ethernet over 5G
Transport Ethernet frames over 5G
Efficient transport of broadcast packets,including loop prevention
Automatic address discovery
Quality of Service (QoS)
Interface between 5G control plane and TSN for QoS management
Define new 5G QoS identifier for industrial Ethernet
Admission control & interaction with TSN QoS framework
Time synchronization
Time synchronization architecture
Microsecond synchronization for all nodes
Broadcasting precise time by gNB
5G and Edge Computing can enhance virtual reality
- Remote Manufacturing / Remote Maintenance by 5G & AR/MR
5G has been associated with the promise of new digital applications and it creates new value for both us as individuals and to industries. Augmented / virtual / Mixed reality (AR / VR / MR) are 3 technology concepts providing significant benefits in this new digital reality. These technologies open new ways of working in areas such as manufacturing and healthcare, allowing for both increased productivity and completely new user experiences.
But the creation AR and VR experiences don't come without technical challenges. Combining and synchronizing the real world and the motions of the user with a digital world requires a massive amount of graphical rendering processes. Because the graphics require heavy rendering, on-device processes are augmented by splitting workloads between the AR/VR device and the edge cloud. Graphics rendering on the edge cloud augment latency-sensitive on-device head tracking, controller tracking, hand tracking and motion tracking to photon processing. This concept is called split rendering. But when the rendering is done in the cloud, and not on a mobile device, you also need a fast and reliable 5G connection to deliver the final experience to the user.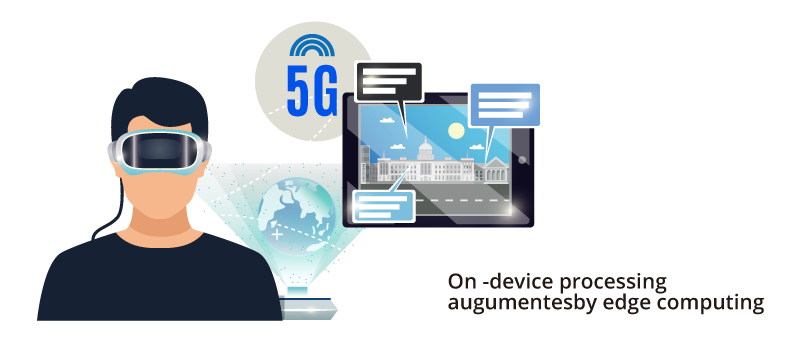 EtherWAN 5G Mission:
From 2021, EtherWAN will start a journey of Industrial IoT 5G connectivity, with the specific purpose of gaining science and technology innovation experience. For future new 5G product development, we still need to turn ideas into action in order to figure out what the market really needs and to develop a plan.