Motorcycle-Based ITS Surveillance Solutions
---

---
Surveillance System on Motorcycles
Smart surveillance solutions are not a one-size fits all cities worldwide. With citizen privacy concerns and the need for police accountability, implementing new surveillance systems can be a sensitive matter. The advent of 4G LTE technology has opened innovative ways to monitor big cities.
Amidst the global surge in surveillance, a particular major city has adopted a nonconventional approach. Rather than relying on body cameras alone, their police force has deployed smart surveillance systems mounted on motorcycles. This system enables high-quality, real-time image analysis, ensuring optimal security and safety for urban residents as the city invests in robust public safety infrastructure projects.
Challenges of Surveillance Optimization
To optimize police surveillance capabilities, a fleet of police motorcycles was equipped with advanced day/night speed dome network cameras designed for their dynamic and fast-paced operations. These cameras feature IP66-rated housing for protection against the elements and support efficient video compression formats like H.264/MJPEG. However, managing the massive amount of video data generated by these cameras and ensuring its swift and secure transmission over 4G networks presented a significant challenge.
In addition to video data, each motorcycle's system had to handle data from the battery management system (BMS). This BMS monitors and protects the rechargeable battery, keeping it within safe operating limits and relaying critical power, voltage, and temperature information back to a centralized server.
The key system requirements include:
Robust Performance:Operating reliably in extreme temperatures without climate control on motorcycles.
High Bandwidth: Delivering large volumes of video data over cellular networks with no loss of data during wireless connection drops.
Integration with Peripheral Devices: Seamless interface with battery and battery temperature sensors.
Secure Communication : Providing a secure and intelligent communication solution.
The comprehensive system upgrade aimed to maximize the effectiveness of motorcycle-based surveillance and ensure seamless operation for video and battery transmission management systems in extreme environmental conditions while maintaining data integrity and security.
Effortless Integration, Reliable Wireless Connectivity
The EW50 seamlessly fits into motorcycle monitoring boxes, featuring dual 4G SIM card slots for reliable connectivity. It supports Global HSPA+ and 4G LTE networks, ensuring compatibility with major carriers.
Connecting the hardware is effortless, with a 1 Gigabit Ethernet port for the surveillance camera and RS-232 interfaces for battery and sensor connections. For enhanced security, the EW50 offers IPSec VPN support for the secure transmission of battery and video data to police headquarters. With a low power consumption of 3-7 watts, it maximizes battery life, and its wide temperature range of -30°C to 70°C guarantees excellent performance in any environment.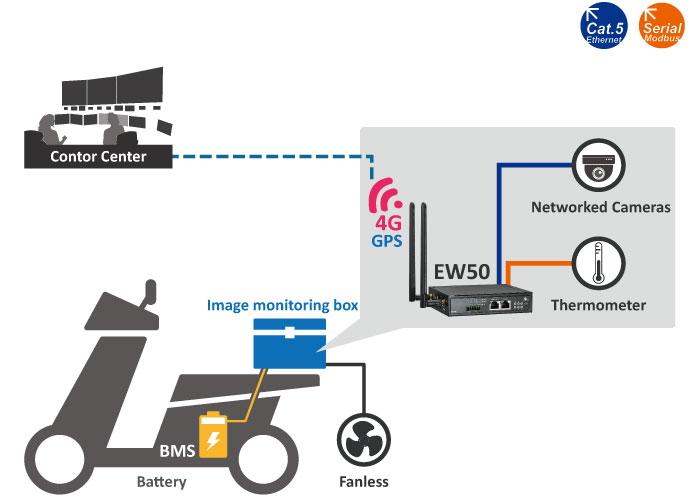 Driving City Safety with EW50
In response to the increasing demand for high-quality video surveillance systems in smart cities, EtherWAN emerges as a leader in fulfilling the evolving IoT communication requirements of public infrastructures. With a dedicated emphasis on speed, reliability, security, and endurance, the EW50 Industrial Cellular Gateway emerges as an outstanding and innovative solution, specifically designed to address future challenges and demands of data transmission in this dynamic landscape. By leveraging innovative technologies and powerful features, the EW50 Industrial Cellular Gateway provides seamless integration and empowers smart cities to optimize their video surveillance capabilities, ensuring superior performance, enhanced data connectivity, and uncompromising security standards.
Related products:
---
EtherWAN – " When Connectivity is Crucial "
► For more information, please contact: [email protected]
---