4G: The Superior Approach to Traffic Management
---

---
The Need for Innovative Traffic Solution
Traffic management has historically posed significant challenges for cities and municipalities worldwide. Over the past decades, a global trend towards urbanization has seen millions of people migrate from rural areas to cities and suburbs, resulting in unprecedented urban populations and car densities. This has exacerbated traffic congestion in many regions, necessitating innovative solutions to ensure smooth and safe traffic flow. Furthermore, there is a growing need to monitor weather conditions and air pollution at intersections, as these environmental factors have become critical aspects of modern smart traffic management.

Traditionally, traffic management required manual configuration of control equipment on-site, such as at traffic control boxes within intersections. Remote management from a centralized control center offers greater efficiency in terms of time and manpower. However, achieving remote control through a wired network often entails expensive infrastructure projects, including digging up roads for network cabling installation—a sizable and costly undertaking. Embracing new technologies, wireless remote control of traffic intersections becomes more accessible, harnessing the power of the Internet of Things (IoT). Nonetheless, it is imperative to prioritize data security through encryption and firewall implementations to prevent intrusion and safeguard these crucial systems.

This scenario unfolded in a metropolitan area with multiple intersections located on the city's outskirts, far from the existing urban infrastructure for traffic management. Traditional sites lacking remote control capabilities required engineers to manually configure the automatic control equipment (ATC). To address this challenge, a wireless system for remote configuration and monitoring of traffic control assets was indispensable. Consequently, the city government turned to EtherWAN for assistance.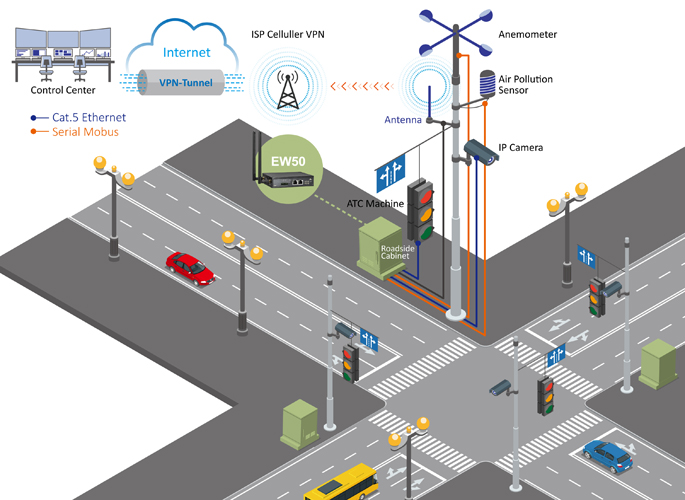 ---
Traffic Management Demands
The city demands a cost-effective wireless solution that delivers the same consistent and reliable performance as a cabled solution.
Security of the system is paramount, requiring both data encryption and a firewall.
The equipment at intersections needs to be able to be rebooted remotely, with no need to physically access the site.
Even if on-site traffic control cabinets lack a cooling system, all equipment must be able to operate flawlessly at temperatures as high as 70°C.

System requirements include:
Remote field ATC monitoring and control
All video data recorded at an intersection must be backed up to the central control center for analysis of traffic flows so that personnel can make corresponding changes to the local ATC
IoT applications must transmit temperature, humidity, and air pollution information to the back end for data recording
RS-485 interface with support for Modbus protocol
MQTT (MQ Telemetry Transport) for sending data to the Cloud (EW200 Only)
Dual cellular (SIM) card support for transmission redundancy
VPN (Virtual Private Network) tunneling and encryption


---
A Gateway Device That Does It All
EtherWAN once again rose to the challenge with its EW50 industrial 4G gateway solution, showcasing its capability to operate seamlessly in temperatures from -30 to 70°C. The EW50 stands as an intelligent, industrial-grade 4G gateway meticulously crafted for critical infrastructure and industrial applications. It boasts dual SIM card support for failover, ensuring uninterrupted data flow. In terms of security, a VPN connection was established to connect to the local ISP, effectively extending the private network across the internet. Moreover, the EW50 is fortified with a comprehensive array of firewall functions, encompassing packet filtering, URL blocking, content filtering, MAC Control, application filtering, and an intrusion prevention system (IPS).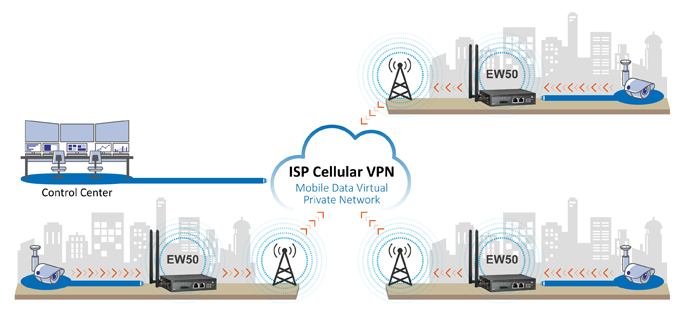 At the field site, the EW50 serves as the linchpin, connecting to monitoring devices such as anemometers and pollution sensors through its RS-485 interface. It leverages the Modbus protocol not only to receive data but also to control the connected Modbus devices. Additionally, the EW200 supports MQTT, a publish-subscribe network protocol, to dispatch Modbus data to the MQTT broker in the Cloud. This allows for the data to be analyzed by potent Cloud applications designed to process Big Data, handling vast datasets that exceed the capacities of traditional data-processing methods. As a 4G solution, SMS messages can be used in tandem with the digital output (DO) function of the EW50 to control terminal devices and cameras.

In summation, the final solution delivered a robust 4G implementation that impeccably met the city's requisites, playing a pivotal role in the safe and efficient management of traffic flows.

---
4G Streamlines Network Traffic
In line with the principle that problems require modern solutions, 4G stands as a mature broadband cellular network technology. When integrated with support for the serial communication systems that continue to drive various sensors and end devices, it has the potential to significantly reduce installation costs while enhancing management efficiency in traffic and roadside applications. EtherWAN is leading the way in this exciting new technological era.
---
Related Products:
---
EtherWAN – " When Connectivity is Crucial "
► For more information, please contact: [email protected]
---