Back to top
Power over Link - Get power & data right on the Ethernet Extension Link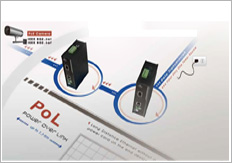 Have you ever needed to connect an IP camera, controller, radio or other device to an Ethernet network but the distance is just a bit too long and you don't have a way to power the device where it is located? EtherWAN has solved this dilemma. EtherWAN developed the ED3538T/R Ethernet Extender system with Power over Link / Power over Ethernet (PoL/PoE). Power over Link (PoL) means power and data are transported over a single pair of wires, between two locations.

The wire may be a plain old phone cable. EtherWAN has developed a system, consisting of a pair of devices, named ED3538T/R that allow a user to connect any PoE powered device to an Ethernet network without supplying power at the end device location.

---
How does it work?
The ED3538T is powered by 48VDC and it transmits power and data to the ED3538R. The link runs at full 100Mbps out to 300m, three times the distance of 100Mb Ethernet over Cat 6 cable. This system transmits enough power across the link to power the ED3538R and provides IEEE802.3at (30W) power to an end device via the Ethernet port. These units will allow users to take advantage of existing cabling infrastructure as well as provide a way to install new systems without the requirement to bring power to remote locations where you may want to install a device such as a camera or a badge reader or wireless access point. The following performance table provides the full capability of the ED3538T/R pair when using the PoL feature.

The ED3538T/R product is hardened for extreme environments so it may be mounted in a box outdoors without concern. This allows the use of PoL from an outdoor cabinet to a more remote outdoor cabinet or from an indoor cabinet to an outdoor cabinet with The full capability of the ED3538T/R pair when using the PoL feature. the same product. The goal is to make installation of systems worry free and simple.

The ED3538T/R system is a plug 'N' play 'N' walk away system. Connect the ED3538T to your network, connect the ED3538R to your remote device and connect a pair of wires between them, that's it.

The ED3538T/R will also operate in a powered mode that doesn't use PoL. The advantage is, the remote unit (ED3538R) provides 30W of power regardless of distance and the distance is extended to a maximum of 2200 m at 1 Mbps. This mode is selected with a single DIP switch.

By combining VDSL2 and PoL technology the ED3538T/R provides another tool for the installer / integrator to build networks that are simple, low cost and faster to install.

---
About EtherWAN
EtherWAN Systems, Inc. is a leading manufacturer of network connectivity products specifically designed for harsh and demanding environments. Founded in 1996, EtherWAN specializes in the design and manufacture of Ethernet switches, media converters, Ethernet extenders and Power over Ethernet products for applications where connectivity is crucial. With a core focus on sustained connectivity in extreme environments, product reliability and quality are top priority. EtherWAN's product development, engineering, manufacturing and quality assurance processes are structured to push the limits of stated specifications, resulting in products that surpass expectations.

The company's Pacific Rim headquarters and manufacturing facilities are in Taipei, Taiwan. Leveraging marketing and engineering expertise on both sides of the Pacific Ocean, EtherWAN's world class production lines deliver products of the highest quality and comprehensive professional support.

EtherWAN – " When Connectivity is Crucial "
---