Introducing EtherWAN's EX78900H: Where Gigabit Speed Meets 90W Power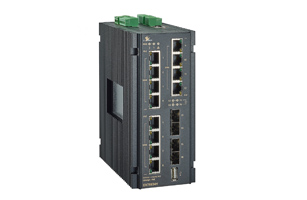 EtherWAN Systems, Inc. has released the EX78900H series, a new hardened managed gigabit Ethernet switch that supports Lite Layer 3 functionality. The EX78900H boasts Ethernet connectivity options with 8 or 12 gigabit copper ports and 2 or 4 SFP or fixed fiber ports.

This switch supports 52 to 57VDC redundant power input with a relay alarm system to notify of power redundancy failures. The EX78900H comes equipped with 12 gigabit PoE copper ports and 4 dual-rate 100/1000Mbps SFP ports, or you can choose a combination of 8 Gigabit PoE copper ports and 2 or 4 dual-rate 100/1000Mbps SFP ports for extended-range connectivity. It complies with the IEEE 802.3bt Type 4 PoE protocol, delivering 90W of power per port and providing a total power budget of 360 Watts, making it compatible with almost all powered devices available on the market.

The EX78900H series brings Layer 3 switching capabilities, supporting static route and RIP v1/v2 protocols. It also offers a wide range of features, including SNMP, port mirroring, QoS, flow control, VLAN, Link Aggregation, IGMP snooping, DHCP, and DDM. The switches can be managed via RS-232, CLI, Telnet, and web browsers. Dual power inputs are available, and you can achieve network redundancy using STP, RSTP, MSTP, or EtherWAN's Alpha-Ring™ technologies.

The EtherWAN EX78900H goes a step further by providing dual firmware image backups to prevent firmware upgrade failures and offering support for Dying Gasp, which immediately notifies you through SNMP in case of a power loss.
---
About EtherWAN
EtherWAN Systems, Inc. is a leading manufacturer of network connectivity products specifically designed for harsh and demanding environments. Founded in 1996, EtherWAN specializes in designing and manufacturing of Ethernet switches, media converters, Ethernet extenders, and Power over Ethernet products for applications where connectivity is crucial. With a core focus on sustained connectivity in extreme environments, product reliability and quality are top priorities. EtherWAN's product development, engineering, manufacturing, and quality assurance processes are structured to exceed stated specifications, resulting in products that consistently surpass expectations.

The company's Pacific Rim headquarters and manufacturing facilities are in Taipei, Taiwan. Leveraging marketing and engineering expertise on both sides of the Pacific Ocean, EtherWAN's world-class production lines deliver products of the highest quality and comprehensive professional support.
EtherWAN– " When Connectivity is Crucial"
► Corporate: [email protected] or by phone at: +886 2 6629 8986 ext.5084