Back to top
EtherWAN Systems Releases Hardened Managed Gigabit PoE++ Switches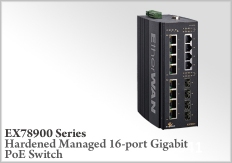 Taipei, Taiwan — July 28, 2015 —
EtherWAN Systems Inc. launches the EX78900 series, a Hardened Managed DIN-Rail 16-port Gigabit PoE switch, supporting PoE++ (also known as Ultra PoE) of 60W per port. The EX78900's PoE/PSE ports are not only IEEE802.3af/at compliant, but they are also enhanced with ultra-powerful PoE chips to boost the PoE output power up to 60 watts per port, utilizing all 4 pairs of a single CAT5e cable.

It enables a wide range of applicable cases with broader end devices support, such as VoIP telephony, Wireless Access Points, high-definition PTZ dome cameras, infrared network illuminators, physical access control with door locks, information kiosks, digital signage, and so on.

In additional to superior high-power PoE support, the EX78900 switch is equipped with a total of 16 Gigabit ports. The versatile design of the EX78900 series allows port configurations as many as 12 full Gigabit copper ports including 8 PoE ports (60W of each at maximum PoE power budget of 240W) and 4 SFP slots for uplink communication or redundant topology. The overall 32Gbps switching capability is enabled, which is ideal for large video packets transmission. With intelligent software-based tool, the EX78900 series can execute various management functions to analyze and improve network performance, such as QoS, VLAN, DHCP, Link Aggregation, IGMP snooping, port mirroring, and security features like IEEE802.1X, ACL and RADUIS for remote access control, allowing only authorized communications in the network.

The EX78900 series supports standard STP/RSTP/MSTP and EtherWAN's exclusive Alpha-Ring redundant protocols, which automatically heals a network disconnection with less than 15ms. The EX78900 also accepts dual industrial power inputs with relay alarms for power redundancy, ensuring smooth and non-stop network communications. The EX78900 series is specifically designed for industrial and tough outdoor environments. With fan-less hardened design and ruggedized aluminum enclosure, the EX78900 series is able to sustain high ESD, EMI, shock and vibration, as well as wide operating temperature range of -40°C to 75°C.

Winson Lee, Product Manager of EtherWAN Systems, states, "the EX78900 series is truly versatile to connect with powered devices with high bandwidth and high power consumption requirements, as it breaks the 30W PoE standard to fulfill specific IP surveillance applications in the near future."

The EX78900 network switch is targeted for mission-critical applications especially those under harsh environments where sustained PoE connectivity is extremely crucial.
---
About EtherWAN
EtherWAN Systems, Inc. is a leading manufacturer of network connectivity products specifically designed for harsh and demanding environments. Founded in 1996, EtherWAN specializes in the design and manufacture of Ethernet switches, media converters, Ethernet extenders and Power over Ethernet products for applications where connectivity is crucial. With a core focus on sustained connectivity in extreme environments, product reliability and quality are top priority. EtherWAN's product development, engineering, manufacturing and quality assurance processes are structured to push the limits of stated specifications, resulting in products that surpass expectations.

The company's Pacific Rim headquarters and manufacturing facilities are in Taipei, Taiwan. Leveraging marketing and engineering expertise on both sides of the Pacific Ocean, EtherWAN's world class production lines deliver products of the highest quality and comprehensive professional support.

EtherWAN – " When Connectivity is Crucial "
► For more information about EtherWAN products, please visit www.etherwan.com or contact [email protected]
---