Back to top
EtherWAN Systems Releases the EX73900 Series Hardened Managed Switch with Lite Layer 3 Functions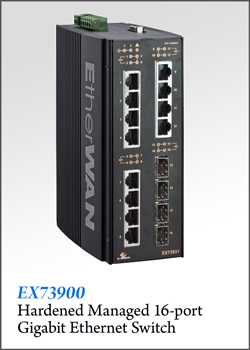 EtherWAN Systems, Inc. has released the EX73900 series, a new hardened managed gigabit Ethernet switch that supports lite layer 3 functions. The EX73900 provides Ethernet connectivity with 8 or 12 gigabit copper ports and 4 SFP or fixed fiber ports.

The EX73900 switches are designed to operate in harsh environments, and can withstand temperatures from -40°C to 75°C. Meeting the strict EMC requirements of NEMA TS2 and IEC 61850 standards, the switches can maintain continuous operation during voltage dips and electrical interruptions of up to 0.5 seconds as per IEC 61000-4-11. The EX73900 series is extremely well-suited for network connectivity in intelligent traffic systems and critical infrastructure installations.

The EX73900 series supports Layer 3 switching with static route and RIP v1/v2 protocols. The EX73900 supports SNMP, port mirroring, QoS, flow control, VLAN, Link Aggregation, IGMP snooping, DHCP, and DDM. The switches can be managed via RS-232, CLI, Telnet and web browser. Dual power inputs are available and network redundancy can be achieved by STP, RSTP, MSTP, or EtherWAN's Alpha-Ring™ technologies.

Additional features of the EtherWAN EX73900 include dual firmware image backups, which prevent firmware upgrade failures, and support for Dying Gasp, which provides immediate notification through SNMP if the switch loses power.
---
About EtherWAN
EtherWAN Systems, Inc. is a leading manufacturer of network connectivity products specifically designed for harsh and demanding environments. Founded in 1996, EtherWAN specializes in the design and manufacture of Ethernet switches, media converters, Ethernet extenders and Power over Ethernet products for applications where connectivity is crucial. With a core focus on sustained connectivity in extreme environments, product reliability and quality are top priority. EtherWAN's product development, engineering, manufacturing and quality assurance processes are structured to push the limits of stated specifications, resulting in products that surpass expectations.

The company's Pacific Rim headquarters and manufacturing facilities are in Taipei, Taiwan. Leveraging marketing and engineering expertise on both sides of the Pacific Ocean, EtherWAN's world class production lines deliver products of the highest quality and comprehensive professional support.

EtherWAN – " When Connectivity is Crucial "
► EX73900 official product page: EX73900 Series
► For more information, please contact: [email protected]
---