Back to top
EtherWAN Systems Releases the ER52000 Series Hardened Unmanaged PoE Switch for Rolling Stock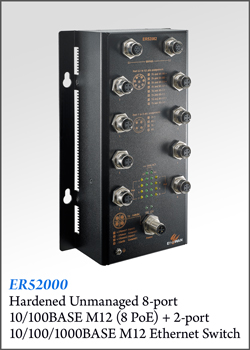 EtherWAN Systems, Inc. has released the ER52000 series, an unmanaged PoE switch for railway applications. Specifically designed for PoE connectivity on rolling stock, the ER52000 is compliant with EN50155 and EN50121-3 international standards, accommodating the prerequisites including temperature, humidity, shock, vibration, and other parameters for rolling stock in railway applications.

EtherWAN's ER52000 provides 8 10/100BASE PoE ports and 2 Gigabit uplink ports. All 10 ports are built with robust M12 connectors with the vibration resistance and protection level required in harsh railway environments. Thanks to the wall mount design, the ER52000 can be easily installed on a flat surface on rolling stock.

With 72 to 110VDC power input range, the ER52000's PoE ports supports IEEE802.3at standard delivering PoE up to 30 watts per port with a total power budget of 120W. Users are able to use a single M12 data cable to power up a network camera or wireless access point, as well as to connect the ER52000 with Passenger Information System or NVR.

The uplink ports on the ER52000 support Gigabit bandwidth, Jumbo Frame and bypass relay function resulting in better network efficiency and stability; in the event the switch stops working due to a power failure, the bypass relay will be triggered to ensure non-stop data flow.
---
About EtherWAN
EtherWAN Systems, Inc. is a leading manufacturer of network connectivity products specifically designed for harsh and demanding environments. Founded in 1996, EtherWAN specializes in the design and manufacture of Ethernet switches, media converters, Ethernet extenders and Power over Ethernet products for applications where connectivity is crucial. With a core focus on sustained connectivity in extreme environments, product reliability and quality are top priority. EtherWAN's product development, engineering, manufacturing and quality assurance processes are structured to push the limits of stated specifications, resulting in products that surpass expectations.

The company's Pacific Rim headquarters and manufacturing facilities are in Taipei, Taiwan. Leveraging marketing and engineering expertise on both sides of the Pacific Ocean, EtherWAN's world class production lines deliver products of the highest quality and comprehensive professional support.

EtherWAN – " When Connectivity is Crucial "
► ER52000 official product page: ER52000 Series
► For more information, please contact: [email protected]
---