Back to top
EtherWAN Systems collaborates with Microsoft to accelerate Internet of Things solutions
Verified hardware and software enhance interoperability and allow faster time to production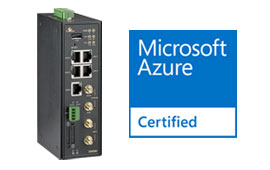 Taipei, Taiwan—March 9th, 2019
EtherWAN Systems Inc. today announced it has joined Microsoft Azure Certified for Internet of Things (IoT), ensuring customers get IoT solutions up and running quickly with hardware and software that has been pre-tested and verified to work with Microsoft Azure IoT services. Microsoft Azure Certified for IoT allows businesses to reach customers where they are, working with an ecosystem of devices and platforms, allowing for faster time to production.

EtherWAN's first Azure certified device is the EW200 series industrial LTE cellular gateway. The EW200 is an intelligent industrial grade gateway that combines IEEE 802.11b/g/n/ac WLAN and 4G LTE cellular technologies designed for critical infrastructure and industrial applications. It offers flexible connectivity over cellular and Wireless LAN for harsh environments, giving operations and IT real-time awareness with remote monitoring. It allows up to 4 Ethernet device links and provides dual SIM cards for failover redundancy to ensure uninterrupted connectivity. Moreover, it delivers best-in-class connectivity with multi path – Wireless, Ethernet, serial, digital I/O satisfies most applications. Global LTE options make it easy to get connected.

"Microsoft Azure Certified for IoT extends our promise to bring IoT to business scale, starting with interoperable solutions from leading technology companies around the world," said Jerry Lee, Director of Marketing for Azure Internet of Things, Microsoft Corp. "With trusted offerings and verified partners, Microsoft Azure Certified for IoT accelerates the deployment of IoT even further."

IoT projects are complex and take a long time to implement. Customers find that choosing and connecting the right set of devices, assets or sensors to the cloud can be time-consuming. To jumpstart their IoT projects with confidence, customers are looking for certified devices and platforms that are tested for readiness, compatibility and usability with the Microsoft Azure IoT Suite. By choosing a partner from the Microsoft Azure Certified for IoT program, customers can save time and effort on project specs and RFP processes by knowing in advance what devices and offerings will work with the Azure IoT Suite.
---
About EtherWAN
Established in 1996, EtherWAN became a subsidiary of the German Phoenix Contact Group in 2017. EtherWAN has been consistently dedicated to the innovation of industrial-grade Ethernet communication equipment. With experienced software and hardware teams, solid integration verification capability, high-quality technical consulting, the company has obtained many patents worldwide. Designs produced in-house, and manufacturing based in Taiwan, are guaranteed to maximum quality and service.

EtherWAN is a leader in the manufacture of industrial Ethernet switches, media converters, Ethernet extenders, PoE (Power over Ethernet) products, and wireless communications equipment. The company's products have been widely used in intelligent transportation systems, security surveillance, energy, critical infrastructure, and factory automation.

EtherWAN – " When Connectivity is Crucial "
► For more information, please contact: [email protected] or by phone at: +886 2 6629 8986 ext.5084
---