Back to top
EtherWAN Releases the EG97000 Layer 3 Gigabit Ethernet Switch
Supports multiple routing protocols, and hardened for use in industrial environments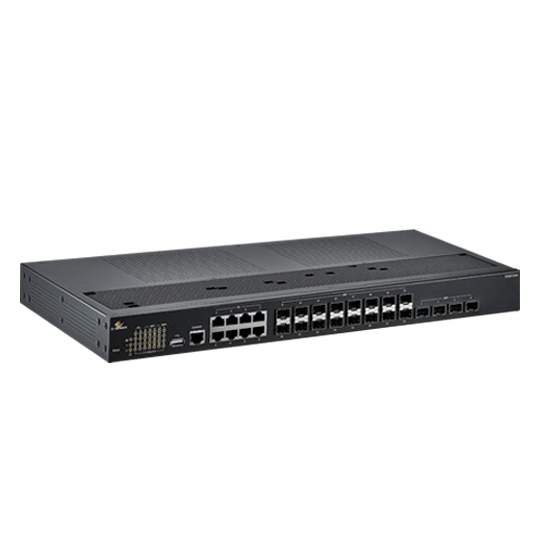 April 23, 2019, Taipei, Taiwan
EtherWAN has launched the EG97000, a gigabit Layer 3 managed switch for high bandwidth uplink or interconnection use. It is specially designed to perform as a router with hardware-based data forwarding, and is capable of high-speed IP routing and switching between virtual LANs (VLANs) and subnetworks.

The EG97000 supports IP routing including, OSPF v2, RIP v1 & v2, and static routes. These routing protocols can operate simultaneously with redistributions to each other and route control tools, including IP prefix-list and route-map.

The EG97000 is also equipped with sophisticated network and system failure recovery features including VRRP and dual redundant power supplies that minimize costly network downtime. Dual rate SFP slots (100/1000M and 1G/10G) allow for forward and backward compatibility with existing networks. With 16 x 1G SFP and 4 x 10G SFP+, the EG97000 offers high SFP slot density for greater fiber scalability. This improves network topology flexibility and allows for a higher number of fiber interconnections.

The EG97000 is ideally suited for surveillance, traffic, and smart city systems, which require large backplane bandwidth capacity and uninterrupted connectivity.

EG97000 features include:

28-Ports: With four 1G/10G SFP+, 16 100/1000 SFP, and 8 10/100/1000 Ethernet ports, the EG97000 is designed to fit into existing networks and perform as a switch and router.
Layer 3: Layer 3 capabilities allow for IP unicast and multicast routing, and switching across VLANs and subnetworks with no compromise in performance. These features are important when using cameras in intelligent transportation system applications.
Hardened-Grade: The switch's hardened-grade specifications and fanless design allow it to function in temperatures ranging from -40 to 75°C (-40 to 167°F) and provide outstanding resistance to electromagnetic interference.
---
About EtherWAN Systems, Inc.
Established in 1996, EtherWAN became a subsidiary of the German Phoenix Contact Group in 2017. EtherWAN has been consistently dedicated to the innovation of industrial-grade Ethernet communication equipment. With experienced software and hardware teams, solid integration verification capability, high-quality technical consulting, the company has obtained many patents worldwide. Designs produced in-house, and manufacturing based in Taiwan, are guaranteed to maximum quality and service.

EtherWAN is a leader in the manufacture of industrial Ethernet switches, media converters, Ethernet extenders, PoE (Power over Ethernet) products, and wireless communications equipment. The company's products have been widely used in intelligent transportation systems, security surveillance, energy, critical infrastructure, and factory automation.

EtherWAN – " When Connectivity is Crucial "
---