EtherWAN Introduces IG5 Rack to Support IEEE 1588v2 Networks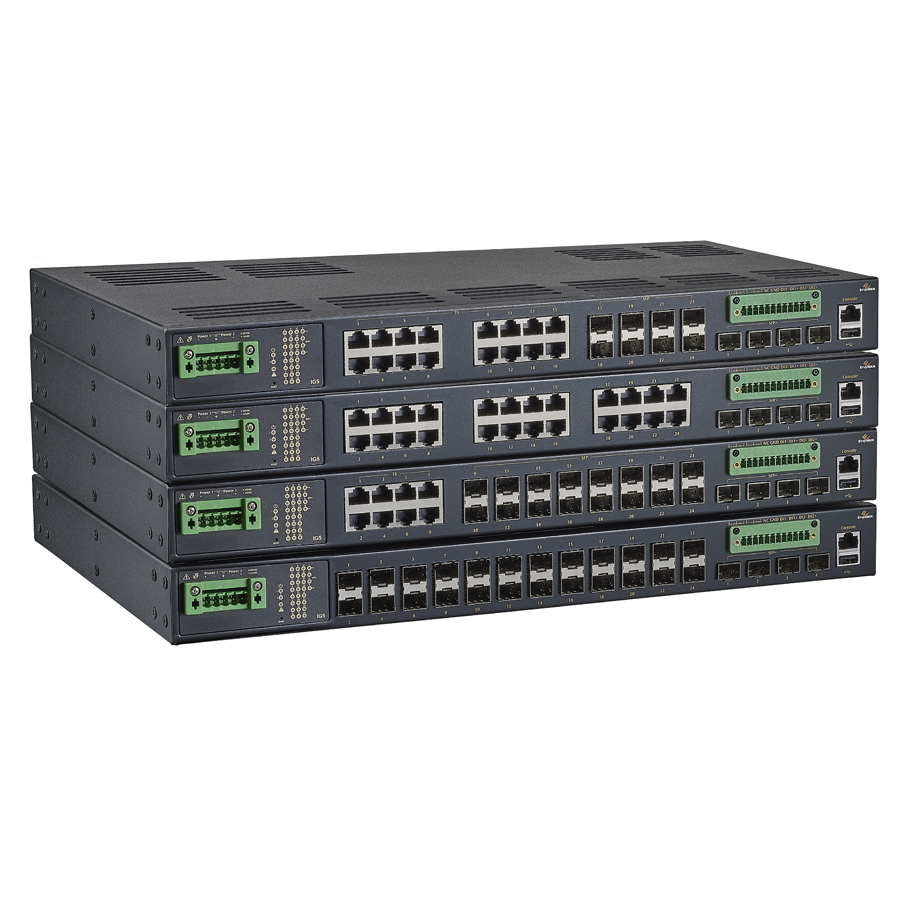 Taipei, Taiwan—September 19, 2022
EtherWAN introduces a hardened-grade full gigabit Ethernet switch, the InfraGreEn IG5 Rack series, that supports the IEEE 1588v2 Precision Time Protocol (PTP) which is mainly used in digital substations. The series is also compliant with the IEC 61850-3/IEEE 1613 standard, an Ethernet-based protocol for data communications in transportation intersections.
The InfraGreEn IG5 Rack series provides a hardened full-gigabit managed 28-port switching platform that combines the advantages of Layer 3 routing protocols with robust management features and hardened specifications. With support for static routing, Routing Information Protocol (RIP) v1/v2, and Virtual Router Redundancy Protocol (VRRP), these switches deliver outstanding flexibility and security in a high performance and cost-effective package.
Multiple port combinations on the IG5 Rack series include: 24 port TX, 16 port TX + 8 SFP, 8 port SFP + 16port TX, and 24 port SFP. All support gigabit transmission, with 4 ports supporting SFP+ for 1G/10G speeds. Mountable on a 1U rack, the switches are equipped with EtherWAN's Alpha-Ring self-healing technology that provides fault recovery time of under than 15ms, making it ideal for applications intolerant to interruption.
While communication is a crucial criterion to utilities, power grids and substations, the IEC 61850-3/IEEE 1613-certified equipment guarantees maximum reliability in communication with different terminals such as measuring, monitoring and control stations, and IEEE 1588v2 keeps network time synchronized between equipment in digital substations. As digital substations are key components in energy transmission, it is important to monitor and effectively allocate electricity effectively without waste. That is why EtherWAN is devoted to "Making our lives Smarter & Greener."
Visit EtherWAN's website for more details. www.etherwan.com
---
About EtherWAN
Established in 1996, EtherWAN became a subsidiary of the German Phoenix Contact Group in 2017.
EtherWAN has been consistently dedicated to the innovation of industrial-grade Ethernet communication equipment, and now also offers outstanding wireless, 5G, and LTE solutions to meet the needs of IoT, smart cities, and smart manufacturing. With experienced software and hardware teams, solid integration verification capability, and high-quality technical consulting, the company has obtained many patents worldwide. Designs produced in-house, combined with manufacturing based in Taiwan, are guaranteed to deliver maximum quality and service. The company's products are widely used in intelligent transportation systems, security surveillance, energy, critical infrastructure, and factory automation.


EtherWAN– " When Connectivity is Crucial"
► Corporate: [email protected] or by phone at: +886 2 6629 8986 ext.5084