Back to top
EtherWAN industrial PoE switches with DDM support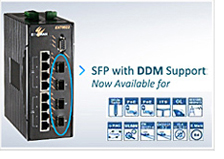 Taipei, Taiwan — 14 January, 2014 —
EtherWAN, a specialist in supplying Ethernet connectivity for applications in various markets, has recently launched their latest industrial switch technology, called 'Digital Diagnostics Monitoring (DDM)' or 'Digital Optical Monitoring (DOM), to easily troubleshoot fibre optic connectivity issues.

Distributed networks, such as traffic signal networks or highway management networks present a special challenge because the location of Ethernet switches are sometimes miles apart from each other and miles from the central control centre. The fibre optic cable plant is vulnerable to disconnections and damage from various sources. If the wrong type of fibre and/or mis-connection happens, the patch panels and patch cables then are spliced and can become faulty and there is always the possibility of a new dig simply cutting through the fiber optic cable.

Ethernet networks are the transport mechanism for Internet Protocol (IP) communications. Although Ethernet has been around since 1973 when the original concept was tested at Xerox's Palo Alto Labs, it has just in the last few years become viable in control system applications and even more recently in CCTV applications. The invention and development of better switching technology has made industrial Ethernet networks more applicable to control system networks, such as traffic and transportation systems.

Etherwan has enhanced industrial Ethernet switches by adding a Digital Diagnostics & Monitoring function to the fibre optic ports of the switch. This function allows a user to measure optical parameters at a specific switch and determine performance levels of not only the switch but the optical fiber plant as well. This is an indispensible tool when used to trouble shoot fibre optic cable plant anomalies from the comfort of the management centre, rather than rolling a truck to various cabinets.

Using the recently released DDM/DOM from Etherwan a user can use the industrial Ethernet switch management functions to trouble shoot fiber optic connectivity issues. The DDM/DOM subsystem is available through the switch management screens. Whether using a web browser, telnet or the console port, a user can access this information for any switch in the network from any location on the network. In the system, DDM/DOM measures and monitors the operating parameters of the SFP module, including the optical characteristics and displays a set of parameters that allow users to determine the health of the laser as well as the performance of the fibre optic cable plant.

Industrial Ethernet switches with DDM/DOM allow users of distributed networks that utilise fibre optic cable to be more proactive in maintaining their network using the than standard optical interfaces. The results are fewer truck rolls, less network down time, less investment in equipment and training and smoother operation.
---
About EtherWAN
EtherWAN Systems, Inc. is a leading manufacturer of network connectivity products specifically designed for harsh and demanding environments. Founded in 1996, EtherWAN specializes in the design and manufacture of Ethernet switches, media converters, Ethernet extenders and Power over Ethernet products for applications where connectivity is crucial. With a core focus on sustained connectivity in extreme environments, product reliability and quality are top priority. EtherWAN's product development, engineering, manufacturing and quality assurance processes are structured to push the limits of stated specifications, resulting in products that surpass expectations.

The company's Pacific Rim headquarters and manufacturing facilities are in Taipei, Taiwan. Leveraging marketing and engineering expertise on both sides of the Pacific Ocean, EtherWAN's world class production lines deliver products of the highest quality and comprehensive professional support.

EtherWAN – " When Connectivity is Crucial "
---