Back to top
EtherWAN to Connect 25 IP Cameras at 2011 Secutech Award Demonstration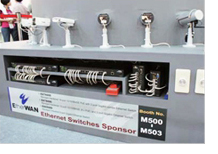 EtherWAN, a leading brand of Ethernet connectivity solutions, announced its participation at Secutech award, from April 20th to 2nd, 2011. EtherWAN has conducted an on-site demonstration of viewing solutions in the categories of 3-3.0 megapixel IP camera, 5.0 megapixel IP camera, 650/700 TVL HDcctv (HDMI/SDI) camera and HD and full HD(720P/1080P) IP camera. EtherWAN geared up for the award demonstration by sponsoring and serving as the sole networking equipment provider for 25 cameras at the event.

EtherWAN's equipments have been proven efficient by worldleading IP camera manufacturers including Axis, Brickcom, CNB, EverFocus, Eyeview, Hi-Sharp, MicroDigital, Mintron, Shany, Sony and VIVOTEK to provide connectivity solution without any image delay. This has shown EtherWAN's products are fully compatible with mainstreamed IP and HDcctv cameras, and also confirms EtherWANs networking products are stably working with each device to bring up its best performance.

In the network layout, 25 of HDcctv and Megapixel cameras, and laptops are connected to three EtherWAN's EX76000, Managed 16-port + 2-port Gigabit PoE Ethernet Switches and the EX78000, Managed 10-port + 2-port Gigabit PoE Ethernet Switch allow camera users to transit video at the same time without any problem.

EtherWAN's distinct Layer 2 switch, EX65000, 8-port Gigabit Ethernet Switch is connected to three Ethernet Switches, two Severs and two LCD monitors on-site to mange bandwidth control for each port. This Layer 2 switch can manage the bandwidth the same way as a Layer 3 switch.

EtherWAN once again has proven its technology know-how in network solutions and on-site support in any environment. "We are really impressed by the enthusiastic support and sophisticated networking knowledge from EtherWAN team," said Mr. Alf Chang, the event coordinator / Senior Technical Consultant of A&S Magazine.

EtherWAN has full range of PoE networking products (IEEE802.3af and IEEE802.3at compliant) to support surveillance systems in pampered rooms or harsh environments. Some of EtherWAN's products have received E-Mark certification to run surveillance systems on motoring vehicles. The EN50155 compliant ruggedized Ethernet Switches are also available for rolling stock network surveillance solutions. EtherWAN will continue to play an important role in the industry when it comes to Ethernet connectivity.
---
About EtherWAN
EtherWAN Systems, Inc. is a leading manufacturer of network connectivity products specifically designed for harsh and demanding environments. Founded in 1996, EtherWAN specializes in the design and manufacture of Ethernet switches, media converters, Ethernet extenders and Power over Ethernet products for applications where connectivity is crucial. With a core focus on sustained connectivity in extreme environments, product reliability and quality are top priority. EtherWAN's product development, engineering, manufacturing and quality assurance processes are structured to push the limits of stated specifications, resulting in products that surpass expectations.

The company's Pacific Rim headquarters and manufacturing facilities are in Taipei, Taiwan. Leveraging marketing and engineering expertise on both sides of the Pacific Ocean, EtherWAN's world class production lines deliver products of the highest quality and comprehensive professional support.

EtherWAN – " When Connectivity is Crucial "
---