Back to top
EtherWAN and Leading Camera Providers Demonstrated IP Network Solutions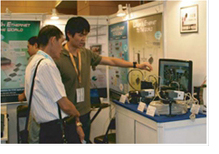 Taipei, Taiwan — September 15, 2009 —
At the 2009 Taiwan RoadShow , a three-day event hosted in Taichung, Kaohsiung and Taipei that showcased the latest network security products to local seekers. EtherWAN demonstrated the next level in IP security network solutions in the collaboration of IP camera manufacturers ACTi and Etrovision.

With a live demo, EtherWAN proved that the Ethernet Extender is the best solution to transmit data from Megapixel IP D/N cameras across a CCTV solution when longer distance is a must yet construction cost is concerned. With PoE technology, EtherWAN provides switches that can achieve faster connection speeds and simplify the wiring hassle in extreme environments.

Working together with ACTi and Etrovision, EtherWAN is able to provide the knowledge of IP networking solutions. "With EtherWAN's products, users may benefit from the ready-to-go IP networking solutions to remove integration hassles, even in extreme environments." said Robert Shen, General Manager at Etrovision Technology. "EtherWAN has the solutions for CCTV providers to boost the integrated solution value. With the harden design, EtherWAN's products definitely help Etrovision to work on opportunities, in which commercial-grade networking equipment cannot reach," Shen added. "

EtherWAN's Ethernet extender provides a solution for our IP camera users to work out awkward distance prolems by taking advantages of existing phone wires or coaxial cables. It simply breaks the 100-meter copper Ethernet barrier," said Alan Chou, Sales Account Manger at ACTi Corporation. "Here is the answer for distance and data transmission, especially for critical applications." Chou added. "EtherWAN will continue to develop networking products for harsh environments, in terms of form factor, port density and connecting speed. EtherWAN has the networking solution ready to escort traditional surveillance system providers accelerate their migration to the IP integrated security solutions." Maggie Chao said, Associate VP at EtherWAN.

In the demand of IP solution providers to improve their integration capabilities, EtherWAN will continuously innovate Ethernet connectivity solutions to challenge the connecting speed, optimize the system cost and build solutions with trendy interfaces for point-to-point data transmission."
---
About EtherWAN
EtherWAN Systems, Inc. is a leading manufacturer of network connectivity products specifically designed for harsh and demanding environments. Founded in 1996, EtherWAN specializes in the design and manufacture of Ethernet switches, media converters, Ethernet extenders and Power over Ethernet products for applications where connectivity is crucial. With a core focus on sustained connectivity in extreme environments, product reliability and quality are top priority. EtherWAN's product development, engineering, manufacturing and quality assurance processes are structured to push the limits of stated specifications, resulting in products that surpass expectations.

The company's Pacific Rim headquarters and manufacturing facilities are in Taipei, Taiwan. Leveraging marketing and engineering expertise on both sides of the Pacific Ocean, EtherWAN's world class production lines deliver products of the highest quality and comprehensive professional support.

EtherWAN – " When Connectivity is Crucial "
---