Back to top
EtherWAN Achieves E-Mark Certification for In-Vehicle Networking Solutions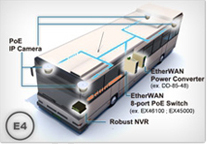 Taipei, Taiwan — June 22, 2010 —
A series of EtherWAN's hardened-grade 8-port Power-over-Ethernet (PoE) Ethernet Switches, and the DD-85-48 power converter have received E-Mark certification. EtherWAN in cooperation with a leading NVR manufacturer developed comprehensive in-vehicle mobile surveillance system that includes PoE switch, power converter and Network Video Recorder (NVR) equipments all certified with E-Mark that have been installed in many different vehicles.

Mobile video surveillance is becoming more common, as more police departments, ambulance services, and transportation companies see the benefits it can bring. With PoE switch installed in a vehicle, it eliminates the need for an electrician to install an outlet near a powered device. PoE brings efficiency to Ethernet-based communications in mobility by providing power to the Cat-5 LAN cable.

Designed for net-centric operation installed on mobile vehicles, EtherWAN's hardened switch series features PoE and web-smart with wide operating temperature range from -40°C to 75°C (-40°F to 167°F). Up to 4 PoE ports (IEEE 802.3af 15W or 30W on each) from each model, this E-Mark certified product group allows users to install a network-based surveillance system that will connecting with PoE cameras without pulling extra power cable. To accommodate with common power input from mobile vehicles, EtherWAN also provides an E-Mark certified power supply converting from 12-36VDC to 48VDC defined in IEEE 802.3af standard. EtherWAN delivers robust networking products designed to meet EMC standards and work in extreme environments and in ground mobile vehicle platforms as well.

E-Mark products from EtherWAN include EX34000, EX45000, EX36000, EX46000, EX36100 (30W PoE), EX46100 (30W PoE) and DD-85-48.

E/e-Mark Certification
E/e-Mark is the Economic Commission of Europe (ECE) that grants certificates to ensure all automobiles and security equipment sold by manufacturers meet traffic safety and environmental protection requirements. E/e-Mark certification is issued by ECE which includes 28 European countries and several non-European countries. E/e-Mark certification is based on the product and system components without any vehicle certification regulations. All products covered by regulatory controls must be tested and certified, and display the mark accordingly.
---
About EtherWAN
EtherWAN Systems, Inc. is a leading manufacturer of network connectivity products specifically designed for harsh and demanding environments. Founded in 1996, EtherWAN specializes in the design and manufacture of Ethernet switches, media converters, Ethernet extenders and Power over Ethernet products for applications where connectivity is crucial. With a core focus on sustained connectivity in extreme environments, product reliability and quality are top priority. EtherWAN's product development, engineering, manufacturing and quality assurance processes are structured to push the limits of stated specifications, resulting in products that surpass expectations.

The company's Pacific Rim headquarters and manufacturing facilities are in Taipei, Taiwan. Leveraging marketing and engineering expertise on both sides of the Pacific Ocean, EtherWAN's world class production lines deliver products of the highest quality and comprehensive professional support.

EtherWAN – " When Connectivity is Crucial "
---