Back to top
Ethernet switches – Powering IP surveillance systems the smarter and more economical way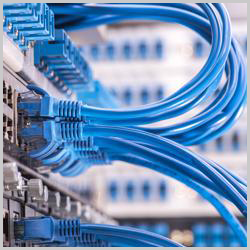 The Ethernet switch is a critical link between cameras, network video recorders (NVRs) and computers that need access to video feeds. The Ethernet switch not only provides the data connectivity but often the power to the IP cameras via Power over Ethernet (PoE). Ethernet switches are the fundamental backbone of a Local Area Network (LAN) and the critical connectivity point for everything that needs to communicate. Computers, laptops, printers, IP cameras, NVRs, IP phone systems (VoIP), WiFi, building infrastructure and access control systems now reside on the LAN. None of these systems could communicate without Ethernet switches providing the connectivity.
---
Cheap switches invite chaos
Unfortunately, according to Mark Prowten, vice president of Sales and Marketing at EtherWan Systems Inc., Anaheim, California, for the security industry and more specifically for IP surveillance systems, the Ethernet switch is often overlooked and sometimes deemed a cheap connectivity point with little to no importance. Seeking to lower costs, many security installers look for the cheapest components. This usually results in a system that doesn't function correctly or reliably, he says.

"Security installers using cheap or low-cost unmanaged switches find themselves continually going back to job sites trying to figure out why some cameras are working while others are not," Prowten says. "With no method to troubleshoot, they start swapping out components, usually replacing one cheap switch with another assuming it is faulty. Typically, the switch is not faulty although it may appear to be on the surface. In many cases it was not specified properly and does not provide the capabilities needed for the system to function correctly."
---
The role of PoE
PoE, according to Prowten, is a key element in making IP surveillance systems easy to install since both power and data run on a single Ethernet cable. "Cheap or low-cost switches typically do not provide the switching bandwidth performance and/or enough PoE capacity to power all the cameras reliably. Low-cost switches are usually unmanaged, meaning there is no option to log into the switch to troubleshoot connectivity or PoE power issues."

EtherWAN recommends that integrators do the math, he says. "What we mean is to look at the maximum power demand for each camera, add up installed power demand and add 20 percent. Take this total power requirement and make sure to install an Ethernet switch with at least this amount of power. It is a good practice to budget for additional cameras to be added in the future as well."

"Cheap or low-cost switches typically do not provide the switching bandwidth performance and/or enough PoE capacity to power all the cameras reliably," says Mark Prowten, VP of Sales and Marketing at EtherWan Systems"

► Here's an example:
8 camera systems with NVR and uplink to the network backbone would require a 10 port Ethernet switch – typically eight 10/100 Ethernet PoE ports to power the cameras, one Gigabit port for NVR connection and one Gigabit port for network uplink.
Camera draw @ 12W each x 8 cameras = 96W + 20% overage (96W x .2) or 19.2W, (96W + 19.2W) = 115.2W total minimum PoE budget recommended.
For this system, an Ethernet switch with at least 115.2W PoE power and 10 ports is needed. If there is the possibility for additional cameras or devices in the future, additional ports and PoE power would be needed.
---
Accurate specifications for reliable installation
Prowten says professionals managing a campus or large facility with hundreds of network devices need a properly designed specification with quality Ethernet switches that can meet the data demands of the environment and expected bandwidth requirements to ensure reliable network communications.

"Using quality products that meet or exceed application requirements results in systems that are reliable from the start," he says. "This translates into less installation, configuration and troubleshooting during the initial installation, resulting in increased bottom-line profitability. By designing and installing the network correctly with quality products, you also minimise or eliminate repeated visits to the customer site for troubleshooting. This increases the bottom line by minimising follow-up costs. More importantly, you have a satisfied customer who is much more likely to refer the dealer/integrator for other potential opportunities," Prowten adds.

► See More: EtherWAN Switches
► Contact EtherWAN Systems: [email protected]
---
Source from: https://us.sourcesecurity.com

By Deborah O'Mara
Contributing Editor, SourceSecurity.com US Edition
---