Work Smarter with the EtherWAN Product Assistant
Maintaining an industrial network can be a time consuming effort. Introducing eVue, the EtherWAN product assistant. eVue is a network configuration and monitoring tool, designed to save you time with powerful features and an easy to use interface. With eVue you can monitor, manage, and maintain EtherWAN devices easily on a network through a user-friendly, web-based interface.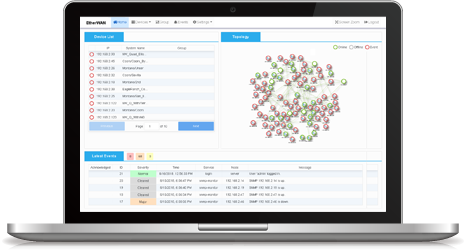 Network Management Made Simple

Web based
graphical user interface

Automated network discovery
and topology visualization

Event handling via polling
and SNMP trap

Perform bulk configuration deployment
and schedule firmware upgrades
eVue works on most modern browsers without the need for additional plug-ins to be installed. eVue can discover EtherWAN devices on a network and displays an intuitive, visual representation of the network topology. It also allows system administrators to monitor the network status, manage and perform bulk configuration deployment, schedule firmware upgrades, and more. With user-defined event notifications, you can stay up to date in real-time on your network's status. With eVue, you no longer have to manage and maintain devices individually, saving you time and money.