Have a safe and pleasant journey starting with PoE system
---

---
Background
Rail is a pleasant mode of transportation, allowing travelers to conveniently and comfortably travel from one point to another. However, safety is the first priority for passengers at the railway station or platform, and that makes security monitoring a key task for rail administrators. The proper deployment of cameras can ensure passenger's safety, prevent unauthorized entrance to restricted areas, and to monitor if any belongings are accidentally left by passengers.

For many years, the railway company has deployed CCTV systems in most railway stations to monitor events. However, there were still more than 20 accidents occurring from 2018 to June 2020 yearly. Railway is a convenient mode of transportation for the public, but each accident should be carefully analyzed and steps taken to prevent similar events from happening in the future.

For the new railway station being constructed underground in South of Taiwan, EtherWAN has been selected to provide PoE systems that will collect data from different types of cameras and forward it to a control center for management. This allows administrators to manage and be alerted for events through the monitoring system, providing a safe environment for all passengers.
---
The Challenges
Installation: The system shall fit into a 19 inch 12U rackmount cabinet. Working under extreme temperatures, the system should operate at -20 to 70°C without a fan.
PoE level should be higher than IEEE 802.3at, and the total power budget should be more than 480 watts.
Bandwidth: The network devices needed to have high bandwidth and non-blocking to deliver video data, 10G uplink support is preferable.
Management: The system must support at least Lite Layer 3 functions and even be certified with EN 50121-4.
---
The Network Solution: EX75900 Series
EtherWAN's EX75900 PoE Lite Layer 3 managed switch was a perfect fit for the project. The EX75900 is a hardened full gigabit managed Ethernet switch in rack-mount form factor featuring 24 ports of 10/100/1000BASE-T(X) each in compliance with IEEE 802.3bt plus 4 ports of 1G/10G SFP+ for connecting to the core network. The high density port count of EX75900 can minimize the number of switches needed for installation in order to connect with the maximum number of cameras.

The EX75900 provides a total power budget of up to 720 watts, supporting linked surveillance cameras, pan-tilt-zoom (PTZ) cameras, speed domes, and even laser cameras. The intelligent PoE functions, including Scheduling, Watchdog and Force mode, allow for comprehensive smart management of powered devices.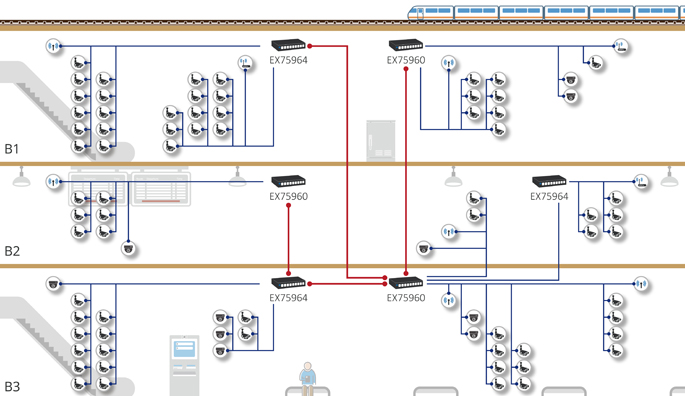 ---
Conclusion
With a monitoring system backed by EX75900 deployment, unexpected events can be monitored and managed rapidly by administrators, including: platform status, left items, railway intrusion, restricted areas, and emergencies. The system not only monitors, but also completely records all events.

EtherWAN is helping to create safe and intelligent transportation areas by offering PoE systems with outstanding reliability and robustness.
---
Related Products:
---
EtherWAN – " When Connectivity is Crucial "
► For more information, please contact: [email protected]
---