Selecting the Right PoE Switch – A Brief Overview
Discovering the Wonders of PoE: An Introduction to Power over Ethernet Technology
In today's society, the internet has become an indispensable part of people's daily lives. However, in order for network devices to function properly, they need a stable and reliable power supply.
Traditionally, supplying power to network devices required additional power cords, which not only took up space but also increased the complexity of wiring. The emergence of Power over Ethernet (PoE) technology provides a convenient, flexible, and economical solution to this problem. With PoE technology, network devices can directly use network cables for data transmission and power supply, making the wiring and installation of network devices more convenient and reducing overall costs.
PoE technology has been widely used in many industries, such as security and surveillance, healthcare, education, smart home, and transportation.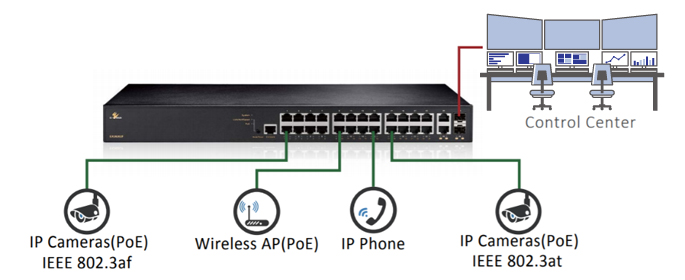 In the above example, a PoE switch is connected to two IP surveillance cameras, a wireless access point, and an IP phone. The switch provides power to all four devices while simultaneously transmitting all device data back to a control center.
---
Getting to Know the Different Types of PoE Standards
The original PoE standard was called IEEE 802.3af, and allowed for 15.4 watts of power to be sent from a switch's port. Each PD was guaranteed to receive at least 12.95 watts, after losses due to resistance in the cable. In 2009, the IEEE 802.3at standard (also called PoE+) was released, doubling the per port power to 30 watts. Most recently, the new IEEE 802.3bt standard (PoE++) was formalized, allowing for a massive 90 watts of power.
Wattage
Every PoE switch follows one of the three standards, which are backwards compatible. Each PoE switch has a maximum power budget. The total power consumption of all PDs connected to the switch must be less than the switch's power budget. For example, a PoE+ switch with a power budget of 240 watts can power fifteen 802.3af (15.4W) devices, but only eight 802.3at (30W) devices. Consider the number of PDs and their power needs, and select a PoE switch accordingly.
Length
The maximum transmission length for all PoE standards is usually 100 meters, though some switches support a PoE Extend Mode that allows for a transmission distance up to 250 meters. A PoE Ethernet extender can be also be used when longer distance transmission is required.
Bandwidth
The final thing to consider is the switch speed. Switches come in either 10/100 and 10/100/1000 (gigabit) speeds. 10/100 switches can transfer data at a maximum speed of 100 Mbps, while gigabit switches can transfer data at a much faster 1000 Mbps. If connecting many cameras to a single switch, or utilizing IP cameras with 4k resolution, a gigabit switch will deliver better streaming performance. Oftentimes, switches will be equipped with have 10/100 ports for cameras and gigabit uplink ports for faster connection with upstream devices.
---
Choosing the Right Switch
There are two types of PoE switches available for installation commercial-grade and industrial-grade which are designed to meet the specific needs of different environments. The main difference between these two types lies in their ability to withstand various environments and usage requirements.
When choosing a PoE switch, it is important to consider the installation environment and choose the appropriate grade - such as industrial-grade or hardened-grade - in order to ensure optimal performance and reliability.
» Hardened PoE/PoE+ Switches
» Commercial PoE Switches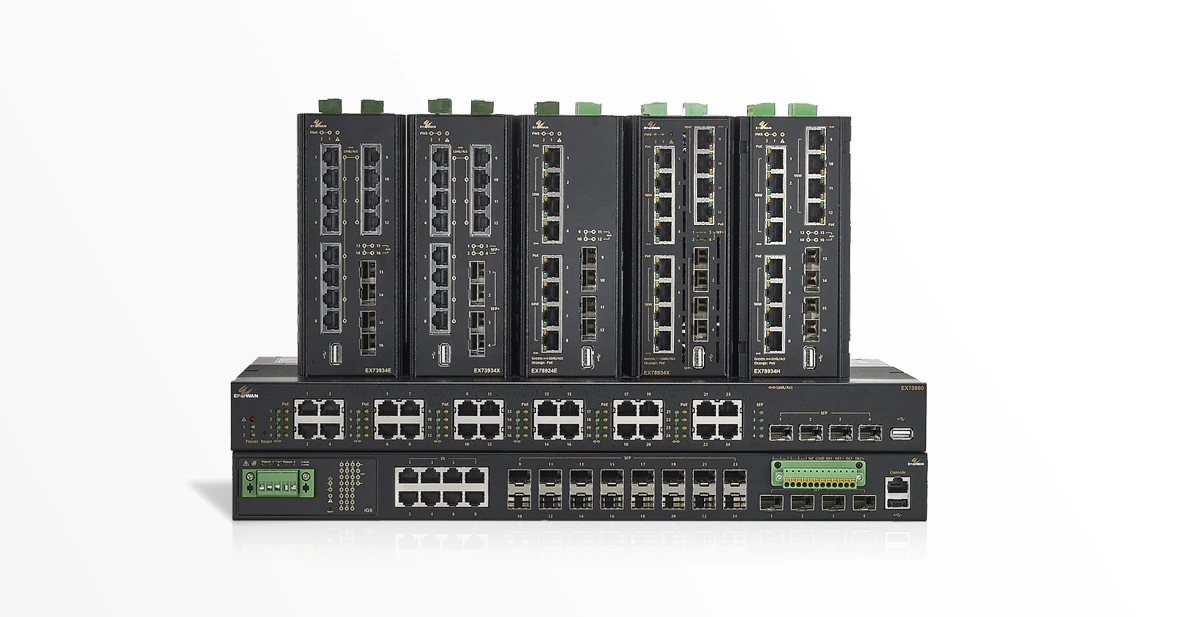 Regardless of PoE support, there are two basic types of Ethernet switches: unmanaged and managed.
Maximize Your Network Efficiency with Unmanaged POE Switches
Unmanaged switches are relatively simple plug and play devices. They are shipped with a fixed configuration, so no further setup is needed. Unmanaged Switches are usually used in local networks without too many devices.
Read : Unmanaged Ethernet Switch Buying Guide : Everything you need to know
Professional Network Management Made Easy with Managed POE Switches
Managed switches have the widest set of features and functions. They are used in large networks where network traffic often needs to be prioritized, and they give administrators the ability to control and monitor the network.
Read : Frequently asked questions on Managed Ethernet Switches
---
Conclusion
Choosing the right PoE switch can provide higher efficiency and better performance for your network. Make sure you consider the above factors to choose the switch that best suits your needs. If you are still unsure which PoE switch is best for your requirements, please contact Etherwan and we will be happy to assist you.