Selecting the Right PoE Switch – A Brief Overview
PoE (Power over Ethernet) products that integrate power and data transmission over a single Ethernet cable, supplying power to network devices, are becoming more and more popular for enterprise, educational, and even home applications. With a multitude of PoE switches available on the market, choosing the right one can be difficult. In this article, we will briefly discuss the current state of PoE, and then analyze the advantages of the different types of PoE switches.

Because the Ethernet cable is used to deliver electrical power to devices, PoE devices eliminate the need for extra electrical wiring during installation. Initially, PoE was used mainly with Voice over Internet Protocol (VoIP) phones, which allowed existing IP networks to carry voice data. As the popularity of PoE grew, security cameras became one of the most abundant PoE devices on the market. Later, wireless access points entered the PoE world, as wireless connectivity became ubiquitous.

So the initial years of PoE focused on enterprise and education applications. However, now there are even PoE devices designed for home automation, including LED lighting, smart doorbells, and voice assistants.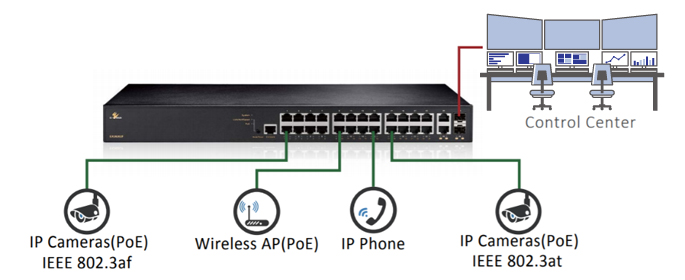 In the above example, a PoE switch is connected to two IP surveillance cameras, a wireless access point, and an IP phone. The switch provides power to all four devices while simultaneously transmitting all device data back to a control center.
---
Choosing the Right Switch
Selection of the right type of switch depends on the specific application needs. Regardless of PoE support, there are three basic types of Ethernet switch: unmanaged, web-smart, and managed.

Unmanaged switches are relatively simple plug and play devices. They are shipped with a fixed configuration, so no further setup is needed. Unmanaged Switches are usually used in local networks without too many devices.

Web-smart switches are suitable for medium-sized networks that require some management. They offer basic management features through a web browser interface.

Managed switches have the widest set of features and functions. They are used in large networks where network traffic often needs to be prioritized, and they give administrators the ability to control and monitor the network.

However, these three types of switches can be further categorized by the type of environment for which they are designed to operate. So a switch can also be classified as commercial, industrial, or hardened grade.

Commercial grade switches are for indoor use. They can usually operate in a temperature range of 0 ~ 50°C (32 ~ 122°F). They are either rack or desktop mounted.

Industrial grade switches must be able to operate at temperatures from -10 ~ 60°C (14 ~ 140F°). They often have multiple power inputs for redundancy, meaning that if one power source fails, there is no downtime. They are fan-less, and come in both rackmount and DIN rail form factors.

Hardened grade switches are built for the most extreme environments, capable of withstanding temperatures from -40 to 75°C (-40 to 167°F). They will often offer additional protections against things such as electrostatic discharge and electrical surges. They are also fan-less, with support for redundant power inputs, and are often designed for specific applications such as railway transportation or power plants.

So in the process of selecting a PoE switch, first determine your needs regarding type and grade, as well as the number of ports and the port speeds required. Then it is just a question of how much total power, and how much power per port is needed for the Powered Devices (PD) on your network.
---
PoE Standards
The original PoE standard was called IEEE 802.3af, and allowed for 15.4 watts of power to be sent from a switch's port. Each PD was guaranteed to receive at least 12.95 watts, after losses due to resistance in the cable. In 2009, the IEEE 802.3at standard (also called PoE+) was released, doubling the per port power to 30 watts. Most recently, the new IEEE 802.3bt standard (PoE++) was formalized, allowing for a massive 90 watts of power.

The maximum transmission length for all PoE standards is usually 100 meters, though some switches support a PoE Extend Mode that allows for a transmission distance up to 250 meters. A PoE Ethernet extender can be also be used when longer distance transmission is required.

Every PoE switch follows one of the three standards, which are backwards compatible. Each PoE switch has a maximum power budget. The total power consumption of all PDs connected to the switch must be less than the switch's power budget. For example, a PoE+ switch with a power budget of 240 watts can power fifteen 802.3af (15.4W) devices, but only eight 802.3at (30W) devices. Consider the number of PDs and their power needs, and select a PoE switch accordingly.

The final thing to consider is the switch speed. Switches come in either 10/100 and 10/100/1000 (gigabit) speeds. 10/100 switches can transfer data at a maximum speed of 100 Mbps, while gigabit switches can transfer data at a much faster 1000 Mbps. If connecting many cameras to a single switch, or utilizing IP cameras with 4k resolution, a gigabit switch will deliver better streaming performance. Oftentimes, switches will be equipped with have 10/100 ports for cameras and gigabit uplink ports for faster connection with upstream devices.
PoE Standard
802.3af


(Type 1, "PoE")

802.3at


(Type 2, "PoE+")

802.3bt


(Type 3, "4PPoE++")

802.3bt


(Type 4, "4PPoE++")

Twisted pair cables used
2 pair
4 pair
4 pair
4 pair
Power accessible to PD
12.95 Watts
25.5 Watts
51 Watts
71 Watts
PoE source Max. power delivered
15.40 Watts
30.0 Watts
60 Watts
90 Watts
PoE source Min. input voltage
44V-57 Volts
50V-57 Volts
50V-57 Volts
52V-57 Volts
Maximum current
350 mA
600 mA
600 mA per pair
960 mA per pair
---
Conclusion
To summarize, the main factors to consider when selecting a PoE switch are switch type, grade, number of ports, power per port, switch speed and total power budget. Other factors include future expansion of the network, special features like PoE Scheduling and PoE Watchdog, and the level of technical support offered by the manufacturer.

EtherWAN PoE Switches by Type and Grade