Back to top
High Bandwidth and Versatility
8 or 12 10/100/1000BASE-T(X) ports for High bandwidth connections
Up to 4 Dual-rate 100/1000BASE SFP uplink ports for fiber connections
Full capacity switching running at full duplex
Hardened-Grade for Non-Ventilated & Harsh Environments
Wide operating temperature range -40 to 75°C (-40 to 167°F)
Fanless operation
High impact, thermal shock, and electrical noise resistance
Lite Layer 3 Functionality
Static routing, RIP v1/v2, and OSFP support
Redundancy with VRRP
Reduces amount of broadcast traffic
Compliance
IEC 61850-3/IEEE 1613 certified for power substations
NEMA TS2 rated
UL certified for safety
Management/Security Features
Port control
Dying gasp feature provides SNMP trap upon power off
Configure and monitor with eVue™ and eLite™
Support
Complimentary Technical Support
Free Firmware Upgrades
Limited Lifetime Warranty
EtherWANのEX73900E シリーズは広範囲動作温度対応、DINレール型、ギガビット12ポートまで装備でき、また4つのデュアルレートSFPポートを備えています。安定した通信が不可欠な過酷環境に堅牢な管理機能を備えたハイパフォーマンスな製品です。都市インフラ、交通、変電所、セキュリティなどのネットワークに柔軟性と信頼性を提供します。

EtherWAN — "When Connectivity is Crucial."
Interface
Management
Firmware upgrade
Configuration backup
DHCP Server/Client
RMON (Remote Monitoring)
Port Mirroring
NTP (Network Time Protocol) synchronization
LLDP (Link Layer Discovery Protocol)
IPv4/IPv6
SNMP v1/v2c/v3
Security
MAC Address filtering
Enable/Disable port
Storm control
System logging
IEEE 802.1x LAN Access control
Remote authentication through RADIUS and TACACS+
Complex password support
Multi-user login and privileged access management
SSH for CLI and Telnet security
SSL and HTTPS for web security
ACL (Access Control List, up to 4096 entries)
Quality of Service (QoS)
Priority Queues: 8 queues per port
Traffic classification based on IEEE 802.1p CoS (Cost of Service), DSCP (Differentiated Services Code Point), WRR (Weighted Round Robin), and strict mode
Rate Limiting (Ingress/Egress)
Layer 2 Features
Auto-negotiation for port speed and duplex

Flow Control
IEEE 802.3x full duplex mode
Back-pressure half duplex mode

Redundant Protocols

IEEE 802.1D STP
IEEE 802.1w RSTP
IEEE 802.1s MSTP
EtherWAN's Alpha-Ring network fault recovery

VLANs

IEEE 802.1Q Tag VLANs
GVRP
GMRP

Link Aggregation

Static Trunk (4 groups)
IEEE 802.3ad LACP

IGMP Snooping v1/v2/v3
Layer 3 Features
IP Packet Routing

Maximum number of routes in hardware: 64 entries
Static Routing
RIP v1/v2
OSPF v2

Routing Redundancy
Software Properties and Performance
Switching Fabric
Forwarding Rate
Total VLAN Entries
Jumbo Frame Size
MAC Table Size
Packet Buffer Memory
Interface
Ethernet

8 or 12 x 10/100/1000BASE-T(X)
2 or 4 x 100/1000BASE SFP

Console
Config Backup

1 x USB (Type A Connector)

Digital Input

2 x Digital Input
Wet Contact: 0-3V for State 0; 13-30V for State 1; Max Input Current: 8mA
Dry Contact: Logic Level 1–Close to GND; Logic Level 0-Open

Alarm Contact

2 x Relay output, current capacity 0.6A/30VDC

LED Indicators

Per Unit: Power 1, Power 2, Alarm
Per Port: Link/Activity
Technology
Standards

IEEE 802.3 10BASE-T
IEEE 802.3u 100BASE-TX/100BASE-FX
IEEE 802.3ab 1000BASE-T
IEEE 802.3ad link aggregation control
IEEE 802.3z 1000BASE-SX/1000BASE-LX
IEEE 802.3x full duplex and flow control
IEEE 802.1D STP
IEEE 802.1p QoS
IEEE 802.1Q Tag VLANs
IEEE 802.1s MSTP
IEEE 802.1w RSTP
IEEE 802.1x PNAC
IEEE 802.1ab LLDP

Forward/Filtering Rate

14,880pps for 10Mbps
148,810pps for 100Mbps
1,488,100pps for 1000Mbps

Processing Type

Store-and-forward
Auto-negotiation
Half-duplex back-pressure and full-duplex flow control
Auto MDI/MDIX

System Memory
Flash Storage
Power
Input

12-48VDC Redundant (Terminal block)

Power Consumption
Protection

Reverse Polarity Protection
Physical
Casing Material
IP Rating
Dimensions

72 x 140 x 170mm (W x D x H)
2.8" x 5.5" x 6.7"

Weight
Installation Type
Environmental
Operating Temp.

-40 to 75°C (-40 to 167°F)

Storage Temp.

-45 to 85°C (-49 to 185°F)

Relative Humidity

5% to 95% (non-condensing)
Regulatory
ISO

Manufactured in ISO-9001 facility

EMI

FCC Part 15B Class A
VCCI Class A
EN 61000-6-4
EN 61000-3-2
EN 61000-3-3

EMS

EN 61000-4-2 (ESD)
EN 61000-4-3 (Radiated RFI)
EN 61000-4-4 (Burst)
EN 61000-4-5 (Surge)
EN 61000-4-6 (Induced RFI)
EN 61000-4-8 (Magnetic field)

Safety
Traffic
Rail
Power Substation
Vibration
Shock
Free Fall

FED STD 101C Method 5007.1
Warranty
What's Included
Device
Cables
Installation

Mounting brackets, screws

Documentation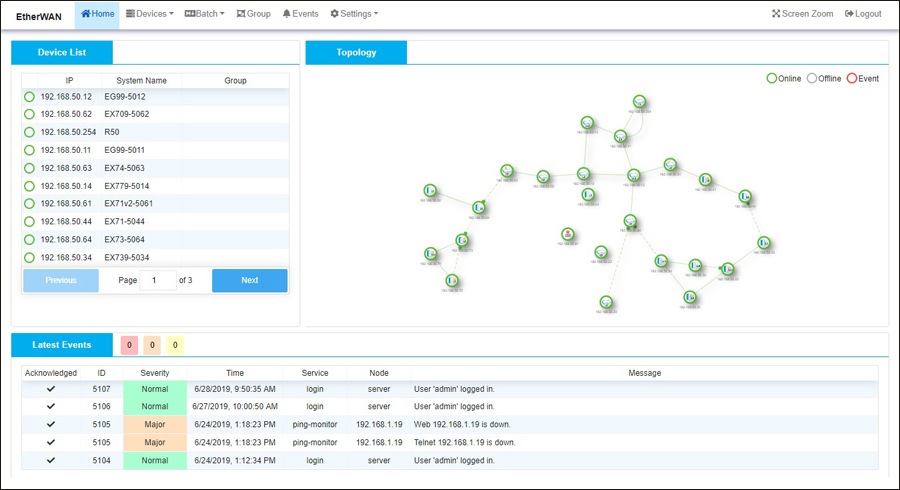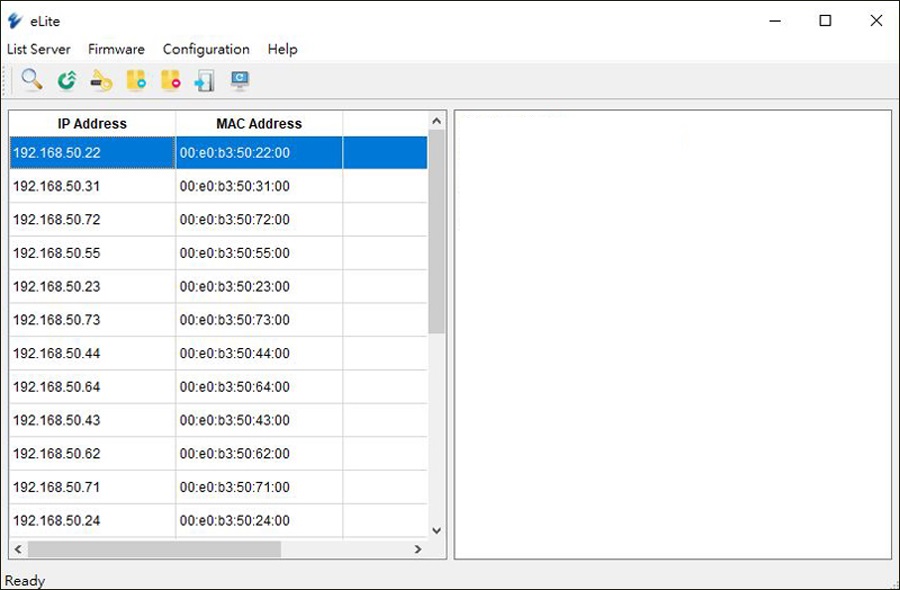 Model
| | |
| --- | --- |
| EX73934E-0VB | 12-port 10/100/1000BASE-T(X) + 4-port 100/1000BASE SFP |
| EX73924E-0VB | 8-port 10/100/1000BASE-T(X) + 4-port 100/1000BASE SFP |
| EX73922E-0VB | 8-port 10/100/1000BASE-T(X) + 2-port 100/1000BASE SFP |
Accessories
High Bandwidth and Versatility
8 or 12 10/100/1000BASE-T(X) ports for High bandwidth connections
Up to 4 Dual-rate 100/1000BASE SFP uplink ports for fiber connections
Full capacity switching running at full duplex
Hardened-Grade for Non-Ventilated & Harsh Environments
Wide operating temperature range -40 to 75°C (-40 to 167°F)
Fanless operation
High impact, thermal shock, and electrical noise resistance
Lite Layer 3 Functionality
Static routing, RIP v1/v2, and OSFP support
Redundancy with VRRP
Reduces amount of broadcast traffic
Compliance
IEC 61850-3/IEEE 1613 certified for power substations
NEMA TS2 rated
UL certified for safety
Management/Security Features
Port control
Dying gasp feature provides SNMP trap upon power off
Configure and monitor with eVue™ and eLite™
Support
Complimentary Technical Support
Free Firmware Upgrades
Limited Lifetime Warranty
EtherWANのEX73900E シリーズは広範囲動作温度対応、DINレール型、ギガビット12ポートまで装備でき、また4つのデュアルレートSFPポートを備えています。安定した通信が不可欠な過酷環境に堅牢な管理機能を備えたハイパフォーマンスな製品です。都市インフラ、交通、変電所、セキュリティなどのネットワークに柔軟性と信頼性を提供します。

EtherWAN — "When Connectivity is Crucial."
Interface
Management
Firmware upgrade
Configuration backup
DHCP Server/Client
RMON (Remote Monitoring)
Port Mirroring
NTP (Network Time Protocol) synchronization
LLDP (Link Layer Discovery Protocol)
IPv4/IPv6
SNMP v1/v2c/v3
Security
MAC Address filtering
Enable/Disable port
Storm control
System logging
IEEE 802.1x LAN Access control
Remote authentication through RADIUS and TACACS+
Complex password support
Multi-user login and privileged access management
SSH for CLI and Telnet security
SSL and HTTPS for web security
ACL (Access Control List, up to 4096 entries)
Quality of Service (QoS)
Priority Queues: 8 queues per port
Traffic classification based on IEEE 802.1p CoS (Cost of Service), DSCP (Differentiated Services Code Point), WRR (Weighted Round Robin), and strict mode
Rate Limiting (Ingress/Egress)
Layer 2 Features
Auto-negotiation for port speed and duplex

Flow Control
IEEE 802.3x full duplex mode
Back-pressure half duplex mode

Redundant Protocols

IEEE 802.1D STP
IEEE 802.1w RSTP
IEEE 802.1s MSTP
EtherWAN's Alpha-Ring network fault recovery

VLANs

IEEE 802.1Q Tag VLANs
GVRP
GMRP

Link Aggregation

Static Trunk (4 groups)
IEEE 802.3ad LACP

IGMP Snooping v1/v2/v3
Layer 3 Features
IP Packet Routing

Maximum number of routes in hardware: 64 entries
Static Routing
RIP v1/v2
OSPF v2

Routing Redundancy
Software Properties and Performance
Switching Fabric
Forwarding Rate
Total VLAN Entries
Jumbo Frame Size
MAC Table Size
Packet Buffer Memory
Interface
Ethernet

8 or 12 x 10/100/1000BASE-T(X)
2 or 4 x 100/1000BASE SFP

Console
Config Backup

1 x USB (Type A Connector)

Digital Input

2 x Digital Input
Wet Contact: 0-3V for State 0; 13-30V for State 1; Max Input Current: 8mA
Dry Contact: Logic Level 1–Close to GND; Logic Level 0-Open

Alarm Contact

2 x Relay output, current capacity 0.6A/30VDC

LED Indicators

Per Unit: Power 1, Power 2, Alarm
Per Port: Link/Activity
Technology
Standards

IEEE 802.3 10BASE-T
IEEE 802.3u 100BASE-TX/100BASE-FX
IEEE 802.3ab 1000BASE-T
IEEE 802.3ad link aggregation control
IEEE 802.3z 1000BASE-SX/1000BASE-LX
IEEE 802.3x full duplex and flow control
IEEE 802.1D STP
IEEE 802.1p QoS
IEEE 802.1Q Tag VLANs
IEEE 802.1s MSTP
IEEE 802.1w RSTP
IEEE 802.1x PNAC
IEEE 802.1ab LLDP

Forward/Filtering Rate

14,880pps for 10Mbps
148,810pps for 100Mbps
1,488,100pps for 1000Mbps

Processing Type

Store-and-forward
Auto-negotiation
Half-duplex back-pressure and full-duplex flow control
Auto MDI/MDIX

System Memory
Flash Storage
Power
Input

12-48VDC Redundant (Terminal block)

Power Consumption
Protection

Reverse Polarity Protection
Physical
Casing Material
IP Rating
Dimensions

72 x 140 x 170mm (W x D x H)
2.8" x 5.5" x 6.7"

Weight
Installation Type
Environmental
Operating Temp.

-40 to 75°C (-40 to 167°F)

Storage Temp.

-45 to 85°C (-49 to 185°F)

Relative Humidity

5% to 95% (non-condensing)
Regulatory
ISO

Manufactured in ISO-9001 facility

EMI

FCC Part 15B Class A
VCCI Class A
EN 61000-6-4
EN 61000-3-2
EN 61000-3-3

EMS

EN 61000-4-2 (ESD)
EN 61000-4-3 (Radiated RFI)
EN 61000-4-4 (Burst)
EN 61000-4-5 (Surge)
EN 61000-4-6 (Induced RFI)
EN 61000-4-8 (Magnetic field)

Safety
Traffic
Rail
Power Substation
Vibration
Shock
Free Fall

FED STD 101C Method 5007.1
Warranty
What's Included
Device
Cables
Installation

Mounting brackets, screws

Documentation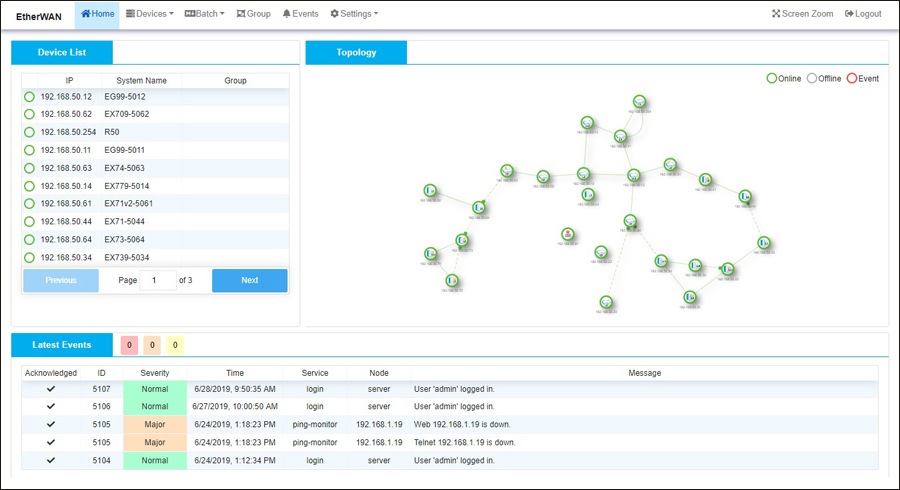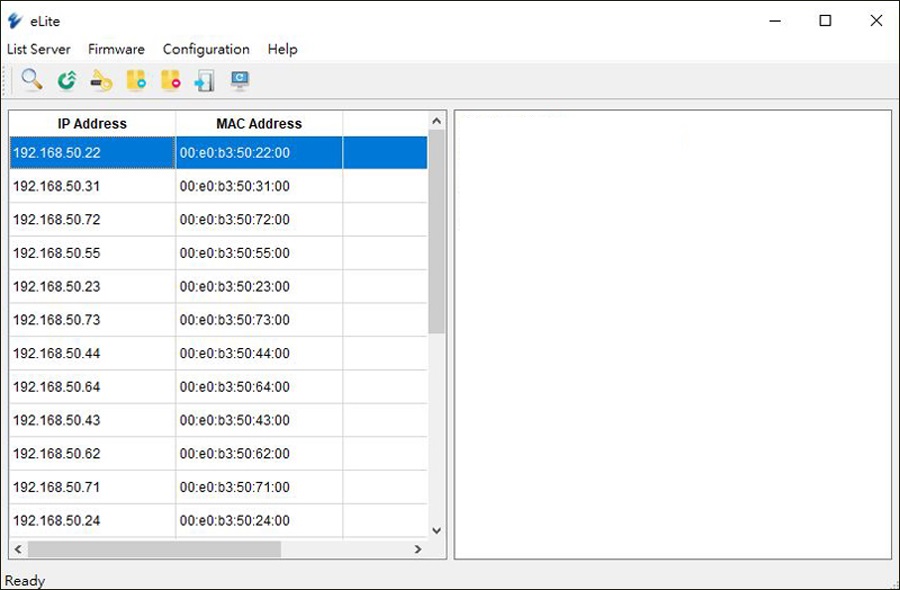 Model
| | |
| --- | --- |
| EX73934E-0VB | 12-port 10/100/1000BASE-T(X) + 4-port 100/1000BASE SFP |
| EX73924E-0VB | 8-port 10/100/1000BASE-T(X) + 4-port 100/1000BASE SFP |
| EX73922E-0VB | 8-port 10/100/1000BASE-T(X) + 2-port 100/1000BASE SFP |
Accessories