Hardened 10/100/1000BASE-TX to 1000BASE-SX/LX/BX Media Converter
The EL8100 Series provides media conversion between 10/100/1000BASE-TX and 1000BASE-SX/LX/BX Fiber. Built specifically for mission critical applications in harsh environments, the EL8100's hardened design features high shock & vibration resistance, electrical noise immunity, wide operating temperature range from -40 to 75°C (-40 to 167°F), and aluminum housing. With two power inputs, link down alarming, Link-Fault-Pass-Through and a wide range of fiber connectivity options, the EL8100 is the ideal media converter for environments where connectivity is crucial.

EtherWAN — "When Connectivity is Crucial."
Full Gigabit bandwidth and Jumbo frames
» 10/100/1000BASE-T and 1000BASE-SX/LX/BX Ethernet transmission conversion
» 1000Mbps Full duplex and full wire-speed forwarding rate
» Jumbo frames up to 10K bytes to increase throughput and transmission efficiency
Port Failure Alarm
» Relay alarm configured by DIP switch to notify users when power fails or link is down
Hardened Grade
» Supports -40 to 75°C (-40 to 167°F) operating temperature
» Redundant power inputs on terminal block connector
» Supports DIN-Rail mounting
Link-Fault-Pass-Through (LFPT)
» Provides constant monitoring of the links connected to the media converters
» If a copper or a fiber link fails, the media converter will pass the fail state on throughout the link, disabling the fiber link and the copper link on the opposite end
技術規格
Standards
• IEEE 802.3 10BASE-T
• IEEE 802.3u 100BASE-TX
• IEEE 802.3ab 1000BASE-T
 
Forward and Filtering Rate
• 14,880pps for 10Mbps
• 148,810pps for 1000Mbps
• 1,488,100pps for 1000Mbps
 
Processing Type
• Auto Negotiation
• Auto MDI/MDIX
---
電源
---
物理仕様
寸法
• 35.8 x 90 x 100mm (W x D x H)
  (1.41" x 3.54" x 3.94")
 
---
インターフェース
イーサネット・ポート数
• 10/100/1000BASE-TX: 1 port
 
LED 表示
• Per Unit: Power 1, Power 2, Fault, LFPT
• Per Port: Link/Activity
 
DIP スイッチ
• No.1: LFPT On/Off
• No.2: Alarm for copper port On/Off
• No.3: Alarm for fiber port On/Off
• No.4: Auto-negotiation for fiber port On/Off
 
アラーム接点
• リレー出力 許容電流 0.6A/30VDC
---
環境条件
使用温度範囲
• -40 to 75°C (-40 to 167°F)
 
保存温度範囲
• -40 to 85°C (-40 to 185°F)
 
使用湿度範囲
• 5% to 95% (結露なきこと)
---
信頼性認証
ISO
• Manufactured in an ISO 9001 facility
 
Industrial Compliance
EN 50121-4
 
EMI
FCC Part 15B Class A
VCCI Class A
EN 55032
EN 61000-3-2
EN 61000-3-3
EN 61000-6-3
 
EMS
EN 61000-6-2

• EN 61000-4-2 (ESD Standards)
• EN 61000-4-3 (Radiated RFI Standards)
• EN 61000-4-4 (Burst Standards)
• EN 61000-4-5 (Surge Standards)
• EN 61000-4-6 (Induced RFI Standards)
• EN 61000-4-8 (Magnetic Field Standards)

 
Environmental Test Compliance
IEC 60068-2-6 Fc (Vibration Resistance)
IEC 60068-2-27 Ea (Shock)
FED STD 101C Method 5007.1 (Free fall w/package)
---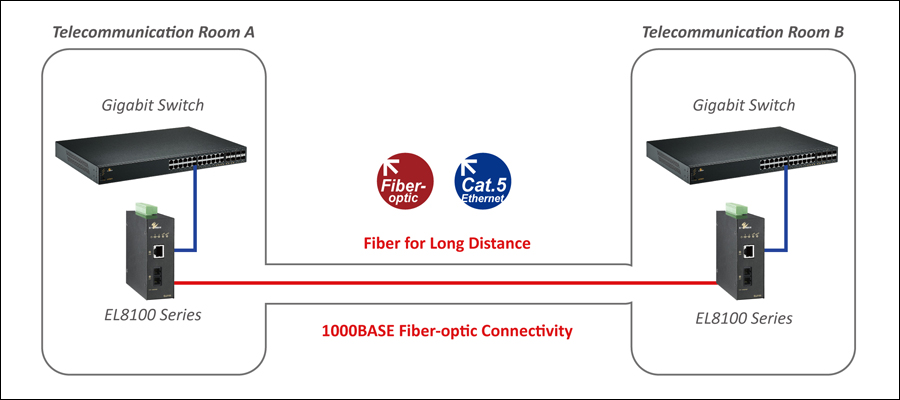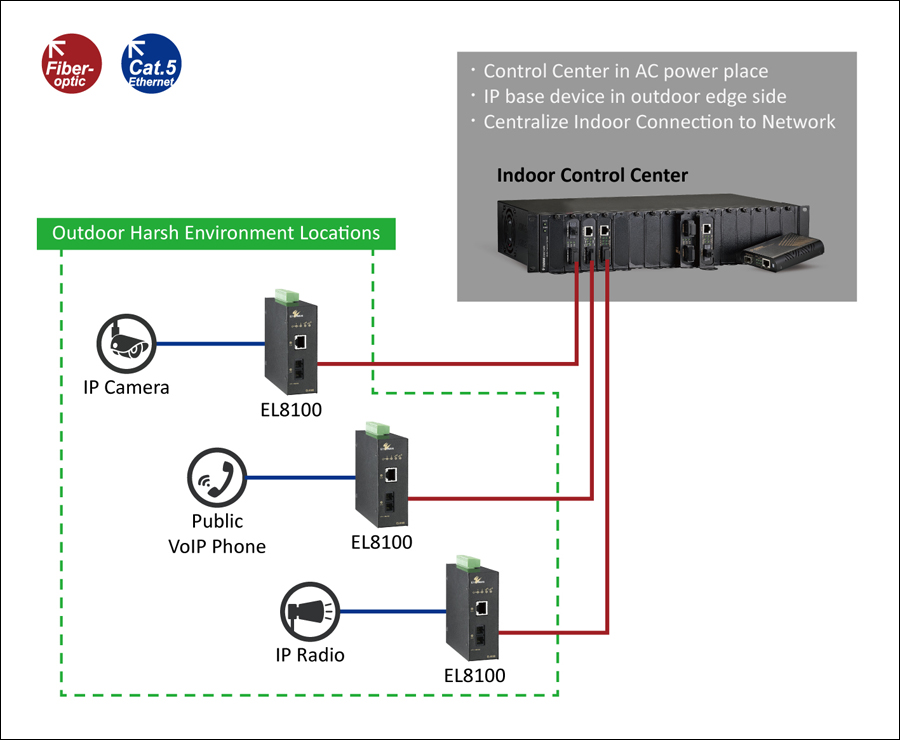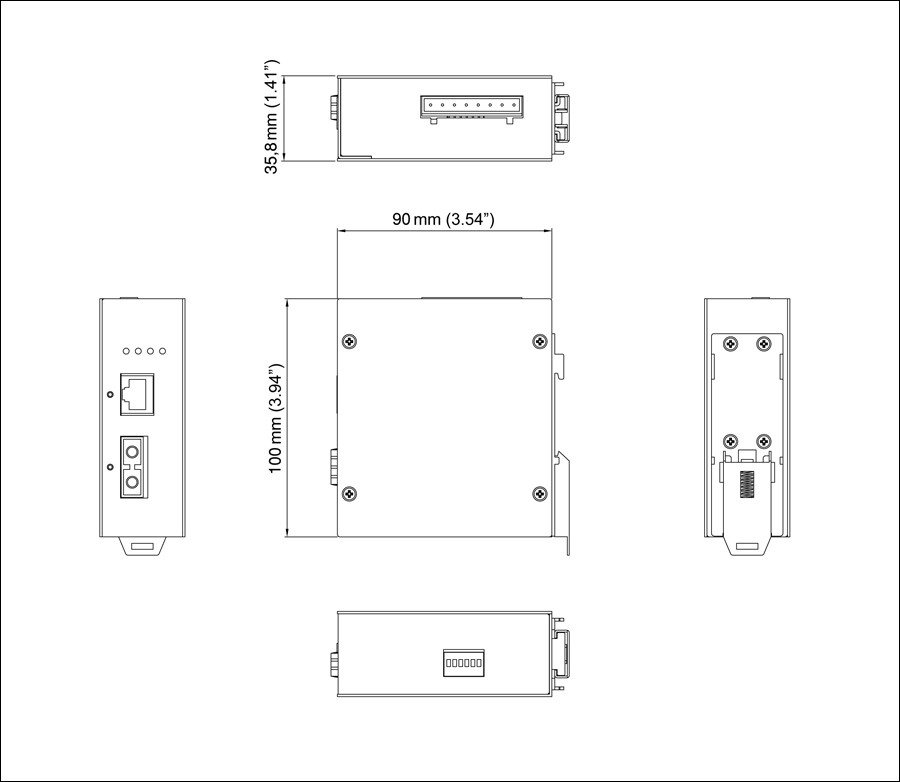 型番
EL8100-

X

1E
10/100/1000BASE-TX to 1000BASE-SX/LX/BX Hardened Media Converter
---
ギガ光ポート オプション (X)
| | |
| --- | --- |
| 3 | 1000BASE-SX (SC) - 550m |
| 4 | 1000BASE-SX (SC) - 2Km |
| 5 | 1000BASE-SX (ST) - 550m |
| A | 1000BASE-LX (SC) - 10Km |
| B | 1000BASE-LX (SC) - 20Km |
| I | 1000BASE-LX (ST) - 20Km |
| R | 1000BASE-BX (SC) WDM-TX: 1310nm/RX: 1550nm-20Km |
| S | 1000BASE-BX (SC) WDM-TX: 1550nm/RX: 1310nm-20Km |
* 他のギガポート・オプションについて、別途お問い合わせください。
---