Back to top
EtherWAN Launched New Hardened Ethernet Extenders with PoE and Ring Redundancy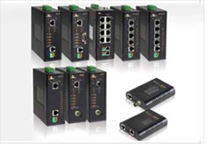 Taipei, Taiwan — January 20, 2011 —
Continued the Ethernet connectivity product development, EtherWAN launched a new series of Ethernet Extenders integrated with 802.3at PoE and managed switch functionalities. This new product release includes the ED3142, ED3145, ED3146 and ED3175.

The new multi-function-in-one Ethernet Extender series, as other existing Ethernet Extender models from EtherWAN, offers pointto-point Ethernet solutions that allow extending distance for data transmission and remote sites communication without changing existing cables; they work with the current infrastructure of telephone lines reaching 85Mbps @ 200meters or up to 1.9km @ 1Mbps.

EtherWAN has revolutionized the Ethernet Extender solution. The new ED3142 and ED3146 series provide up to four RJ45 ports with maximum two PoE (Power over Ethernet) ports, each with 30W, and one VDSL extender port. It offers ideal solution for PoE applications on the varies PoE equipments such as PoE/PD Wireless Access Points, PoE/PD VoIP Phone and PoE/PD cameras to ensure all equipments are protected and operating properly when connecting to Ethernet. The ED3145, integrated with a 4-port unmanaged Ethernet switch, is also available for applications required Ethernet extension over telephone lines without PoE demand.

The new ED3142 and ED3146 series are compliant with IEEE802.3at standard and support power input from 24VDC to 48VDC. "While most of the Ethernet Switches only allow 48VDC power input. We want to offer flexible power device options so that users do not need to spend extra cost on power connections." said Louis Chen, Product Manager at EtherWAN.

The new ED3175 series, eight 10/100BASE-TX plus two VDSL ports, is equivalent to full Layer 2 Management Ethernet Switch with α-ring topology support for data redundancy network. The ED3175 provides all-in-one functionality for users to choose either Managed Switch or Ethernet Extender lineups. All new Ethernet Extender models are compatible with EtherWAN's first generation including ED3101, ED3141 and ED3171. The new design combines the ideology of trendy PoE connection and network dundancy.

To keep the same hardened design mindset, the new ED3142, ED3145, ED3146 and ED3175 can be all operated from -40 to 75 degrees Celsius extreme environments. That gives more alternatives of long-distance Ethernet solutions in harsh conditions when fiber optical cannot be applied.

EtherWAN's leadership in Ethernet connectivity brings new levels of flexibility and cost-effectiveness solutions for any harsh environment. EtherWAN has shown a strong emphasis on innovation, and will continue to thrive in the industry.
---
About EtherWAN
EtherWAN Systems, founded in 1996 in Irvine CA, has become a leader in Ethernet connectivity for applications in various markets including intersection traffic monitoring & surveillance, transportation, utility, oil & mining, factory automation, etc. EtherWAN specializes in designing and manufacturing fiber optic Ethernet products and Ethernet equipment for harsh environments. The available products are hardened Ethernet over VDSL equipments, hardened media converters from serial/Ethernet to fiber or wireless, PoE switches, IEC 61850 based hardened Ethernet equipments for power distribution and substation applications, EN50121-4 & EN50155 based products for railway and train networking applications, and those for UL1604 based hazardous locations.

EtherWAN's US headquarters are located in California USA with Pacific Rim headquarters and manufacturing facility in Taipei, Taiwan. With engineering expertise at both sides of the Pacific Ocean and its own production lines in Taiwan, EtherWAN continues to serve the markets with most advanced Ethernet gears at very affordable prices.
---