IEC 61850-3/IEEE 1613 Lite L3 12埠10/100BASE-TX +4埠Gigabit 強固級網管型 乙太網路交換器
高頻寬彈性配置
8 或 12 個 10/100TX ⾼速連接埠
多達 4 個 Gigabit 光纖上⾏鏈路連接埠
全雙⼯運⾏的全容量交換
強固等級適⽤於不通風的惡劣環境
 -40 ⾄ 75°C (-40 ⾄ 167°F) 的寬⼯作溫度範圍
無風扇設計
⾼衝擊、耐熱和電氣⼲擾抵抗⼒
簡配第 3 層網管功能
靜態路由、RIP v1/v2 , 和 OSFP
VRRP 虛擬路由器備援協定
廣播流量減輕
認證規範
IEC 61850-3 / IEEE 1613 變電站認證
NEMA TS2 規範
UL 安全認證
管理/安全功能
連接埠控制
支援 RADIUS 優化網路安全機制
使⽤ eVue ™ 和 eLite ™ 設定和監控
服務支援
EX83304 系列是一款專為嚴峻戶外環境打造的強固級乙太網路交換器,提供高達 12 個 10/100BASE-TX + 4 個 Gigabit SFP 埠。它搭配益網獨家技術 Alpha-Ring 環狀網路備援機制,可以在網路發生斷線時迅速啟動備援機制,並於 15 毫秒內恢復連線。此外,它還具備完整的管理功能,包括 Port Security、IGMP Snooping、VLANs、GARP 協定、Link Aggregation 和 ACL,使用者可以透過網頁瀏覽 Telnet、SSH、SNMP、RMON、TFTP 和 RS-232 Console 管理介面。

EX83304 系列支援多種功能,例如 MSTP、QoS、靜態路由和 RIP 路由協定等,可以實現更靈活和可靠的網路路由,控制網路流量,提高網路效能和安全性。此外,它符合 IEC 61850 & IEEE 1613 標準,可以在高 EMI 環境及 -40 到 75℃ 寬溫環境下穩定運作,支援 IPv6,讓使用者可以適應未來網路的發展趨勢。

EtherWAN — "When Connectivity is Crucial."
Management
Interface

CLI, Telnet and Web Browser
SNMP v1/v2c/v3

Firmware and configuration upgrade and backup via TFTP
Supports DHCP Server/Client
RMON (Remote Monitoring): group 1, 2, 3, 9
Port mirroring: TX/RX and both
NTP (Network Time Protocol) time synchronization
IEEE 802.1ab LLDP (Link Layer Discovery Protocol)
IPv4/IPv6
Security
MAC address filtering
Enable/Disable port
Storm control (Broadcast and multicast types)
IEEE 802.1x LAN access control
Remote authentication through RADIUS and TACACS+
SSH for CLI and Telnet security
SSL for web security
System log (Remote/Local)
ACL
Multi-level user account/password against unauthorized configuration
Quality of Service (QoS)
Priority Queues: 4 queues per port
Traffic classification based on IEEE 802.1p CoS, DSCP, WRR (Weighted Round Robin) and strict mode
Rate Limiting (Ingress/Egress)
Layer 2 Features
Auto-negotiation for port speed and duplex mode
Flow Control

IEEE 802.3x full duplex mode
Back-Pressure half duplex mode

Redundant Protocol

IEEE 802.1D Spanning Tree Protocol (STP)
IEEE 802.1w Rapid Spanning Tree Protocol (RSTP)
IEEE 802.1s Multiple Spanning Tree Protocol (MSTP)
EtherWAN's Alpha-Ring network fault recovery

VLANs

IEEE 802.1Q Tag VLANs (128 groups, 4096 VID)
GVRP (GARP VLAN Registration Protocol)
GMRP (GARP Multicast Registration Protocol)

Link Aggregation

Static Trunk (4 groups, support MAC base)
IEEE 802.3ad Link Aggregation Control Protocol

IGMP Snooping
Layer 3 Features
IP Packet Routing

Maximum number of routes in hardware: 64 entries
OSPF
RIP v1/v2
Static routing

Routing Redundancy
Technology
Standards

IEEE 802.3 10BASE-T
IEEE 802.3u 100BASE-TX/100BASE-FX
IEEE 802.3x Full duplex and flow control
IEEE 802.1p QoS
IEEE 802.1Q Tag VLANs
IEEE 802.1w RSTP
IEEE 802.1x Port-based Network Access Control

Forward and Filtering Rate

14,880pps for 10Mbps
148,810pps for 100Mbps
1,488,100pps for 1000Mbps

Packet Buffer Memory
Processing Type

Store-and-Forward
Auto Negotiation
Half-duplex back-pressure and IEEE 802.3x full-duplex flow control
Auto MDI/MDIX

Address Table Size
Power
Input

Redundant power inputs:Terminal Block: 12-48VDC

Power Consumption

17.28W Max. 1.44A@12VDC, 0.67A@24VDC

Protection

Reverse polarity protection
Mechanical
Casing
Dimensions

72 x 140 x 170mm (W x D x H) (2.8" x 5.5" x 6.7")

Weight
Installation
Interface
Ethernet Port

10/100BASE-TX: 8 or 12 ports
Gigabit SFP: 2/4 ports

Console Port

Port: One DB9 RS-232 port

Alarm Contact

One relay output with current 0.6A/30VDC

LED Indicators

Per Unit: Power 1, Power 2
Per Port: Link/Activity (Green)
Environment
Operating Temperature

-40 to 75°C (-40 to 167°F)
  Tested @ -40 to 85°C (-40 to 185°F)

Storage Temperature

-45 to 85°C (-49 to 185°F)

Ambient Relative Humidity

5% to 95% (non-condensing)
Regulatory Approvals
ISO

Manufactured in an ISO 9001 facility

Safety
EMI

FCC Part 15B Class A
VCCI Class A
EN 61000-6-4
EN 61000-3-2
EN 61000-3-3

EMS

EN 61000-6-2

EN 61000-4-2 (ESD Standards)
EN 61000-4-3 (Radiated RFI Standards)
EN 61000-4-4 (Burst Standards)
EN 61000-4-5 (Surge Standards)
EN 61000-4-6 (Induced RFI Standards)
EN 61000-4-8 (Magnetic Field Standards)

Environmental Test Compliance

IEC 60068-2-6 Fc (Vibration)
IEC 60068-2-27 Ea (Shock)
FED STD 101C Method 5007.1 (Free fall w/package)

Industrial Compliance

IEEE 61850-3/IEEE 1613
NEMA TS2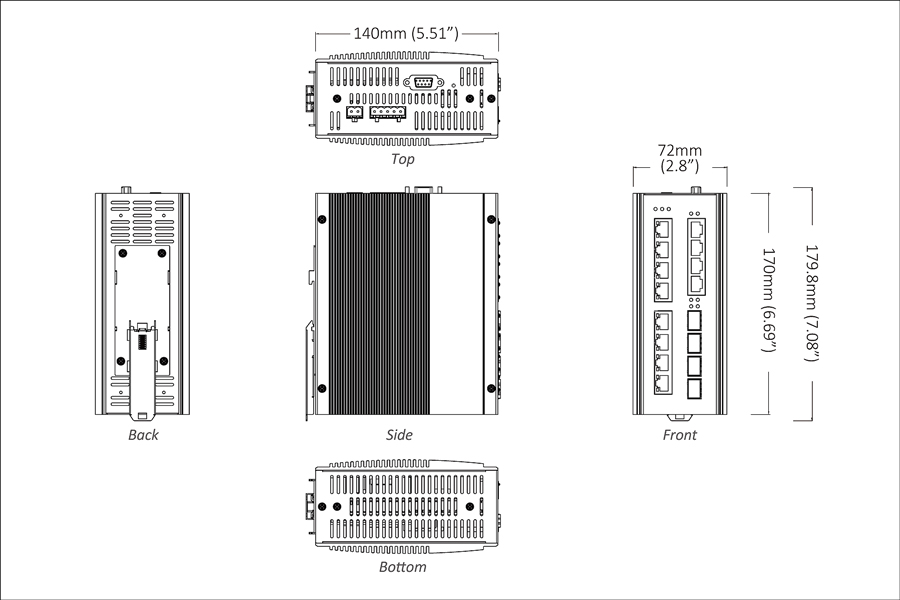 型號
| | |
| --- | --- |
| EX83304-0VB | 12-Port 10/100BASE-TX +4-port Gigabit SFP Hardened Managed Ethernet Switch |
| EX83204-0VB | 8-Port 10/100BASE-TX +4-Port Gigabit SFP Hardened Managed Ethernet Switch |
| EX83202-0VB | 8-Port 10/100BASE-TX +2-Port Gigabit SFP Hardened Managed Ethernet Switch |
* DIN-Rail mounting kit included.
---
Optional Accessories
| | |
| --- | --- |
| HDR-30-24 | 30W/1.5A DIN-Rail 24VDC Industrial Power Supply |
| HDR-60-24 | 60W/2.5A DIN-Rail 24VDC Industrial Power Supply |
| EDR-75-24 | 75W/3.2A DIN-Rail 24VDC Industrial Power Supply |
| EB-232 | Configuration Backup and Restoration Tool for EX83304 switch with firmware 2.02.2 or above |
---