網管型 24 埠 Gigabit PoE +2 埠10/1000SFP Combo 乙太網路交換器
高突波防護設計
L3路由功能
總供電瓦數370W
符合IEEE 802.3at供電標準,PoE供電每埠最高可達30W
完整的L2交換器功能
支援QoS based on 802.1p, DSCP和IP precedence
支援RSTP/MSTP/LACP
支援ACL和802.1x port security功能
EX26262F系列為1U機架式安裝設計,具備24個10/100/1000BASE-T PoE連接埠及2個100/1000 SFP combo光纖埠,PoE/PSE埠支援IEEE 802.3at供電標準,並支援9216 Bytes Jumbo Frame support、full wire speed Gigabit throughput和QoS support等功能。其PoE埠,每埠最高可支援30W,總供電瓦數為370W,可廣泛應用於許多終端受電(PD)設備,例如IP攝影機、無線基地台、IP電話等設備。

EX26262F系列具備完整網路管理功能,包含port security、IGMP snooping、VLANs、GARP 協定、LACP、SNMP、RMON,使用者可透過GUI網路管理介面進行設定、監控及維護,使複雜的專案規劃事半功倍。

EtherWAN — "When Connectivity is Crucial."
Management
Interface

CLI, Telnet and Web Browser
SNMP v1/v2c/v3

Firmware and configuration upgrade and backup via TFTP
LLDP / LLDP-MED
Supports DHCP Server/Client
RMON (Remote monitoring): group 1, 2, 3, 9
Port mirroring: TX/RX and both
Security
SSHv1/v2 for CLI and Telnet security
SSL for web security
RADIUS and TACACS+ authentication
IEEE802.1x LAN access control
Storm control (broadcast and multicast)
Port Security: Locks MAC addresses to ports
IP Source Guard: Prevents illegal IP address from accessing to specific port in the switch.
DHCP Snooping: Allows DHCP offer from trusted DHCP servers only.
ACLs: Supports up to 256 entries. Drop or rate limitation based on:

Source and destination MAC, VLAN ID or IP address, protocol, port
Differentiated services code point (DSCP) / IP precedence
TCP/ UDP source and destination ports
802.1p priority
Ethernet type
Internet Control Message Protocol (ICMP) packets
TCP flag
Quality of Service (QoS)
Priority Queues: 8 queues per port
Traffic classification based on IEEE802.1p CoS, DSCP
Schedule base on WRR (Weighted round robin) and strict mode.
Rate Limiting (Ingress/Egress)
Layer 2 Features
Flow Control

IEEE802.3x full duplex mode
Back-Pressure half duplex mode

Redundant Protocol

IEEE802.1D Spanning Tree Protocol (STP)
IEEE802.1w Rapid Spanning Tree Protocol (RSTP)
IEEE802.1s Multiple Spanning Tree Protocol (MSTP)

VLANs

Supports up to 4K VLANs simultaneously (out of 4096 VLAN IDs)
Port-based VLAN
802.1Q tag-based VLAN
MAC-based VLAN
Management VLAN
Private VLAN Edge (PVE)
Q-in-Q (double tag) VLAN
Voice VLAN
GARP VLAN Registration Protocol (GVRP)

Link Aggregation

Static trunk (13 groups, 4 ports per group)
IEEE802.3ad Link Aggregation Control Protocol

IGMP Snooping

IGMP snooping v1/v2/v3
Supports 1024 multicast groups
Layer 3 Features
IPv4 Unicast: Static routing
IPv6 Unicast: Static routing
Performance
Switching Capability: 52Gbps
MAC Address Table: 8K
Jumbo Frame: 9216 Bytes
Buffer size: 512KB
技術
標準

IEEE 802.3 10BASE-T
IEEE 802.3u 100BASE-TX/100BASE-FX
IEEE 802.3ab 1000BASE-T
IEEE 802.3z 1000BASE-SX/1000BASE-LX
IEEE 802.3x Full duplex and flow control
IEEE 802.1p QoS
IEEE 802.1Q Tag VLANs
IEEE 802.1s MSTP
IEEE 802.1w RSTP
IEEE 802.1x Port-based Network Access Control
IEEE 802.1ab LLDP
IEEE 802.3ad LACP
IEEE 802.3at Power over Ethernet
IEEE 802.3az EEE Energy Efficient Ethernet

Forward and Filtering Rate

14,880pps for 10Mbps
148,810pps for 100Mbps
1,488,100pps for 1000Mbps
電源
輸入電壓
電力功耗

Device: Max. 25W (without PoE)
PoE power budget: 370W

PoE Power Output

IEEE 802.3at: up to 30W/port, 50VDC, 600mA
機構
機殼
尺寸

442 x 211 x 44mm (W x D x H)
  (17.4"x 8.3"x 1.7")
Standard 19" rack-mount size, one-unit-height

重量
安裝方式
介面
乙太網路埠

10/100/1000BASE-T: 24 ports
100/1000 SFP: 2 ports

LED 指示燈號

Per Unit: System
Per Port: Link/Activity/Speed, PoE
環境
工作溫度
儲存溫度

-20 to 70°C (-4 to 158°F)

工作濕度
通過認證
ISO

Manufactured in an ISO 9001 facility

Safety
EMI

CE Mark Class A
FCC Part 15 Class A
VCCI Class A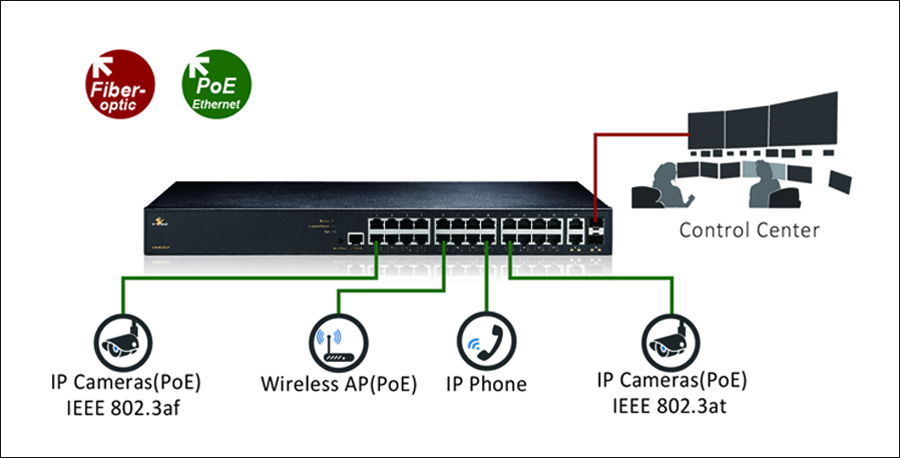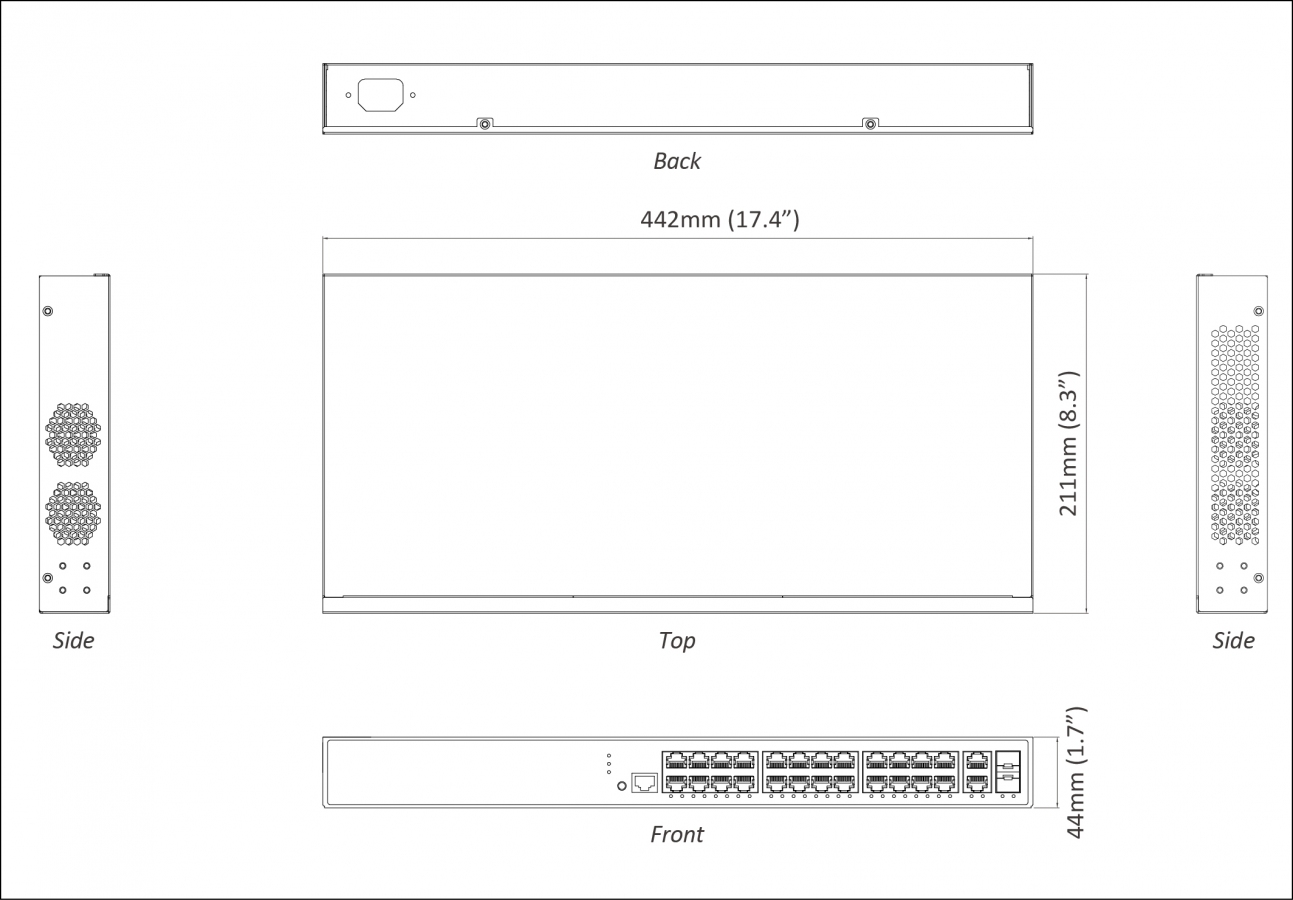 型號
| | |
| --- | --- |
| EX26262F | 24-port Gigabit PoE +2-port 100/1000 SFP Combo Managed Ethernet Switch |
* Rack mounting kit included.
---