IEC 61850-3/IEEE 1613 産業用 2ポート 10/100BASE-TX と 2ポート 100BASE-FX 変換するメディアコンバータ
The EL1142 series provides two independent media conversion paths between 2 x 10/100BASE-T and 2 x 100BASE-SX-LX fiber. Similar to the EL1141 series media converter, the EL1142 includes the hardened construction and high performance needed for mission critical applications, including power substation automation. However, the EL1142 series offers twice the port density in the same housing dimensions, providing greater flexibility and requiring less space for installation.

EtherWAN — "When Connectivity is Crucial."
Higher Port Density
» Two independent media conversion paths in a compact housing
IEC 61850-3/IEEE 1613 Certification
» Meets standards for application in power substation automation
EN 50121-4 Certification
» Designed and tested for railway environment applications
Link-Fault-Pass-Through (LFPT)
» Provides constant monitoring of the links connected to the media converters
» If a copper links fails, the media converter will pass the fail state on throughout the link, disabling the fiber link and the copper link on the opposite end
技術規格
Standards
• IEEE 802.3 10BASE-T
• IEEE 802.3u 100BASE-TX/FX
• IEEE 802.3x Full-Duplex and flow control
Forward and Filtering Rate
• 14,880pps for 10Mbps
• 148,810pps for 100Mbps
Packet Buffer MemoryProcessing Type
• Store-and-forward
• Auto Negotiation
• Half-Duplex back-pressure and IEEE 802.3x Full-Duplex flow control
• Auto MDI/MDIX
---
電源
電源電圧
• 12-48VDC (Terminal Block)
消費電力保護
---
物理仕様
筐体
寸法
• 50 x 110 x 135mm (W x D x H)
  (1.97" x 4.33" x 5.31")
重量取付方法
• DIN-Rail (top hat type 35mm) or panel mounting
---
インターフェース
イーサネット・ポート数
• 10/100BASE-TX: 2 ports
• 100BASE-FX: 2 ports
LED 表示
• Per Unit: Power1, Power2, Alarm
• Per 10/100BASE-TX port: Link/Activity, 100, Full-Duplex/Collision, LFPT
• Per 100BASE-FX port: Link/Activity, Full-Duplex/Collision
Relay Contact
• Dry contact with current 0.6A/30VDC
---
環境条件
使用温度範囲
• -40 to 75°C (-40 to 167°F)
保存温度範囲
• -40 to 85°C (-40 to 185°F)
使用湿度範囲
---
信頼性認証
ISO
• Manufactured in an ISO 9001 facility
SafetyEMC
FCC Part 15B Class A
VCCI Class A
EN 61000-6-4
EN 61000-6-2 Class A
EN 55032 Class A
EMS
EN 61000-6-2

• EN 61000-4-2 (ESD Standards)
• EN 61000-4-3 (Radiated RFI Standards)
• EN 61000-4-4 (Burst Standards)
• EN 61000-4-5 (Surge Standards)
• EN 61000-4-6 (Induced RFI Standards)
• EN 61000-4-8 (Magnetic Field Standards)
Environmental Test Compliance
IEC 60068-2-6 Fc (Vibration Resistance)
IEC 60068-2-27 Ea (Shock)
FED STD 101C Method 5007.1 (Free fall w/package)
Industrial Compliance
IEC 61850-3/IEEE 1613
EN 50121-4
---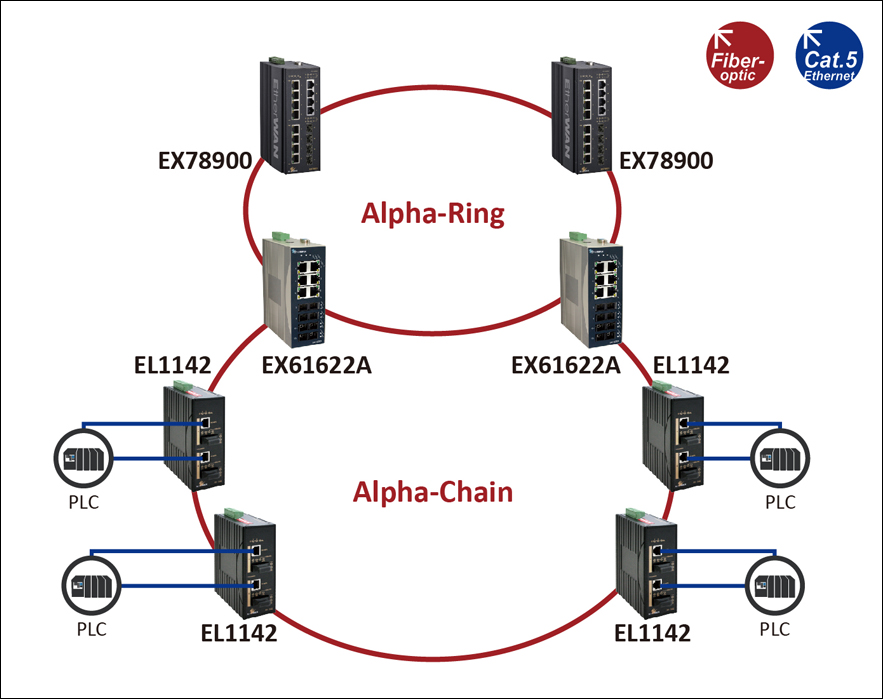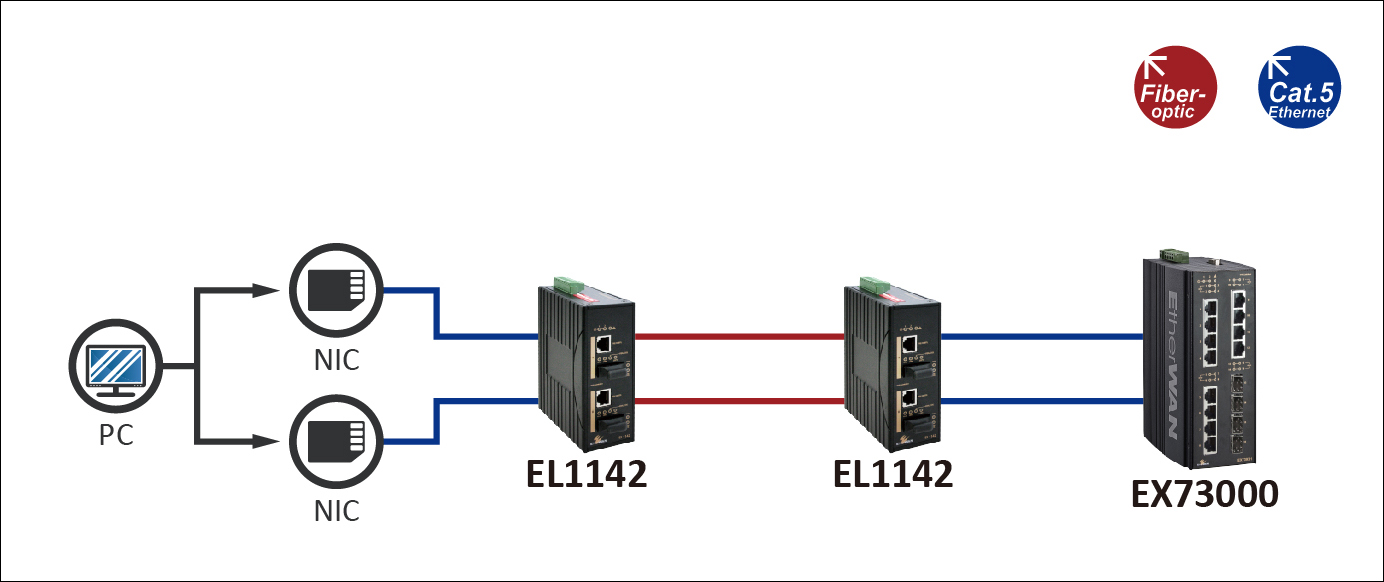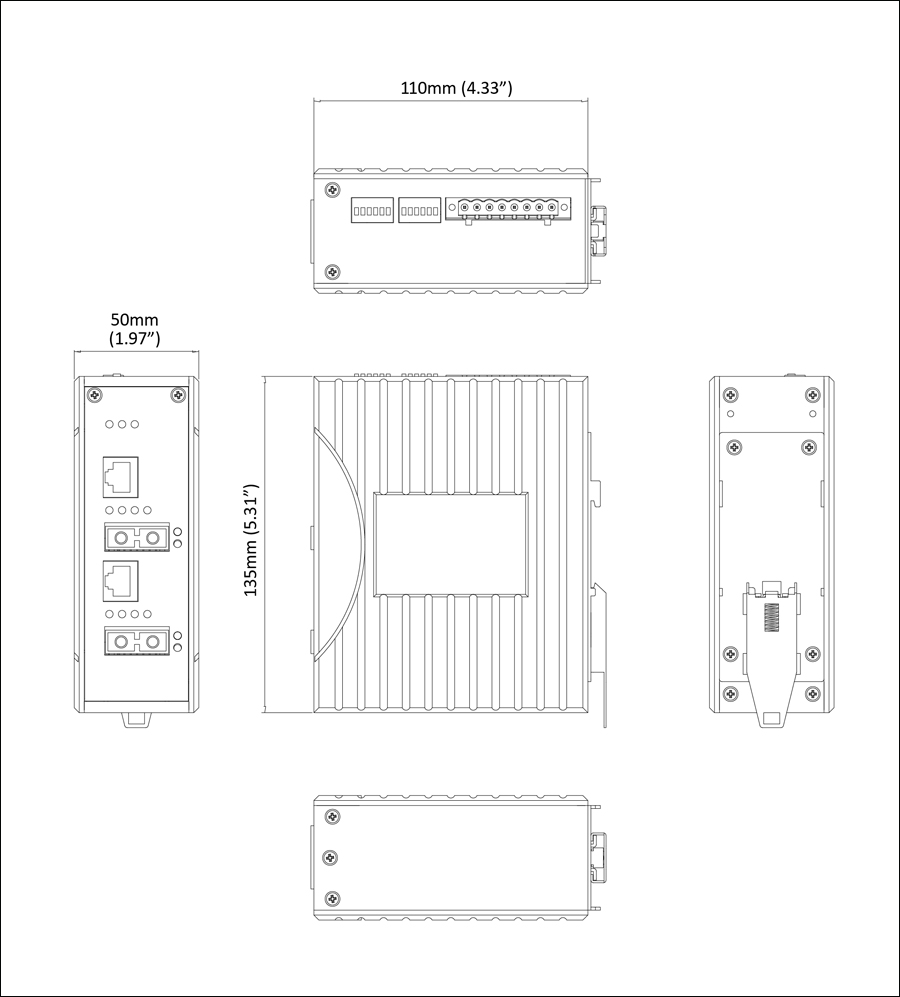 型番
EL1142-

X

0B
2-Port 10/100BASE-TX +2-Port 100BASE-FX IEC 61850-3/IEEE 1613 Hardened Media Converter
* DINレール・マウントキットを含む。
---
100BASE-X 光ポート オプション (X)
| | |
| --- | --- |
| 1 | Multi Mode (SC) - 2Km (1310nm) |
| 2 | Multi Mode (ST) - 2Km (1310nm) |
| A | Single Mode (SC) - 20Km (1310nm) |
| B | Single Mode (SC) - 40Km (1310nm) |
| H | Single Mode (ST) - 20Km (1310nm) |
---
オプション関連製品
KP-AA96-480
KP-AA96-480 Panel mounting kit
HDR-30-24
30W/1.5A DIN-Rail 24VDC Industrial Power Supply
HDR-60-24
60W/2.5A DIN-Rail 24VDC Industrial Power Supply
EDR-75-24
75W/3.2A DIN-Rail 24VDC Industrial Power Supply
EDR-120-24
120W/5A DIN-Rail 24VDC Industrial Power Supply
EX41-145046-X
Power Supply 45W 12VDC with Open Wire
(X) = 1: US, 2: EU, 3: UK, 4: AU, 5: JP, 6: SA
---