Back to top
EtherWAN Releases EX75000, a Rack-mount Industrial Hardened Managed Switch with High-density PoE Connectivity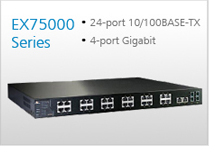 Taipei, Taiwan — October 09, 2013 —
EtherWAN Systems, Inc., a leading global provider of network solutions, today announced the EX75000 Series, hardened sindustrial witching platform. The EX75000 Series Switch supports 802.3at PoE power source, high switching capability with robust design and management features required for mission-critical and harsh environments where sustained connectivity is crucial.

The EX75000 Series utilizes a fan-less design which allows an operating temperature range from -40℃ up to 75℃. Designed in compliance with high industry standards of ESD, Burst, Radiation, Surge, and Electromagnetic Radiation, the EX75000 Series is the best choice when connectivity is crucial under harsh environments.

The IEEE802.3at PoE ports provide up to 30W/port with a total power budget of 420W, making the switch truly versatile to connect with powered devices with different bandwidth and power consumption requirements, such as outdoor PTZ dome cameras, wireless access points, and way-side communication devices. The management configuration interface gives users the flexibility to configure the EX75000 Series specifying required power to each port to best utilize the systems abilities. The PoE connections can also be scheduled to insure that the most in-demand PoE devices get the power they need at the times they need it.

The EX75000 Series provides 24 x 10/100BASE-TX Power over Ethernet (PoE) ports, in combination with 2 x Gigabit PoE ports and 2 x Gigabit (1000BASE-SX/LX/BX/WDM) fiber ports with SFP options. The EX75000 series comes in multiple variations including 4 x Gigabit SFP combo ports. With jumbo frame support up to 2048 bytes, the EX75000 is excellent for HD video surveillance with PoE requirements.

Mountable on a 1U rack, the EX75000 Series provides industry leading fault recovery using EtherWAN's Alpha-Ring for Ethernet redundancy, with less than 15ms fault recovery time to minimize packet loss caused by link failure. The EX75000 Series can be fully managed via web browser, telnet/SSH, SNMP, RMON, TFTP, and RS-232 console interfaces. The management features include; Port mirroring, VLAN, QoS, Link aggregation, IGMP Snooping and DHCP Client/Server which provide for network segmentation and data prioritization resulting in improved network performance.

For the best result of security control, the EX75000 Series supports IEEE802.1x, ACL (Access Control List) and RADIUS for remote access control which only allows authorized communication to flow through a network.

► More Porduct Info about EX75000
---
About EtherWAN
EtherWAN Systems, founded in 1996 in Irvine CA, has become a leader in supplying industrial Ethernet connectivity for applications in various markets including; Intelligent Traffic Systems (ITS), transportation, building automation, security & surveillances, utility, oil & mining, field automation, and water resource management.

EtherWAN specializes in designing and manufacturing fiber optic and industrial PoE Ethernet products for harsh environments and critical infrastructures. EtherWAN designs and manufactures a full line of Industrial Ethernet Switches, Media Converters, Ethernet Extenders and Serial Servers for commercial and hardened environments. EtherWAN's products are compliant with various industry standards, i.e. NEMA TS2 for ITS and Transportation; IEC 61850-3/IEEE 1613 for Utility Substations; EN50155 for Railway and Train Applications; IEC 61000 for Industrial Automation Applications; ISA 12.12.01 (UL 1604) for Hazardous locations in Industrial Control.

EtherWAN's US headquarters is located in Anaheim, CA USA with Pacific Rim headquarters and manufacturing in Taipei, Taiwan. With engineering expertise on both sides of the Pacific Ocean and its own production lines in Taiwan, EtherWAN continues to provide professional support with the most advanced industrial Ethernet technology at affordable prices.
---