Back to top

Contact Us

The EX73900 Series — Hardened Lite L3 Managed 16-port Gigabit Ethernet Switch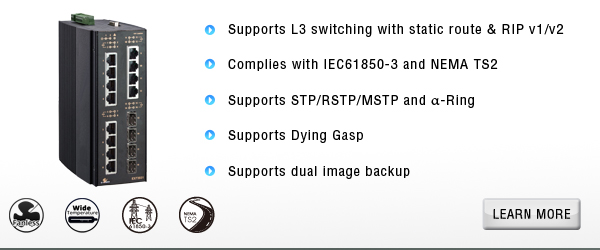 | | |
| --- | --- |
| | High-Performance Lite Layer 3 Switching |
EtherWAN EX73900 series is a lite Layer 3 full Gigabit hardened managed switch in din-rail form factor featured with 12 ports of 10/100/1000BASE TX and up to 4 x 1000BASE SFP/SC/ST ports. The port configuration options include the following:
12-Port 10/100/1000BASE-TX plus 4-Port Gigabit SFP
8-Port 10/100/1000BASE-TX plus 4-Port Gigabit SFP
8-Port 10/100/1000BASE-TX plus 4-Port Gigabit fixed fibers (SC/ST/WDM)
The EX73900 series supports L2 and L3 switching supporting static route and RIP v1/v2 protocols. The max. number of routes supported is 64 entries. The EX73900 supports SNMP, port mirroring, QoS, flow control, VLAN, Link Aggregation, IGMP snooping, DHCP, DDM and is managed via RS-232, CLI, Telnet and web browser.
| | |
| --- | --- |
| | Enhanced Network Redundancy |
The EX73900 supports dual power inputs and network redundancy protocols including STP, RSTP, MSTP, and EtherWAN's Alpha-Ring™ technology, ensuring high network availability.
Additional features of EtherWAN EX73900 include dual firmware image backups, which prevents firmware upgrade failures; The EX73900 also supports Dying Gasp, providing immediate notification of switch power-off with SNMP.
| | |
| --- | --- |
| | Suitable for Industrial Applications |
The EX73900 series complies with NEMA TS2 and IEC 61850-3 which meets firm EMC requirements: according to IEC 61000-4-11, it requires sustainable operation during the voltage dips and short interruptions for 0.5 sec.

The EX73900 series is designed to work in harsh industrial environments, and it is applicable for Ethernet connectivity in ITS or critical infrastructures.
IEC61850-3/IEEE1613 Lite L3 Hardened Managed 12-16-port Gigabit Ethernet Switch

Field-proven Reliability
Hardened Ethernet equipment with superior reliability, long MBTF, redundant power support, wide operating temperature range, EDI, EMI, RFI and surge protection.

Full Product Testing
Our hardened products are required to pass stringent real-time data transfer testing at the temperature from -40° to +85°C for up to 72 hours without compromise.

Customer-centered Services
EtherWAN has a professional support crew, with domain know-how and hands-on experience working with system integrators and solution providers.
If you do not want to receive this e-bulletin in the future, please reply
here
© EtherWAN Systems, Inc. All rights Reserved.