Back to top

Contact Us

EtherWAN expands its Ethernet Extender product line with cost-effective Power over Link™ (PoL™) solution
The ED3238 is the latest addition to EtherWAN's Ethernet Extender family, offering cost-effective, industrial-strength Power over Link™ (PoL™) solution via single coaxial cable. Consisting a pair of devices, the ED3238 delivers both power and data over single legacy coaxial cable such as RG6 or RG11 to connect and power remote PoE devices.

The ED3238 solution consists of a pair of 10/100BASE-T Ethernet extenders with an IEEE802.3af PoE/PSE port, to extend data and power transmission distance from traditional Ethernet 100-meter limitation to 380 meters. Powered by an IEEE802.3at PoE/PSE switch or a 57VDC adaptor, the ED3238 delivers 15.4Watts of power to a PoE/PD end device, such as an IP camera, emergency intercom, VoIP phone, or wireless access point. The ED3238 is compliant with CE / FCC / VCCI / UL60950-1 / IEC60950-1 and RoHS standards ensuring a reliable and long lasting connection.

The ED3238's compact size and lite weight make it ideal for placement in tight spaces and with the possibility of using existing coaxial cable, it offers a cost-effective solution for remote PoE device connectivity.

A setup diagram can be viewed below: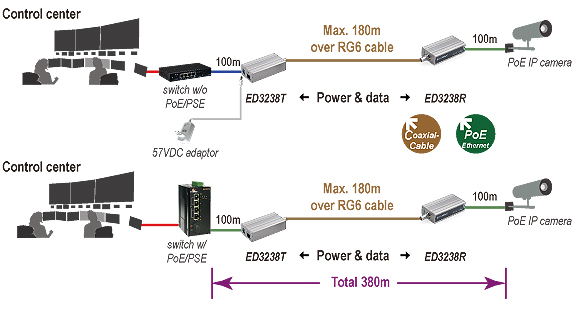 10/100BASE-TX IEEE802.3af PoE Ethernet Extender over Coaxial Cable


Field-proven Reliability
Hardened Ethernet equipment with superior reliability, long MBTF, redundant power support, wide operating temperature range, EDI, EMI, RFI and surge protection.

Full Product Testing
Our hardened products are required to pass stringent real-time data transfer testing at the temperature from -40° to +85°C for up to 72 hours without compromise.

Customer-centered Services
EtherWAN has a professional support crew, with domain know-how and hands-on experience working with system integrators and solution providers.
If you do not want to receive this e-bulletin in the future, please reply
here
© EtherWAN Systems, Inc. All rights Reserved.