Back to top
EtherWAN Helped the PoE connectivity in Hospital Surveillance in Taiwan
---

---
Overview
The public health care system is important to metropolitan areas. A principal medical center in Taiwan houses advanced equipments, technologies and professional staffs and takes care of many incidents of emergency and major illness and injuries.

As the leading medical center, the hospital thrives to provide patients with the most secured medical environments. A reliable surveillance system upgrade is required by the hospital to monitor patients conditions and to minimize medical disputes over the recordings.
---
Technology
Although there has been analog surveillance system installed in the hospital buildings, the client wants to install more cameras and to integrate the new surveillance system with the hospital network. Therefore, Ethernet technology is implemented because of scalability and availability.

Power over Ethernet (PoE) technology is utilized in both the network cameras and network switches. Complied with IEEE802.3af or IEEE802.3at standards, the PoE switches deliver both power and data over CAT.6 cables, up to 15.4 watts or 30 watts for each PoE camera. The monitoring will be achieved by NVR (Network Video Recorder) and VMS (Video Management System) installations for instant data reviewing and real-time video monitoring via LAN or internet. A redundant network is required in order to prevent data loss and uninterrupted surveillance.
---
Challenges
There are three main buildings in this hospital, which previously installed separate analogue surveillance systems at each building. To begin the system migration, it requires Ethernet connectivity all across the surveillance area. With the provided cabling, the network devices have to work in harmony with the whole surveillance system, as well as to form a redundant network topology.

For smooth and stable surveillance results, network redundancy and sufficient bandwidth are essential for uninterrupted data transmission. Also, easy troubleshooting is preferred by the technicians in case of maintenance.
---
Solutions
The client eventually plants fiber optic cables among the main buildings, in order to transmit data over hundreds of meters away.

The partnered system integrator selects EtherWAN's EX17082, EX17162 and EX17242 PoE switches, which provide 8, 16 and 24 PoE/PSE ports, respectively. They are utilized as power sourcing equipment (PSE) to power up the PoE network cameras. The NVRs are also connected to the switches for video footage storage. These web-smart switches allow users to reboot the devices or turn off/on PoE remotely via a web browser, saving hassles when it comes to camera setups.

In the main server room, EtherWAN's EX25611 managed Gigabit Ethernet switch is deployed to receive video recordings from the NVRs. The EX25611 features four 1G/10G SFP+ uplink ports, connecting to a Layer 3 core switch and the CMS server.

The installed EtherWAN Ethernet switches are all equipped with fiber optic uplink SFP slots to help forming network redundancy when demand calls for future upgrade.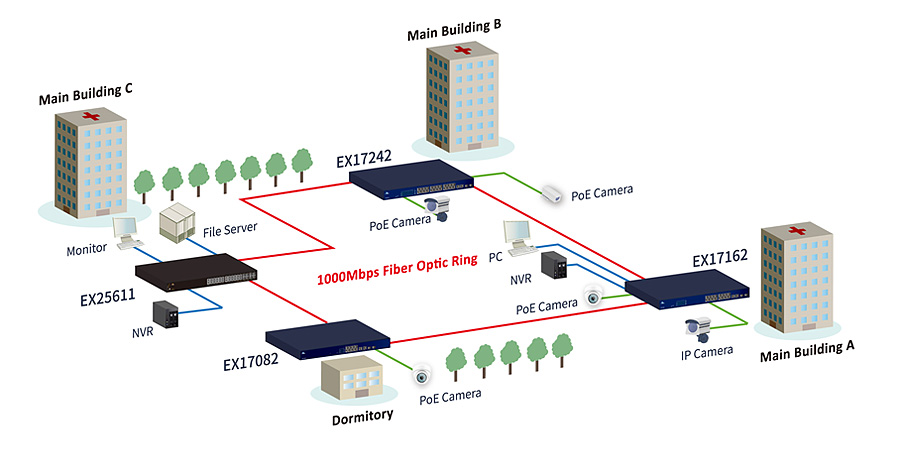 ---
Results
Over 460 brand-name PoE cameras and NVRs are connected with 50 units of EtherWAN PoE switches on site, which are fully compatible with the camera vendor's VMS software, running altogether seamlessly. The security personnel are able to monitor the whole hospital and to review video evidence any time.

By utilizing such digital surveillance network, it enhances the total safety of the hospital's patients, staff and assets. Furthermore, the high-resolution video records come in handy for medical dispute resolutions.
---
Selected Products
---
EtherWAN – "When Connectivity is Crucial"
► For more information, please contact: [email protected]
---