Ensuring reliable IP connectivity for fire alarm systems
---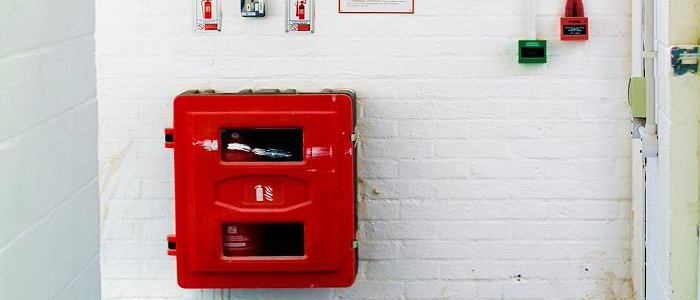 The trend of IP migration in the security market has been phenomenal, especially in the video surveillance sector. However, the last decade has seen IP migration for fire systems gradually catching up, especially in installations involving buildings or large event venues, like stadiums or convention centers.
---
IP Migration for Fire Alarm Systems
Traditional fire alarm systems are based on analog Plain Old Telephone Service (POTS), in which each fire panel is subscribed to two telephone lines for supervising and backup purposes.

Fire alarm system providers have developed and added IP-based Digital Alarm Communicator Transmitter/Receivers (DACT/DACR) to their fire alarm panels. These types of fire panels may come in modular forms, interconnected via an IP structure, which will allow the fire alarm system to be monitored over the internet. These communicators may also accept existing phone lines as part of the digital network in a fire alarm application.
---
The Advantages
Upgrading to IP fire alarm systems presents several advantages: First of all, with IP communications, checks are constantly performed, and event notifications are instantaneous, easily meeting the 10-second alarm/signal time requirement defined by current standards for fire control units.

Secondly, more information is delivered to the central station, including fire location and maintenance notifications. These messages are encrypted and small in size so there is no overall effect on bandwidth.

Finally, IP-based systems allow fire, supervisory and trouble alarms to be sent over the internet. Hence, the supervisory or central station can constantly monitor and immediately respond to anomalies.
---
The Challenges
IP migration comes with its own set of challenges. Achieving IP transmission between a building and its central fire station, which may be located kilometers away, requires network equipment with fiber optic connectivity.

Fire alarm systems also require high electromagnetic compatibility (EMC), because undesired electrical interference may trigger a false alarm. Additionally, some fire alarm panels are installed in harsh environments that lack air conditioning, and it is critical that Ethernet equipment installed in such environments can withstand extreme temperatures 24/7.
---
The Solution: Reliable IP connectivity on Fire Alarm Panels
To ensure long-term operation in extreme environments, fire alarm systems should feature Ethernet switches, media converters, and Ethernet extenders that are specially designed and engineered for this purpose, such as EtherWAN's wide range of hardened Ethernet connectivity products.

Media converters for these solutions should offer the following features:
Compliance with industrial standard IEC 61850 or EN 50130-4 for high electromagnetic resistance, which can prevent the system from falsely triggering an alarm.
Ability to operate in temperatures from -45°C to 70°C, providing stable performance in critical environments.
Availability of versatile fiber optic interfaces, including SC/ST connectors with multi-mode/single mode selections.
Physical dimensions and configuration should allow for effortless DIN-rail installation.
At installation sites, media converters are connected to fire alarm panels in multiple buildings via CAT5 and fiber optic cables. This provides Ethernet extension from the fire panels to the remote central station. The resulting system design ensures continuous and reliable IP transmission for the fire alarm applications.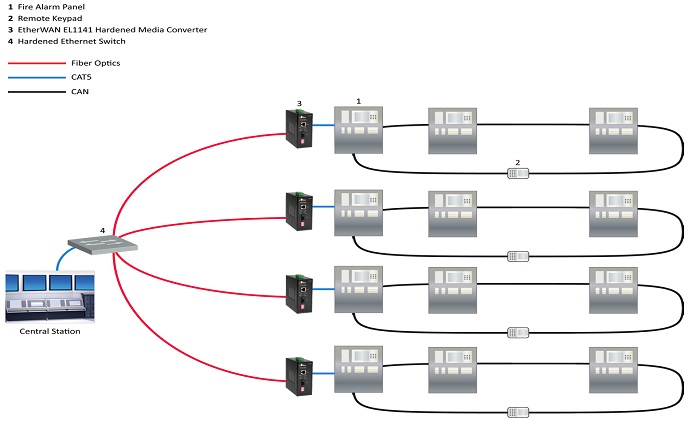 ---
Related products:
---
EtherWAN – "When Connectivity is Crucial"
► For more information, please contact: [email protected]
---