Creating stable Ethernet transmission for IP surveillance in retail chain stores
---

---
Overview
Hanging out at retail chain stores have become a lifestyle for people in metropolitan areas. Large retail warehouses are crowded with shoppers every day. However, this has also brought about problems of retail shrinkage and criminal activities that demand video surveillance to be in place.

In achieving better retail chain management and shopping experience, a robust IP surveillance system plays a main role. But only with stable IP transmission, the system can deliver its best performance.

Taipei, Taiwan — January 18, 2016
---
Robust IP transmission benefits total performance of IP surveillance system
In order to manage a large-scaled retail chain well, adopting a fully IP surveillance system is usually the best choice for the end users in terms of lower total cost of ownership (TCO) and higher management efficiency. Stable IP transmission and sufficient power supply are required to ensure the IP surveillance system runs 24/7, especially when there are many chain shops to be connected. So, IP transmission devices along with Power over Ethernet (PoE) are mostly recommended. In addition, the transmission device can also help the end clients make better business decisions and improve retail chain management. For example, a PoE switch can be connected to a POS machine for sales record analysis, or connected to the sensors which intelligently control LED lightening of a building.

For long-distance transmission, Ethernet extenders or fiber optics are often implemented. Fiber optic cables offer much longer transmission distances, as well as more security and less noise/interference. They are often planted in large areas such as warehouses, forming the backbone to the main control room.

To sum up, use of a high-quality IP transmission solution to employ the devices with latest PoE technology, supporting fiber optic transmission, and web-smart network switches is ideal in this vertical.
---
Power over Ethernet (PoE)
The use of PoE enables system integrators (SI) to easily set up the surveillance cameras without worrying about power distribution. PoE is a technology developed by The Institute of Electrical and Electronics Engineers (IEEE), delivering power through a CAT5 cable.

Most modern IP cameras support IEEE802.3at PoE Powered Device (PD) standard. An IEEE802.3at Power Sourcing Equipment (PSE), such as a PoE switch, outputs maximum 30W per port. The power consumption of a regular bullet camera is usually under 10W. However, a PoE camera with Pan-Tilt-Zoom (PTZ) function or infrared illumination may consume much higher power.

For outdoor retailers such as gardening, video cameras must stay operational in harsh conditions. If PoE cameras with heater and wireless AP connection are installed outdoor, it may require hardened 60W PoE switches to provide enough power and stable transmission.

To sustain those power-hungry cameras, some network connectivity equipment manufacturers have developed 60W "Ultra PoE" products feeding up to 60W from each PoE port which utilize all four pair of copper wires in the UTP cable.
---
The advantages of Gigabit backbone transmission
Gigabit Ethernet transmission can be carried by Gigabit CAT5/6 cables or fiber optic cables. In a large retail chain store like a supermarket, many devices are connected to the network, such as CCTV, access control, POS, payment, lighting and even air conditioning systems. These devices will generate heavy data feeds, especially among the video cameras installed at the corners of stock shelves. It takes massive bandwidth to collect all these data; the Gigabit backbone is the best choice.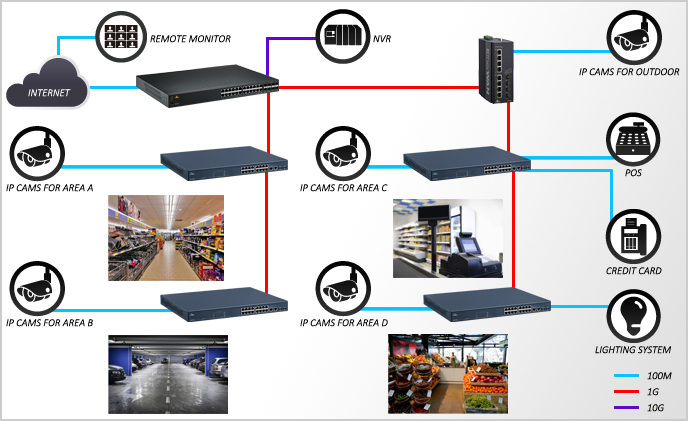 ---
Web-smart PoE switches
The implementation of web-smart PoE switches in a retail chain surveillance project will save lots of hassles during maintenance. Compared to the unmanaged switch, the web-smart PoE switch is a cost-effective solution that reduces maintenance time and operation downtime, and hence is becoming more and more popular among SIs.

Web-smart PoE switches offer a convenient web interface for the network administrator to adjust the settings via a web browser remotely. Those settings include PoE status, port on/off, VLAN tagging, trunking, QoS priority, remote rebooting and so on. VLAN (Virtual Local Area Network) and QoS (Quality of Service) configurations are critical to the streaming results of large-scale IP video distributions.
---
Reducing total cost of ownership
In short, deploying Ethernet transmission in an IP surveillance project may help lower the TCO of a retail chain enterprise, for the following reasons:
Using PoE switches as PSE solves the complexity of power distribution of installing surveillance cameras. Due to its light-current nature, PoE installation does not require the employment of certified power technicians.
The network devices can be integrated into the existing IT infrastructure.
The fiber optic ports can be connected with fiber infrastructure for high-performance, long-distance data transmission.
Web-smart PoE switches are affordable, and they support remote monitoring and configuration of the Ethernet ports, saving troubleshooting time and on-site inspections.
VLAN and QoS can be configured by the web-smart switches to optimize the best video streaming results.
Some managed PoE switches support PoE scheduling function, which can be applied to PoE cameras or LED lighting for energy conservation.
Managed PoE switches with redundant power inputs can be connected with UPS as backup power. If there is a power outage at a remote location, the network administrator can disable unwanted ports, leaving power for the surveillance cameras at the most important locations.
A well-designed IP surveillance system will efficiently prevent vandalism and retail shrinkage.
The IP video surveillance system can be integrated into the IoT structure for better business analysis.
---
Finding a value-added partner
When implementing a network design, PoE power budget, port numbers, VLAN segmentations and bandwidth settings are so important that they must be set up properly. A partner who not only provides quality products, but also technical support and consultancy will save a SI's time and money.

For example, EtherWAN Systems, Inc. specializes in the designing and manufacturing of Ethernet switches, media converters, Ethernet extenders and PoE products for applications where connectivity is crucial. With their core focus on Ethernet connectivity for extreme environments with stringent requirements, product reliability and quality are top priority. Technical support or topology consultancies are also available from EtherWAN.
---
Recommended Ethernet connectivity products
EtherWAN Systems carries a complete line of managed, unmanaged, and web-smart PoE switches that are ideal to be implemented in the network design for a retail chain IP surveillance project, as follows:
---
► News released @ASMAG: http://www.asmag.com/showpost/19874.aspx
---