Integrated Monitoring & Control System for Power Management
---

---
Background
The Micron Japan semiconductor fabrication plant manufactures memory modules for consumer electronics, storage, and mobile devices. In order to optimize reliability and power consumption in the plant's manufacturing systems, an Integrated Monitoring & Control System (IMCS) was implemented. The IMCS integrates a Power Quality Monitoring System (PQMS) and Supervisory control and data acquisition (SCADA) system for power management with load restoration and GPS clock distribution and synchronization. The IMCS oversees the electrical distribution within the facility to ensure stability of supply, and prevent costly downtime.
---
The Challenge
The IMCS is comprised of the SCADA system, Power Quality Management System (PQMS), 30 industrial control managers (ICMs), and more than 1000 intelligent electronic devices (IEDs). The ICMs serve as a communication manager to gather IED/sub-system interface data distributed at the plant level. The IEDs include devices such as protection relays, motor managers, and feeder managers. Two fiber optic rings are required, one for SCADA and one for PQMS. The rings must be linked (coupled) with redundancy. Connected to both rings is a PQMS server.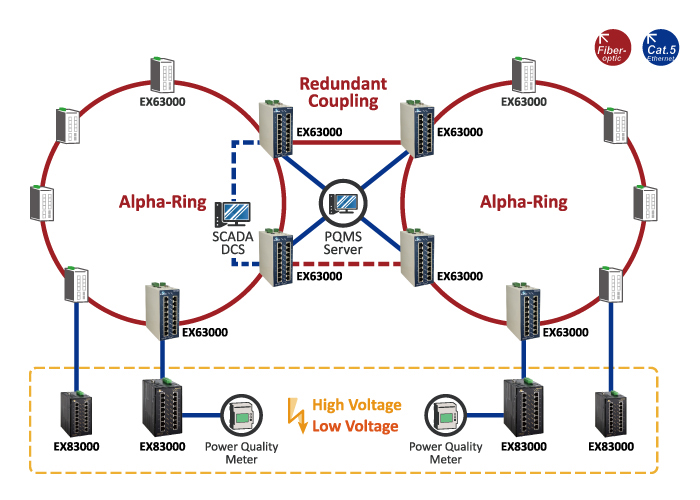 System requirements include:
Equipment needs to be highly resistant to heat and moisture
System must be scalable for future expansion
Built-in network redundancy
Coupling between two separate rings
VLAN support for performance considerations
SNMP for diagnostics and notifications
IEC 61850-3 compliance
---
The Network Solution: EX63000 and EX83000
First and foremost, the devices for this application must meet the corresponding IEC standard. IEC 61850-3 covers the immunity and environmental requirements for communications networks in this kind of power system. EtherWAN met the challenge with the EX63000 and EX83000 series industrial managed hardened Ethernet switches.

The EX63000 Series is equipped with sixteen 10/100BASE Fast Ethernet ports, in combination with up to two Gigabit combo ports with Fixed Fiber options. Highly resistant to moisture and electromagnetic interference, it supports an operating temperature range of -10 to 60°C (-14 to 140°F).

The EX83000 Series is equipped with sixteen 10/100BASE Fast Ethernet ports, in combination with up to Two Gigabit, Fixed Fiber, or SFP Combo port options. With its hardened construction, it can operate in a wide temperature range of -40 to 75°C (-40 to 167°F).

Both models support EtherWAN's Alpha-Ring self-healing technology, a proprietary redundancy protocol that provides a fault recovery time of less than 15 milliseconds, making it ideal for critical applications such as this IMCS. Furthermore, both models support ring coupling, which allows for the connection of multiple Alpha-rings. Using Ring Coupling, a ring can be connected to another ring running any redundancy protocol. Both SNMP and VLAN support are standard featured on all EtherWAN managed switches.
---
Conclusion
Modern Integrated Monitoring & Control Systems are complex projects that require a dependable network infrastructure. Choosing Ethernet switches with the right features and performance qualifications is paramount. EtherWAN products continue to be a top choice for applications that require uninterrupted connectivity.
---
Related products:
---
EtherWAN – " When Connectivity is Crucial "
► For more information, please contact: [email protected]
---