Back to top
Hardened PoE+ and PoE++ Switches for IP Security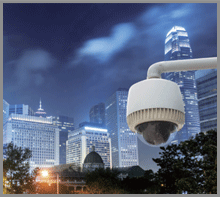 With security found in more and more industrial settings, advanced and heavy-duty network devices are needed on the edge to make the implementation work. Amid this trend, the first major challenge is to deliver enough power to these devices. Increasingly, traditional PoE standards, IEEE 802.3af/at delivering 15.4W and 30W of power, have proven insufficient in this regard. A hardened 60W PoE switch, on the other hand, can better fulfill industrial users' power supply needs.
---
Mainly driven by IP technology, the global surveillance market has been experiencing two-digit growth every year. According to IHS, the video surveillance market size was estimated to be US$15 billion, and it is forecast to grow to $23.6 billion by the end of 2018. With IP, video surveillance systems become smarter and are utilized in multiple applications by integrating with other systems. The power over Ethernet (PoE) technology, then, becomes widely deployed in order to support various security cameras, wireless access points, and other connected devices with higher power requirements.

However, the problem for the current industry is when cameras or other security devices that consume 50W of power or even higher are used, the installer has to use an injector, which is a separate piece of equipment that may create extra cost and reliability issues, not to mention the fact users often find it burdensome and inconvenient. The injector also needs an extra power source, which can be quite a hassle especially for smaller space. After IEEE introduced a new standard, 802.3at, to scale power delivery up from 15.4W to 30W in 2007, it can be assumed that the PoE technology has the potential to deliver up to 60W per port to allow more efficient and cost-effective power supply. Eventually, users are looking for a more cost-effective PoE device that could deliver up to 60 watts of power to enable the wide deployment and connectivity of security equipment, at the lowest total cost of ownership.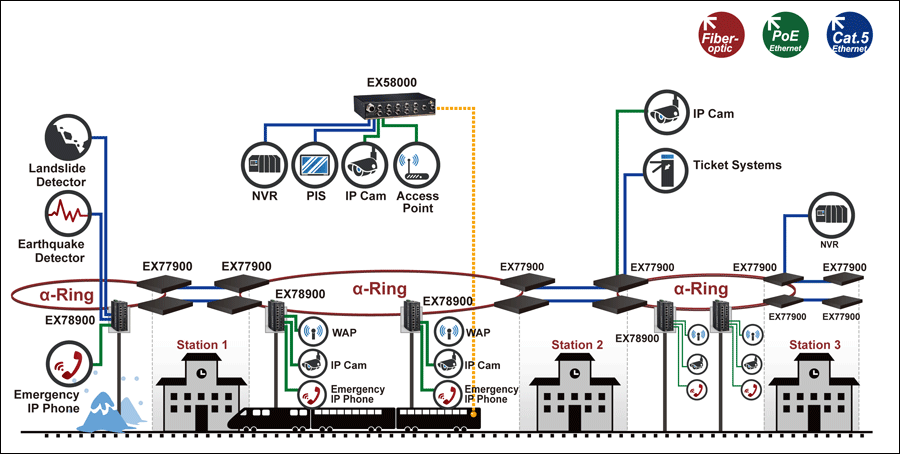 The 60W switch has applications in transportation and can be deployed in a railroad environment, allowing constant monitoring of trains and seamless communications between drivers and the command center.
---
How to Select a 60W PoE++ Switch for Security Projects
To ensure the high performance of a 60W switch, the selection of high-quality key parts and components is crucial. PoE products operating in transportation, critical infrastructure, factories, and other industrial environments should be toughened up to stay functional and durable amid extreme weather, vibration, and electromagnetic interference (EMI), which can do great damage. In harsh environments, the video surveillance cameras are usually equipped with extra heater and some even with IR functions, and the high power consumption creates another challenge for the PoE switch. Therefore, quality assurance should begin at the product's initial design stage, with parts and components carefully selected to meet industry standards. The printed circuit board must be carefully designed to ensure it works well with the key parts and components. Besides the general requirements, it should also be available for wide-temperature operations — the circuitry design needs to meet comprehensive requirements under EMC standards, and the product needs to be hardened.

In addition to the initial industrial design, product testing is usually the most effective way to evaluate a high-quality PoE switch. For EtherWAN, it went so far as to have multiple PDs (power devices) tested in the company's lab to guarantee flawless transmission between the devices and the 60W switch. The test is even running in chambers with the temperature set at 85 degrees Celsius to verify if they can work properly.

Take as an example the EX78900 switch, which provides 60W from each of the four ports. During the test, each port is connected to a PD. The switch passes the test only if it is functioning normally at full capacity (60 x 4 = 240W) over a temperature range between -45 degrees Celsius and 85 degrees.

Only complying with the general industrial standards doesn't seem enough — customers need to make sure the supplier's products and accessories not only meet the common industrial standards but also are tested and approved to reach or even surpass the mean time between failure (MTBF) threshold value to guarantee reliability while working in a high-temperature environment.
---
Suggestions for Finding a Value-added Partner
From time to time, there are customer complaints about being ripped off by some industrial solutions providers who assemble with commercial-grade parts and components. To be detailed, professional testing reports are suggested to be provided by suppliers in order to prove that what the company says about the products are all true after the tests are completed. To further fulfill customer needs, EtherWAN answers customer inquiries, makes installation plans for major clients, and produces pre-installation reports for them. "We sell service, not just products," said Maggie Chao, VP of Sales at EtherWAN.

In addition, in stadiums, large buildings, and other large projects, for example, when deploying a fire alarm system, the installer needs to carefully select equipment, including components and accessories, that are capable of withstanding fire and electromagnetic interference. EtherWan, therefore, ensures their 60W switches and all other PoE devices can comply with all these regulations and features, especially when working with major solution providers.
---
What's Driving Future PoE Market
The 60W switch came out amid PoE's growing importance as a method for delivering power, not only to security devices but also to other devices as well, in the world of Internet of Things. More and more, streets lights, room lights, and other building automation systems are all connected on the Internet to enable better control and management. At the center of this is the PoE, which not only serves as an exchange point for data but also plays a key role in delivering power. Once users begin to realize the advantages PoE brings in delivering power to edge devices, adoptions will increase, and that is why PoE's growth in the future is inevitable.
---
Related products:
► Contact EtherWAN Systems: [email protected]
---