Back to top
EtherWAN Systems Releases the EG99000 Industrial gigabit Layer 3 Switch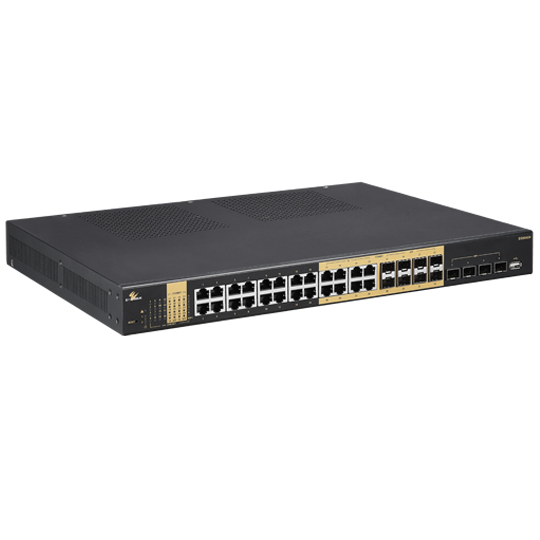 EtherWAN's EG99000 is a gigabit Layer 3 switch designed for high bandwidth uplink or interconnection. In addition to full wire-speed Layer 2 switching capability and support for a robust set of Layer 2 features.

Dual-rate SFP slots ensure an easily future-proofed network infrastructure base. With more than 2x the resistance to EMI (Electromagnetic interference) than standard commercial switches, plus the ability to operate at temperatures up to 75°C (167°F), the EG99000 is ideally suited for harsh field applications. Furthermore, the EG99000 is optimized for aggregation topologies that support multiple video feeds on copper or fiber.
The EG99000 supports IP routing including static routes, RIP v1 & v2, and OSPF v2. These routing protocols can operate simultaneously with redistributions to each other and route control tools, including IP prefix-list and route-map. The EG99000 is also equipped with sophisticated network and system failure recovery features including VRRP and dual redundant power supplies to minimize the chance of network or system downtime. These layer 3 features make it an ideal choice for both industrial and mission critical applications where sustained connectivity is crucial.
---
About EtherWAN
EtherWAN Systems, Inc. is a leading manufacturer of network connectivity products specifically designed for harsh and demanding environments. Founded in 1996, EtherWAN specializes in the design and manufacture of Ethernet switches, media converters, Ethernet extenders and Power over Ethernet products for applications where connectivity is crucial. With a core focus on sustained connectivity in extreme environments, product reliability and quality are top priority. EtherWAN's product development, engineering, manufacturing and quality assurance processes are structured to push the limits of stated specifications, resulting in products that surpass expectations.

The company's Pacific Rim headquarters and manufacturing facilities are in Taipei, Taiwan. Leveraging marketing and engineering expertise on both sides of the Pacific Ocean, EtherWAN's world class production lines deliver products of the highest quality and comprehensive professional support.

EtherWAN – " When Connectivity is Crucial "
► Corporate: [email protected] or by phone at: +886 2 6629 8986 ext.5084
---