Back to top
EtherWAN to Launch Modularized IEC61850/IEEE1613 Compliant Ethernet Switches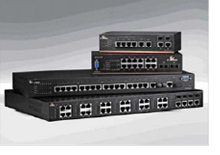 EtherWAN, a leading brand of Ethernet-based connectivity solutions, has introduced another IEC61850/IEEE1613 compliant hardened managed Ethernet Switch series. The EX89000 and EX83000 will be positioned in the advanced product sector for sophisticated networking applications in the power utility industry.

The new EX89000 series is a 19" rack-mount model offering flexible, modular configuration, with 24 ports of copper, fiber or SFP options that deliver the port densities, scalability and high availability required for today's demanding power utility automation systems.

The new EX83000 series is a DIN rail mount model with up to 16 10/100BASE and 2 Gigabit Ethernet connectivity. Both the EX89000 and EX83000 are designed in compliance with IEC61850/IEEE1613 regulations and are guaranteed to be extremely resilient owing to EtherWAN's α- ring recovery time of less than 15 milliseconds, providing network management for mission-critical interconnectivity in power substation applications.

The EX83000 and EX89000 are all hardened to provide a high level of immunity to electromagnetic interference (EMI) found in many power substation applications.

An operating temperature range of -40 to 75 degree Celsius allows EtherWAN's IEC61850/IEC1613 product line to be placed in mission-critical application zones. The EX89000, a completely-fanless model, provides 24-port 10/100BASE + 4-port Gigabit connectivity. All 24 10/100BASE ports can be easily configured by four interchangeable slots. The EX89000 can also be configured based on the user's choice of DC power supplies: +/- 48VDC, 88-370VDC and 90-264VDC, all in terminal block or standard 90-264VAC with AC let. The EX83000 simultaneously targets the same application in Power and Utility, but is mostly installed in the field with a DIN rail mount requirement.

EtherWAN's earlier EX87000 series, another 19" rack-mount hardened managed Ethernet switch, has been successfully tested by KEMA. The new launch of the EX89000 and EX83000 shows EtherWAN's commitment to the development of the substation control systems industry. EtherWAN also has Hardened Unmanaged Ethernet Switches, EX47000, and the Hardened Media Converter, EL1141, available in the IEC61850/IEEE1613 compliant line card.

► About KEMA

KEMA is a well-respected laboratory for testing and certification for substations.

The KEMA tests were done to confirm that our Ethernet equipment meets or exceeds the specifications in compliance with IEC 61850 standards for functionality and performance.
---
About EtherWAN
EtherWAN Systems, founded in 1996 in Irvine CA, has become a leader in Ethernet connectivity for applications in various markets including intersection traffic monitoring & surveillance, transportation, utility, oil & mining, factory automation, etc. EtherWAN specializes in designing and manufacturing fiber optic Ethernet products and Ethernet equipment for harsh environments. The available products are hardened Ethernet over VDSL equipments, hardened media converters from serial/Ethernet to fiber or wireless, PoE switches, IEC 61850 based hardened Ethernet equipments for power distribution and substation applications, EN50121-4 & EN50155 based products for railway and train networking applications, and those for UL1604 based hazardous locations. EtherWAN's US headquarters are located in California USA with Pacific Rim headquarters and manufacturing facility in Taipei, Taiwan. With engineering expertise at both sides of the Pacific Ocean and its own production lines in Taiwan, EtherWAN continues to serve the markets with most advanced Ethernet gears at very affordable prices.
---