Back to top
EtherWAN Helps Southeast Asian Railway Upgrade IP Surveillance
---

---
Overview
A major international rail line stretches nearly 2,000 kilometers through Southeast Asia. Built in the early 20th century, the railway surveillance system was comprised of legacy communication devices. In need of an upgrade, the railway was looking to install new high-definition IP video surveillance cameras and IP-based devices that could support video analytics software capable of people counting, facial recognition, object detection, sound analysis, and intruder detection. Additionally, the railway was looking to improve passenger security and information systems with a Voice-over-Internet-Protocol (VoIP) solution for emergency call and passenger help interfaces. All of this would require uninterrupted power and network services.

Known for its technical expertise and extensive experience with this kind of project, EtherWAN was more than qualified to provide the necessary network backbone to carry out the much-needed upgrade.
---
The Challenge
The extensive length of the rail line and large number of stations required a solution that could readily handle large amounts of data traffic from sophisticated IP transmission over long distances. The solution also needed to reduce the cost of electrical wiring, and be scalable for future expansions. An interesting challenge to the installation of PoE devices was that the DC power available in the stations was below the standards for PoE power sourcing equipment (PSE).

The local climate brings humid tropical weather year round. Under these harsh environmental conditions, the railway needed a solution that could endure extreme heat and high humidity. The solution also had to be highly resistant to electromagnetic interference, and would need to work flawlessly with the existing larger network.
---
Application Requirements
Transmission stability over long distances for high-resolution video images
Power-over-Ethernet Solutions
Equipment highly resistant to heat and moisture
PoE standard voltage output from switches even when input power is out of PoE PSE switch voltage
Easy scalability for future expansion
Built-in redundancy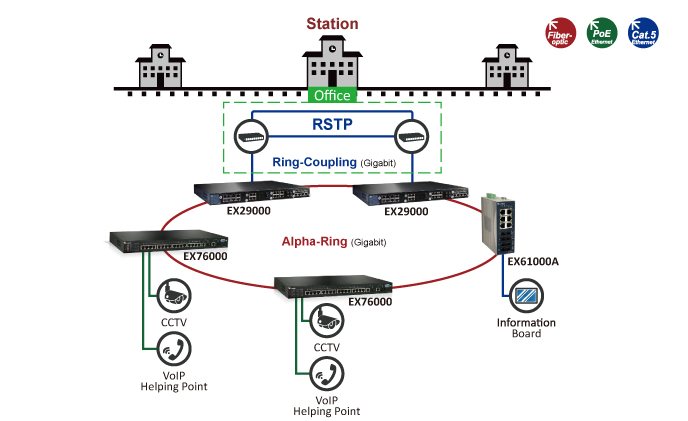 ---
Solution
EtherWAN was able to meet the challenges of this project with its wide range of industrial switch designs, implemented in conjunction with advanced proprietary technology. Network redundancy was a crucial requirement of this network, and EtherWAN's proprietary Alpha-ring technology was able to provide the needed redundancy with fast failover times, as well as compatibility with third-party devices.

It was also vital to have a solution in place that would continue to function even if a power source failed. EtherWAN provided devices with dual power inputs, providing backup power in case of a failure with a single power source, thereby ensuring that the network stays up and running at all times.

EtherWAN's EX61000A Series industrial managed switch was deployed to transmit data with fault-tolerance between platforms. Ultimately all data was routed to connect with the core network, and then sent to the digital information boards in the train stations. Forming an Alpha-ring to ensure redundancy, the EX61000A switches deliver fast data throughput even in extreme temperatures.

The EX76000 Series of switches was chosen to be used for connection to VOIP emergency intercoms and high resolution IP cameras for the video surveillance system. Their high port count and robust PoE budget, combined with intelligent PoE management, made these switches well-suited for consistent transfer of large amounts of voice and IP camera data.

Two EX29000 modular managed switches form the backbone of the security network, connecting to the larger railway network that runs RSTP. The highly flexible EX29000 was chosen for its modularized switch configuration, which offers a choice of up to 28 electrical and/or optical interfaces and up to four gigabit, fixed fiber, or SFP Combo port options. The EX29000 also supports the Alpha-ring redundancy protocol, which provides a fault recovery time of less than 15 milliseconds, making it perfect for critical applications that require uninterrupted service. Additionally, Alpha-rings support redundant pairs, making the network highly scalable for future expansion needs.

To address the input voltage issue, EtherWAN made a series of customized adjustments to the power design. These special modifications allowed the PoE switches to deliver full power to the PoE devices, even low voltage conditions that would usually preclude a PoE solution from functioning properly.

Now, with its upgraded network solution provided by EtherWAN, the Malaysia-Thailand Railway has a smarter, safer video surveillance system and VoIP solution that is reliable, affordable and future-proof.
---
Related products:
---
EtherWAN – " When Connectivity is Crucial "
► For more information, please contact: [email protected]
---