Back to top
EX41922-T Hardened Unmanaged 2-port Gigabit PoE Ethernet Switch with 2-port 100/1000BASE SFP
If you are unable to see the message below, pleas view the online version here.
Dec. 21, 2017

Contact Us

EX41922-T Hardened Unmanaged 2-port Gigabit PoE Ethernet Switch with 2-port 100/1000BASE SFP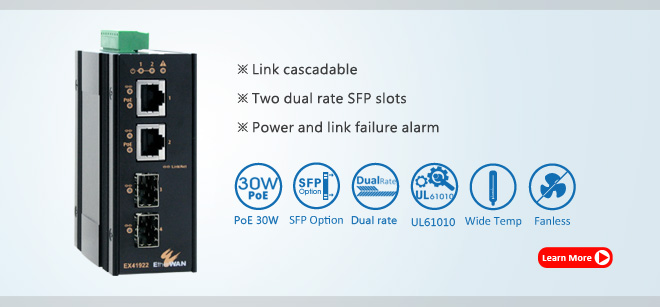 EtherWAN's EX41922 Series is a compact hardened unmanaged Gigabit switch, designed as an easily deployed platform for peripheral devices in harsh environments.

The new EX41922-T is equipped with two 10/100/1000Base RJ-45 copper ports supporting Power over Ethernet (PoE), and two 100/1000Base SFP fiber optic slots for long distance connectivity. The two uplink SFP interfaces provide 100 or 1000SFP speed, selected by DIP switch. They can be used in a daisy chain formation, and are compatible with the proprietary Alpha-chain redundancy protocol when used with a compatible EtherWAN managed switch. Moreover, EX41922-T provides up to 30 Watts PoE per port with a total power budget of 60 Watts. Although unmanaged, the EX41922-T is feature-rich with 10K Jumbo Frame support, full wire speed Gigabit throughput, QoS support, and eco-friendly IEEE802.3az EEE (Energy Efficient Ethernet) compliance. With its hardened specifications, high performance, and energy efficiency, the EX41922-T is a flexible and reliable solution for extended networks.
Up to two 100/1000BASE SFP ports for daisy chain or Alpha-chain applications
30 watts of IEEE 802.3at power over Ethernet (PoE) per port
Redundant power inputs on terminal block connector
Supports -40 to 75°C (-40 to 167°F) operating temperature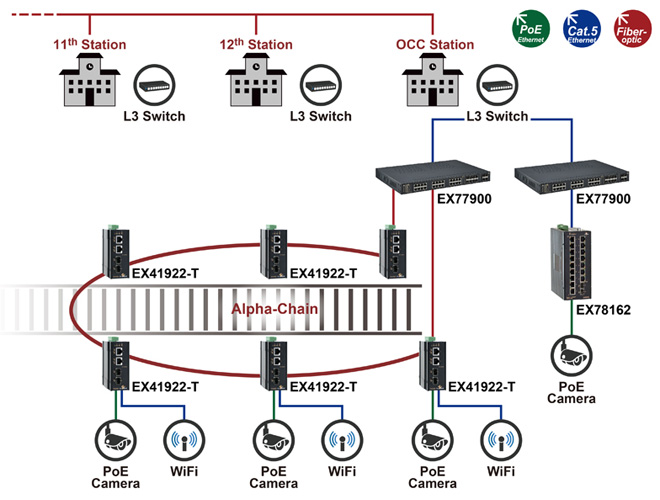 Hardened Unmanaged 2-port 10/100/1000BASE PoE+2-port 100/1000 SFP Ethernet Switch


Field-proven Reliability
Hardened Ethernet equipment with superior reliability, long MBTF, redundant power support, wide operating temperature range, EDI, EMI, RFI and surge protection.

Full Product Testing
Hardened products are required to pass stringent real-time data transfer testing at temperatures from -40 to +85°C for up to 72 hours.


Customer Focus
EtherWAN has a professional support crew, with extensive industry know-how and hands-on experience working with system integrators and solution providers.
If you do not want to receive this e-bulletin in the future, please reply
here
© EtherWAN Systems, Inc. All rights Reserved.