Back to top
EtherWAN Showcases Hardened Ethernet Extender with Full Layer 2 Managed Ethernet Switch

Contact Us

EtherWAN Showcases Hardened Ethernet Extender with Full Layer 2 Managed Ethernet Switch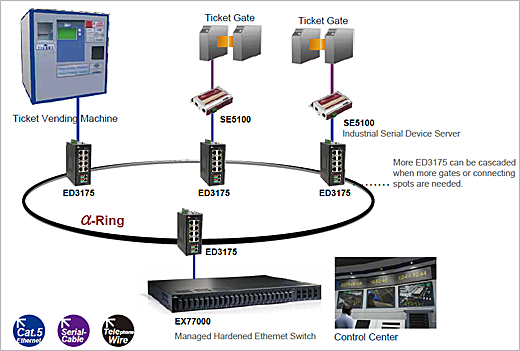 EtherWAN showcases its ED3175 featured 8 10/100BASE-TX ports and 2 copper pair extender ports. Like other Ethernet Extender products in EtherWAN's line card, the ED3175 provides an alternative of long-distance Ethernet connectivity on a copper pair up to 1.9Km. What's new from the ED3175 is that it features 2 copper pair extender ports. This makes the network cascaded as a chain to simplify the overall topology. The ED3175 is also featured with EtherWAN's Alpha-Ring protocol that provides a high-speed network redundancy mechanism to recover from a network failure in less than 15 milliseconds with zero packet loss during the recovery process.The ED3175 is an all-in-one Ethernet equipment with combination of Layer 2 Ethernet switch and Ethernet Extender. When users are beneficial from cost-effective long-distance Ethernet solutions, they can also enjoy its fully layer 2 managed functions i.e. VLAN, QoS, IGMP, GMRP, Bandwidth Rate Control, Port Trunking and Mirroring, Packet Filtering, and IEEE802.1x Security.

Thanks to the hardened design, the ED3175 is guaranteed working under extreme environments -40°C up to 75°C. In compliance with NEMA TS2, the ED3175 is an ideal solution to ITS (Intelligent Transportation Systems) applications.
| | |
| --- | --- |
| | ED3175 Managed Hardened 8-port 10/100BASE-TX Switch with 2-port Copper Pair Extender |
Provides flexibility of 8 10/100BASE-TX plus 2 extender ports in one package
Ethernet Extender (RJ-11 and Terminal) port: Symmetrical on the VDSL communications link over exiting copper telephone wire
Complies with NEMA TS2 environmental requirements for traffic control equipment
Supports Alpha-ring and RSTP/MSTP/STP for Ethernet redundancy
Supports fully layer 2 managed function
-40°C to 75°C (-40°F to 167°F) operating temperature range, tested for functional operation @ -40°C to 85°C (-40°F to 185°F)

Field-proven Reliability
Hardened Ethernet equipment with superior reliability, long MBTF, redundant power support, wide operating temperature range, EDI, EMI, RFI and surge protection.

Full Product Testing
Our hardened products are required to pass stringent real-time data transfer testing at the temperature from -40° to +85°C for up to 72 hours without compromise.

Customer-centered Services
EtherWAN has a professional support crew, with domain know-how and hands-on experience working with system integrators and solution providers.
If you do not want to receive this e-bulletin in the future, please reply
here
© EtherWAN Systems, Inc. All rights Reserved.