Back to top
US Public Transit Enjoys Benefits of an Integrated Intercom System
---

---
A US public transit system planned to upgrade its analog intercom systems to IP. In order to bulld up a fully integrated system, the intercom company collaborated with EtherWAN on the project, from system design to technical support. The resulting outcome was a great success.

The largest public transportation agency in North America operates a citywide rapid transit system with more than 6,300 subway cars traveling approximately 361 million miles a year between 469 subway stations. After more than a century of operation, the transit authorities looked to IP migration for its passenger-help system in order to ensure effective communication of emergency reporting and information requests.

The intercom system provider for the project understood the challenges of installing a modern IP system within the existing antiquated transit infrastructure. To ensure optimal performance, the intercom provider decided to collaborate with another vendor to create a robust integrated system. The company turned to EtherWAN Systems for industrial Ethernet switches that would strengthen the network backbone. Leveraging unique technology from EtherWAN, the intercom company was able to provide a specific transit solution – an integrated IP-based kiosk that featured high-quality voice communication, supreme scalability and the robust network performance needed in a public safety solution. EtherWAN's hardened EX78000 Series PoE switches were employed in kiosks, supplying ample power for wireless access points and surveillance cameras directly through LAN cables.
---
Vendor Collaboration Creates Fully Integrated System
The strategic partnership provided the intercom company with an opportunity to develop a real integrated system for its end customer. In retrofit infrastructure projects, integration challenges can be very complex, with implementation taking five to six years or more. "Deployment spaces in subway tunnels and platforms place harsh physical demands on installed equlpment. Underground tunnels are usually damp, and there is often water dripping on platforms. Installed equlpment must be able to handle the urban climatic swings between severe cold and heat. Furthermore, there is a constant amount of electrostatic discharge and electromagnetic interference in subway stations," said Maggie Chao, VP of Sales at EtherWAN Systems.

It is not cost-efficient for a single company to solve all these problems, but with the partnership, positive outcomes were easily obtained. Chao said: "While working with our intercom partner to spec-in our network switches to their system, we solved all their end user and product
---
Unique Network Backbone for the Project:
Reliable PoE
The EX78000 hardened managed Ethernet switch provides 8 ports of 30W PoE per port with IEEE802.3at standard, delivered over Ethernet cables.
Efficient Network Management
Network management functions help facilitate data communications efficiently and securely, while reducing maintenance hassles. EtherWAN's Alpha-Ring self-healing ring technology provides a recovery time of less than 15 minutes after a fault, ensuring non-stop transmission and minimizing packet loss. Network engineers can access management features such as port security, IGMP snooping, port-based VLAN, GARP protocols and link aggregation, via web browser, Telnet, SSH, SNMP, RMON, TFTP and RS-232 console interfaces. For qulck maintenance, an external storage device is available for switch configuration backup and restoration.
No Moving Parts, Extended Lifespan
EtherWAN's EX78000 Series hardened Ethernet switches are constructed from durable materials, and underwent environmental testing from -40°C to 85°C. The fanless and ruggedized housing provides extra durability against shock and vibration. The switches are also compliant with EN 55022 for high immunity from electrical interference, an important factor in rail environments.
Optimized Mechanical Design
EtherWAN provided customized dimensions and mounting methods to make switch installations compatible with the subway's unique structure.
With video, voice and passenger information all interlinked as part of a connected solution, passengers reap the benefits of improved punctuality and safety.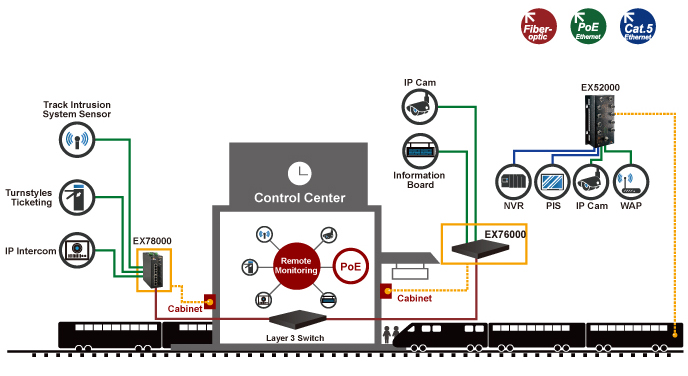 design problems as we integrated products from both sides. We even provided suggestions to improve the devices for optimized performance of the integrated system. This actually benefits the end customer a lot, since all the equlpment has been proven effective and well-connected, and there was proof of concept for the system."
---
Unique Product Design Provides Flexible Configurations
When talking about how EtherWAN was able to provide the technology know-how and support in this kind of highly customized project, Chao pointed out: "It can be attributed to our original product design concept. EtherWAN is well positioned in the market to provide solutions to infrastructure projects and global partners, so we put 'flexibility' as a top priority in the design phase. For example, one single specification is adopted in multiple models of our products. We also design multiple interfaces in order to connect multiple devices with higher watts or lower watts, so our customers can have flexibility in different configurations."

She continued, "Most importantly, our company has key technology in software development which can easily differentiate us from competitors. Our abilities in creating firmware in-house allow us to easily solve customer's problems for customized, large infrastructure projects."

Fantastic Outcome for End Customer
Due to the close collaboration between EtherWAN and its intercom partner, the city public transit project had a highly successful outcome. 1,900 IP-based interactive kiosks were installed and are now successfully serving innumerable passengers throughout subway stations all across the city. Whenever a passenger wants particular information, or needs to report an emergency, he/she can approach a kiosk and talk to a subway representative with just a click of a button. With video, voice and passenger information all interlinked as part of a connected solution, passengers reap the benefits of improved punctuality and safety.

These types of strategic partnerships can be leveraged to form an "ecosystem" for this industry, allowing multiple equlpment vendors and solution providers to stay profitable in projects. After all, end users, like this public transit system, stand to gain the most benefit. This project exemplified how ecosystem partnerships can drive the healthy development of the security industry.
---
Related products:
---
EtherWAN – "When Connectivity is Crucial"
► For more information, please contact: [email protected]
---