Back to top
EtherWAN Awarded in-vehicle Surveillance Project in Germany
---

---
Overview
There is an increasing demand for mobile, field based surveillance systems especially on motor vehicle. These systems reply on Power over Ethernet technology to reduce installation costs and make data transmit to a central server very easy. KVS Bus company in Saarlouis Germany chooses EtherWAN and Plustek to provide a robust in-vehicle IP surveillance solution.
---
Technology
Mobile video surveillance is becoming more common, as more police departments, ambulance services, and transportation companies see the benefits it can bring. With PoE switch installed in a vehicle, it eliminates the need for an electrician to install an outlet near a powered device. PoE brings efficiency to Ethernet-based communications in mobility by providing power to the Cat-5 LAN cable.
---
Challenges
In-Vehicle surveillance solution developers always struggle to optimize system performance whilst solving potential over-heat and vibration issues. Simplified cabling structure in the bus environment making easy installation is also a priority. Reliability of the networking equipment inside the bus is the key factor to determine the overall IP surveillance solution efficiency. PoE networking switches available from off-the-shore are too fragile to be installed in such harsh environment. Only the ruggedized solution package could deliver to ultimately reduce the cost of maintenance.
---
Solution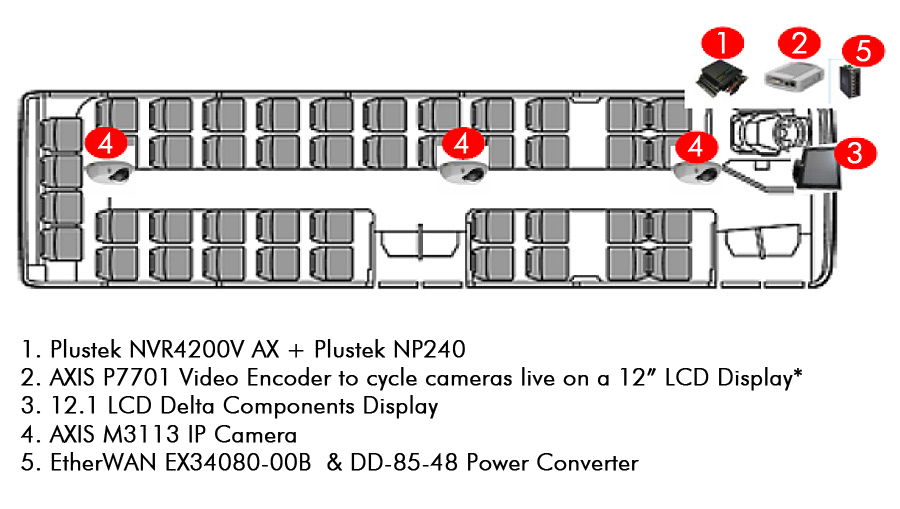 Standard CAT5 cables always limit the transmission distance within 100 meters. The project requires an average point-to-point distance at 400-600 meters which is not reachable through regular CAT5 cables. Fiber connection was considered to be the only option however, it was not affordable and feasible for this specific project requirements. EtherWAN's ED3638T/R PoL™/PoE Ethernet Extender is an a hardened grade product bearing an operating temperature range from -40ºC to 75ºC. Most importantly, it is designed to use Ethernet over a coaxial cable with PoE. The performance can still be about 70Mbps under the asking distance not a problem to handle mega pixel camera connections. It completely meets the project requirement and apparently helps the project system integrator construct a cost-effective and technically-competitive IP based surveillance system.
---
Results
The 1st phase of field test was completed with very positive result. KVS is very happy with the outcome and are ready to move on with more installations. This project will involve with 88 buses installation in 2 years.
---
Related products:
---
Other information you would like to know:
---
EtherWAN – " When Connectivity is Crucial "
► For more information, please contact: info@etherwan.com.tw
---